For those of you that know me well, my 'girly' moments are far and few. But there is something about having the girls together for a sunday brunch that instantly channels my inner 'Basic B' self. If there is a drink that could describe all of these feels in a one glass, it is this guilty pleasure right here.
That's right. Move over Moxies, because we can make this at home! Truth be told, I think I ordered this drink ONCE in my life, and the sugar had me high for days. So I thought, why not create something fresh AND delicious in the comforts of my own home. I'm not ashamed to love this drink, because it super refreshing and easy to make. Not to mention, this is a perfect beverage for big groups! So bring out the selfie sticks and blender, and lets start creating some magic!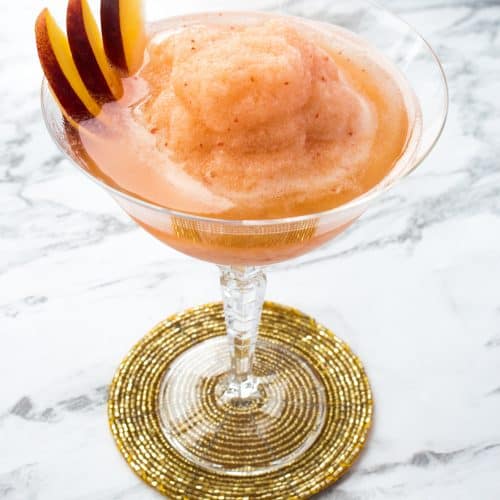 Frozen Peach Aperol Bellini
An easy, blended cocktail for a delicious peach guilty pleasure.
Difficulty: Easy
Ingredients
1

Peach

2

tsp

Brown Sugar

1½

oz

Lemon Juice

6

oz

Aperol

½

cup

Peach Juice

4

oz

Prosecco
Instructions
Fill an ice tray with the peach juice and leave overnight

In a blender combine all ingredients except Prosecco

Fill with peach ice cubes and 4 regular ice cubes and blend

Fill glassware with blended items and top with Prosecco
Recipe Notes
If ever you are looking to adjust the consistency of the peach slushy, just continue to adjust the ice. Of course keep in mind that more ice means a more watered down beverage. This is the reason it's essential to freeze some peach juice the night prior. Make extra just in case, and fill up a whole tray so you can play around with the recipe. And most importantly...ENJOY!