I'm not even going to front, or pretend I know a thing about football. I've watched two games in my life. One was when I visited Chicago and we went to see 'da Bears'. The other was because I made a small, uneducated bet in my youth, and it so happened to be the game with the dramatic Janet halftime show.
But you know what I can relate too? Having a bunch of people over, yelling at the TV, surrounded by good food and drinks. So with this crazy weekend of fun coming up, I knew my people needed a beverage that was easy, DELICIOUS, and group friendly.
If you're not too familiar with punches, it's primarily made up of 5 main components: Spirit, Citrus, Water, Sugar and Spice. This is a bit of a stretch to say, but think of this as the liquor version of a Sangria, and we all know how much I love Sangrias #Basic.
Blood Orange was all over the market this past weekend, and I really never have access to it, so I got pretty pumped for some cocktail ideas. I can officially say that after making this punch, I'm going to be spicing things up a lot more with Blood Orange and Clove. This combination is unreal and jam-packed with flavour. My mouth is literally watering right now as I think about this cocktail and how delicious it is. Are you pretty much there too? Well look to the recipe and make sure to add these ingredients to your grocery list this weekend! I promise you won't regret it!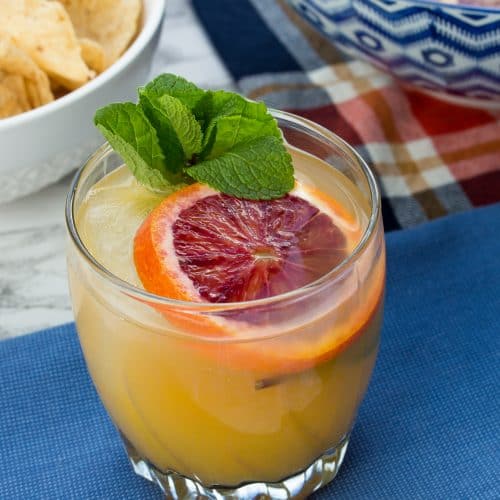 Blood Orange and Cinnamon Spiced Punch
A super-bowl inspired punch that is way too easy to make and to drink!
Difficulty: Easy
Ingredients
1

cup

Bourbon

recommended Bulleit

10

cubes

Brown Sugar

1

cup

Orange Juice

1

cup

Grapefruit Juice

10

Sprigs

Mint

3

Blood Oranges

sliced

1

cup

Pilsner

10

Whole Cloves

2

Cinnamon Sticks
Instructions
In a pitcher, combine the brown sugar and blood orange slices and muddle until sugar is fully dissolved

Pour the bourbon, orange juice, grapefruit juice, Pilsner and cloves and top with ice

Stir until slightly chilled and strain into a bowl WITHOUT ICE

In the bowl top with mint and cinnamon
Recipe Notes
Now in this recipe I poured the Pilsner into the punch. You don't necessary have to do this, but knowing that my people will probably want as little to do as possible, I threw it in. If you want a brighter cocktail that has a bit more effervescence, then more 3/4 of the cocktail in a glass and top with the Pilsner. I used Steamwhistle, because I'm all about the local beer vibes, and it really is an easy drinking beer. 
Use the muddled Blood Oranges and mint in the bowl as a garnish, just as you do with a Sangria. A little fruit never hurts and you may feel better about what you are drinking. 
Now with this punch, since it was already stirred with ice, make sure that you use a large ice cube for each individual glass. If this all sounds super annoying to you right about now, then skip the pitcher part all together. Just combine everything in the bowl, and in the individual glasses fill it up with ice. Just make sure to give it a good stir.