I am going to be completely frank about my skills with baking…it's basic. I've never liked how precise the whole process is, because I'm a cook that loves to throw things together and wing it. Unfortunately with baking, it's not as forgiving of my carefree nature.
Before you keep reading…
So I looked to experts, I looked through countless recipes, and I looked to my mom. All this, and I still made about 6 batches of carrot cake (my orange hands can prove it) before I came close to what I am sharing with you today.
I have my mom to thank for never following a recipe…ever! She always modified it, and I knew she would have some advice when it came to creating a Carrot Cake with the LC stamp on it; Booze. Now I have to say, there were so many options that I loved in terms of pairing an alcohol with this carrot cake. We experimented with Jack Daniel's Honey, Havana Club's 7 yr old rum, and I even got my hands on some delicious Spice Box Whiskey. In truth, they are all great pairings for this cake, and I would recommend each and every one of them. But for the purpose of this recipe, I'm going to show you the rum way!
So the secret is out, I hate cream cheese frosting. I've never understood peoples obsession, and you can probably guess that I'm not the biggest fan of cheesecake either (I can feel your dirty looks now). BUT for the good of Liquid Culture and keeping my biases in check, I made a cream cheese icing for this carrot cake, and guess what…I LOVED IT! Mind you, I have no interest in waiting in line for the Cheesecake Factory, but this may be the beginning of a new dessert era for me.
Now before we start I'd like to give you a heads up, this cake does take a bit of preparation and time. So if you're browsing for that quick 10 minute dessert fix, this recipe may not be for you. But with all good things, it takes time, and I know you will love this as much as I do.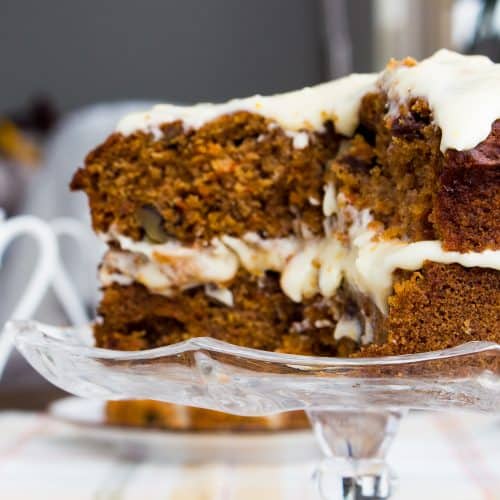 Rum Carrot Cake with Orange Grand Marnier Cream Cheese Frosting
A delicious carrot cake recipe with the LC stamp on it...BOOZE!
Makes One 3-tiered Carrot Cake, layered with the frosting.
Difficulty: Intermediate
Ingredients
Rum Carrot Cake
3

cups

All-Purpose Flour

2½

tsp

Baking Powder

2½

tsp

Baking Soda

1

tsp

Salt

2

tsp

Cinnamon

½

tsp

Nutmeg

2

cups

Brown Sugar

½

cup

Pecans

slightly chopped

¾

cup

Raisins

3

cups

Carrots

Peeled and Grated (approx. 6-8 large carrots)

1½

cups

Vegetable Oil

5

Large Eggs

8

oz

Havana Club 7 Yr Rum
Orange & Grand Marnier Cream Cheese Icing
1/2

cup

Cream Cheese

Room Temperature

½

cup

Unsalted Butter

Room Temperature

2

cups

Icing Sugar

1

tsp

Vanilla Extract

2

oz

Grand Marnier

1

Large Orange Zested

1

Pinch of Salt
Instructions
Rum Carrot Cake
Preheat the oven to 350 degrees F, and grease three nine-inch round cake pans

In a medium bowl, whisk together the flour, baking powder, baking soda, salt, cinnamon and nutmeg

Using a stand up mixer with the paddle attachment, combine the sugar and oil into the bowl and mix at medium speed. Do this until well combined.

While the mixer is still turning, add one egg at a time.

Reduce the speed to low and add 5 oz of Havana Club 7 yr Rum (The rest will be used after)

In three increments, add the dry flour mixture into the stand up bowl. Be sure not to over mix and have the setting on very low. Each time you add in a third of the dry mix, make sure to stop the machine and scrap the sides before adding the next batch.

Remove the bowl from the mixer and gently stir in the carrots, pecans and raisins.

Divide the batter evenly between the 3 pans, using a spatula to level

Bake in the oven for approximately 35-40 minutes. Make sure to check the batter and that the knife or toothpick comes out clean from the centre.

Once baked, take it out of the pans and allow to cool to room temperature. Once cooled, turn the cake upside down and drizzle the remaining rum (3 oz) into each of the cakes (therefore 1 oz for each cake). Allow this to absorb for another 30 minutes before working with the icing.
Orange & Grand Marnier Cream Cheese Icing
In a mixer with the whisk attached or a hand held mixer, combine all ingredients except the Grand Marnier and mix at med-high speed until combined

Lower the speed to medium and slowly add in the Grand Marnier until well incorporated.