Before you all start to moan and groan about Valentines Day, I just want you to know that…I feel you. I'm not going to go into a rant about this ridiculous holiday, BUT I can support one thing that this holiday promotes, and that's being with loved ones in the company of ALCOHOL. 
Since this holiday promotes spending time with those you care about, and alcohol is typically around, than it is A-OKAY in the eyes of Liquid Culture. So I tried to come up with all the cheesy and fun flavours that encompasses Valentines Day, and it was a good excuse to get my hands on some cherries.
I've never been the biggest fan of cherries (I know, a sin), but it definitely won me over when I combined it with some fresh mint, tequila and vermouth. I know it may sound totally odd to have a tequila with sweet vermouth, but it married the flavours with the cherry so well that I'm sure you will love too!
Make sure to keep following Liquid Culture as I bring you more Valentines inspired cocktails for the next couple days!! XOXO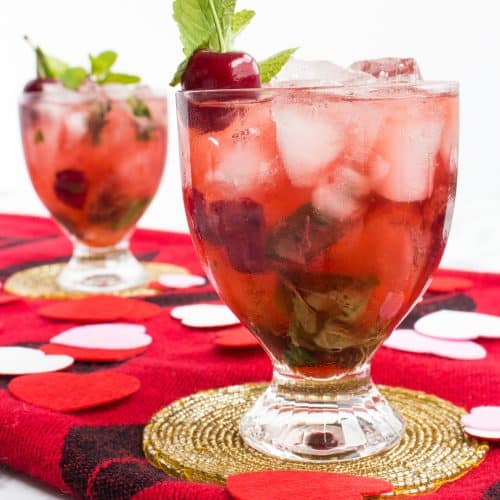 Cherry Bomb
A Valentines Day inspired cocktail blended with tequila, sweet vermouth and of course CHERRIES!
Difficulty: Intermediate
Ingredients
5

Cherries

pitted

10

Mint Leaves

2

Brown Sugar Cubes

1/4

oz

Lemon Juice

1.25

oz

Reposado Tequila

½

oz

Sweet Vermouth
Instructions
In a copper cup or mixing glass, combine cherries, mint, sugar and lemon and muddle

Add the tequila and vermouth and top with crushed side. Using the swizzle technique, make sure all ingredients are well blended
Recipe Notes
If using a mixing glass for this recipe, make sure to place the items in the desired cup before adding ice. This will make it much easier for you to swizzle and placing all the ingredients into the cup.