I'm not even sure where to begin here, because I can't stop drooling over this drink and editing the photos isn't exactly helping the situation. First and foremost, there should be a moment of silence and gratitude to the wonderful human beings that have brought Old Fashioned into our lives. I'm positive that a majority of you have fond OF memories that may or may not have been messy. Well Liquid Culture is here to give you another excuse to create more fond memories this Valentines.
I love adding the essence of smoke to an Old Fashioned. I feel as if I'm tucked away in a cabin, cuddled up in quilts by the fire, with the obvious Old Fashioned in hand. I create this illusion by the simple application of Laphroaig Irish Whiskey to my glass. Treat this like you do with any dry vermouth in a Martini, a spritz is all you need. Line the glass and toss out any extra, but the aroma and taste goes a long way!
The rest of the cocktail is fairly simple, especially with such a classic pairing as Dark Chocolate and Raspberry. Combined with the bourbon, you have a sweet and velvety cocktail with a hint of smoke, that I can guarantee will impress any date! If your date loves bourbon…well, I think you can thank LC for your best Valentine's Date EVER!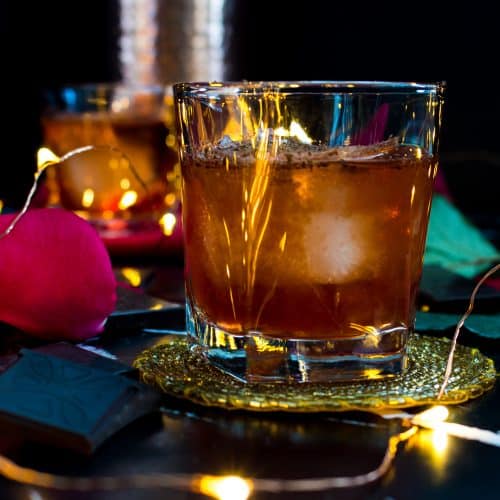 Smoked Chocolate and Raspberry Old Fashioned
A Valentine's Day Inspired Old Fashioned that will get anyone excited for the holiday!
Difficulty: Intermediate
Ingredients
2

oz

Bourbon

4

dashes

Chocolate Bitters

1

Brown Sugar Cube

3

Raspberries

1

Dark Chocolate

1

spritz

Laphroaig Irish Whisky

or any Islay Scotch
Instructions
Line an Old Fashioned Glass with Laphroaig, tossing out any excess whisky

In a mixing glass, muddle raspberries, sugar and bitters

Add bourbon and ice and stir

Strain into lined Old Fashioned glass over one large ice cube

Garnish with grated Dark Chocolate