So I've been on the hunt to improve some of my most popular recipes on the Liquid Culture platform. Whether it's searched organically or loved on the social platforms, this Rum Carrot Cake has received a lot of love. It had been a while since I created it, and having hated the photography, I knew I wanted to tackle this once more. I ended up changing the technique of baking this cake, but I have to say, it's PHENOMENAL. If a good Rum Carrot Cake is something you're on the hunt for, you will not regret this!
First and foremost, there really is nothing wrong with the recipe I featured before. It's just that my tastes have changed. I find myself too sensitive to nutmeg and there was way too much of it. I was alarmed at how much oil was in the cake so I wanted that to change as well. So really this Rum Carrot Cake is my "adulting" improvement and I love the direction it went!
Choosing your Rum for a Rum Carrot Cake
The other man component that was adjusted is the Rum used. Now that I've become a lot more picky about the rums I used in both cocktails and cooking, I wanted to make sure I used a brand I LOVE. That's where Hart & Son's comes in. Ever since I was introduced to their Spiced Rum but my Rum family, it's the only Spiced Rum I trust. Now for the cake, I used half and half of Lemonhart's Overproof Rum with their Blackpool Spiced Rum. And simply for the icing, the Blackpool Spiced Rum was used.
If you don't have access to this brand, that's okay. Just try to avoid any Spiced Rums that are heavily flavoured with artificial syrups, etc. (and there's a ton of them unfortunately). And for the cake, ensure you go with an overproof, because you don't need MUCH for it to go a long way in terms of flavour.
Reducing the Oil
This was tricky. So many recipes I found had an insane amount of vegetable oil, and I get that it keeps things moist, but DAMN, I barely even fry my food. Then I found the recipe in the Gramercy Tavern book which SAVED the day! It makes this cake much lighter but believe me, IT IS STILL MOIST. Just make sure you have a stand up mixer around, or good arm strength, because you're going to need a lot of time whisking.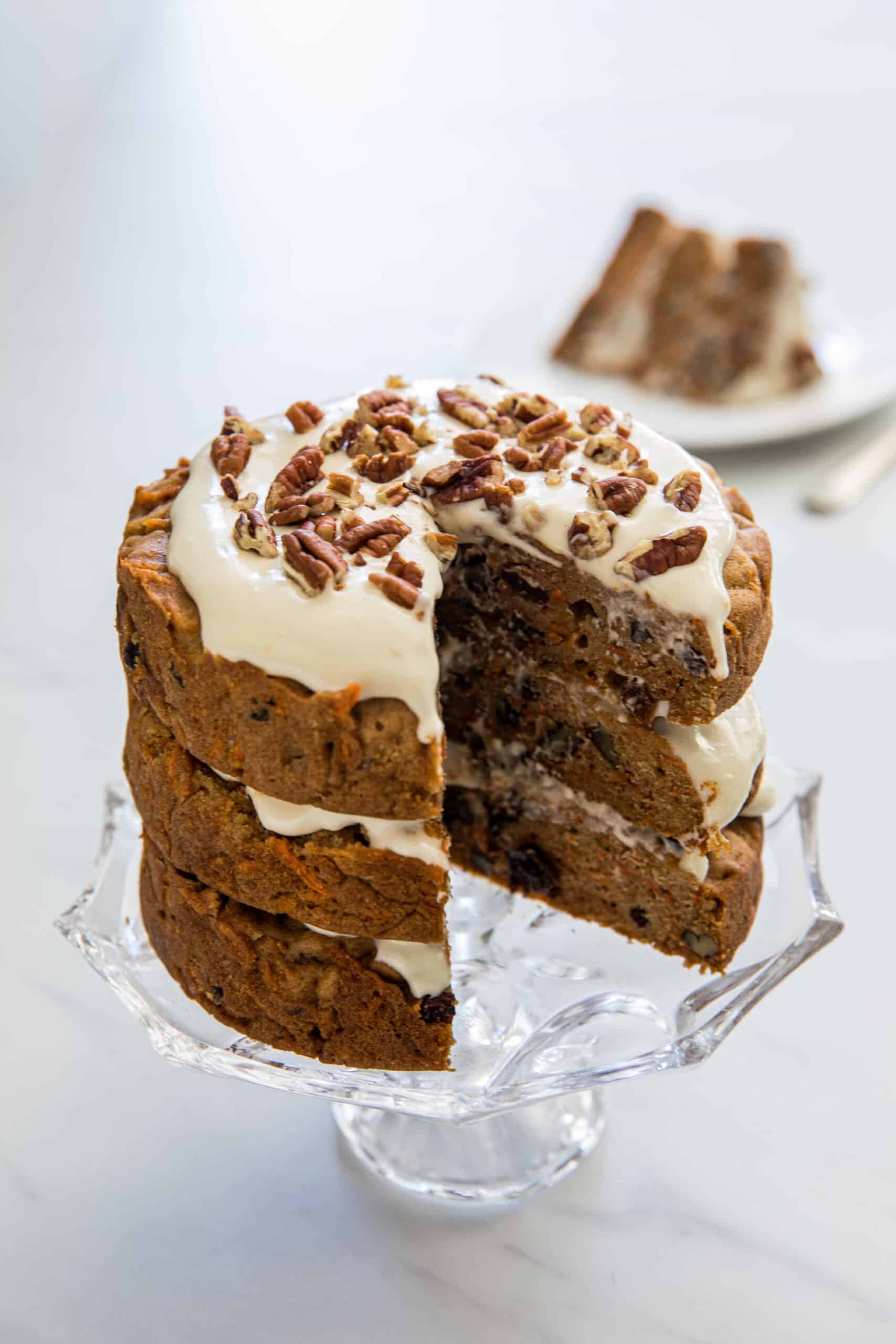 Making your Cream Cheese Rum Frosting
So please ignore how runny the Cream Cheese Rum Frosting is in the photo. I ran out of cream cheese and added a TOUCH more of rum than I had wanted (it spilled, I swear!). In addition, I reduced the icing sugar slightly, because it has a somewhat metallic taste for me. It also made sense to replaced the vanilla extract and Grand Marnier and use the spiced rum used above instead.
Choosing your Nuts
This is a component you can easily adjust. Seeing as I didn't have any walnuts and genuinely, I LOVE pecans in a Carrot Cake. In addition, I soaked the Raisins in rum and acid before tossing it in. I learned this from Yotam Ottolenghi who would soak his raisins before in incredible rice and lamb dish. I will ALWAYS soak raisins if ever I'm cooking now because of this.
If you're team #IHateRaisinsInMyCarrotCakes, omit it. Add whatever you want. Even dried cranberries can be delicious. Experiment and let me know what you choose for this Rum Carrot Cake!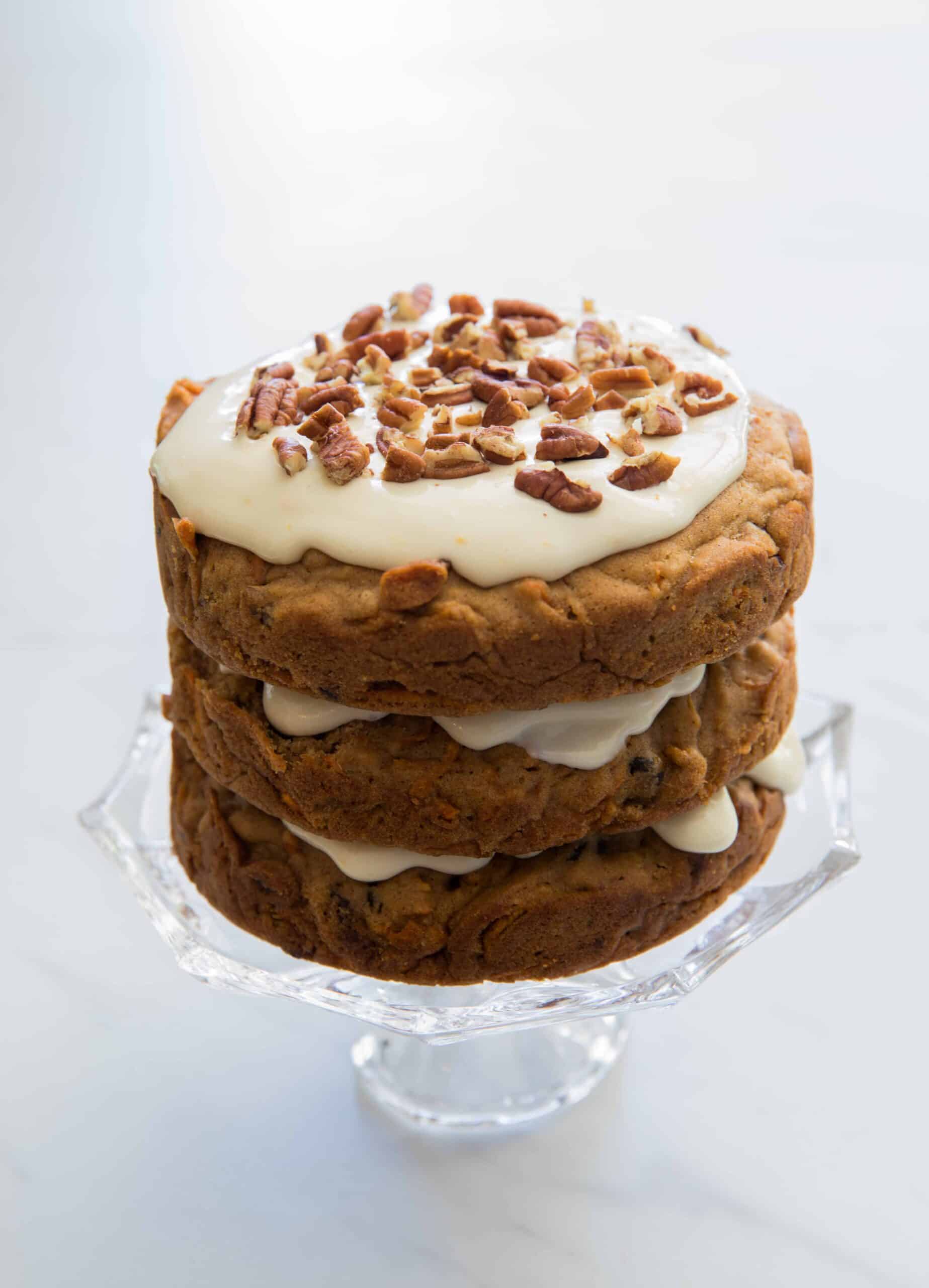 Upgraded Rum Carrot Cake with Spiced Rum Cream Cheese Frosting
I decided to give my timeless recipe an upgrade and I love this lighter style Carrot Cake so much. Infused with some of my favourite Rum's, and easy to whip up at home!
– Difficulty: Intermediate
Serves a 3 tier – 6 inch round Carrot Cake
Ingredients
Carrot Cake
3

Eggs

1.25

cups

Brown Sugar

Lightly packed

2

cups

All Purpose Flour

1/2

tbsp

Baking Powder

1/2

tbsp

Baking Soda

1

pinch

Salt

1/2

tsp

Cinnamon Powder

1

pinch

Nutmeg

1/2

tsp

Vanilla Extract

2

tbsp

Unsalted Butter

Melted and at room temp

1/3

cup

Vegetable Oil

3

oz

Lemon Hart's Overproof 151 Rum

(plus extra for soaking)

2

oz

Hart and Son's Blackpool Spiced Rum

2

cups

Carrots

Peeled and Shredded

1/2

cup

Raisins

Soaked in Rum and Vinegar

1/2

cup

Toasted Pecans

Coarsely chopped (plus extra for topping)

2

tbsp

Apple Cider Vinegar
Cream Cheese Spiced Rum Frosting
1/2

cup

Cream Cheese

Room Temp

1/2

cup

Unsalted Butter

Room Temp

2

tbsp

Hart and Son's Blackpool Spiced Rum

1

pinch

Salt

1.5

cups

Icing Sugar

1/2

Whole orange peel

Zested
Instructions
Carrot Cake
First soak your Raisins in a small bowl with Apple Cider Vinegar and 2 oz of Lemonhart's Overproof Rum.

Set your oven to 350 degrees F. Grease your 6 inch cake pans and set aside.

In a Stand Up Mixer, attach the whisk attachment and whisk together the eggs and sugar. Build your way up to med/high speed until it becomes fluffy and much lighter (approximately 8-10 minutes).

While it whisks, put together your dry components. Sift and Whisk your flour, baking powder, baking soda, salt, cinnamon and nutmeg. In another small bowl, whisk together the oil, butter, vanilla and rums (3 oz Overproof and 2 oz spiced rum).

When the eggs are ready, slowly add in the oil mixture until it's emulsified and again, nice and fluffy. Turn off the machine and fold in the dry ingredients until barely combined. Fold in the shredded carrots, raisins (make sure you drain out any liquid left) and pecans.

Pour batter into your pans and leave in the oven for approximately 25 – 30 minutes. Use the toothpick test to ensure it's cooked through. Let cool completely on wire rack.
Cream Cheese Spiced Rum Frosting
In a stand up mixer or hand held mixer, add you butter and cream cheese. Whisk for about a minute until well combined before adding the rest of the ingredients. Whisk for another minute or two and you're done!