Whether you were ACTUALLY looking for a Shrimp Cocktail sauce recipe with Tequila (which sounds pretty good if you ask me) or not, I'm going to surprise you with today's #NoDrinksWasted creation! In an effort to bring you cocktail recipes with ingredients you have around the house, I'm launching this series with a very random ingredient. Yes Shrimp. To be more specific, shrimp tails. Now thinking about how well salt and tequila go together, structured the cocktail I'm featuring today! Curious how it's made? Head down below for details!
Jump to Recipe
What's #NoDrinksWasted?
After a fun year of #DrinkYourGram on my social platforms, I wanted to create cocktails with you in mind. Many of you likely have random bottles or ingredients around the house that you don't want to waste, so why not use them in a cocktail? Now my instagram is doing something weird where I can't see your past responses after 24 hrs, so I couldn't remember what a ton of you requested. But I did remember one…Shrimp Tails.
I know this sounds like the ODDEST ingredient on the planet, but when you think of cocktails, savoury drinks have been around for some time. Think about the classic Caesar! Or some of my own creations I made with fresh tomatoes like the Mexican Caesar or the Cornita that was absolutely phenomenal. With that in mind, I knew I could make this work.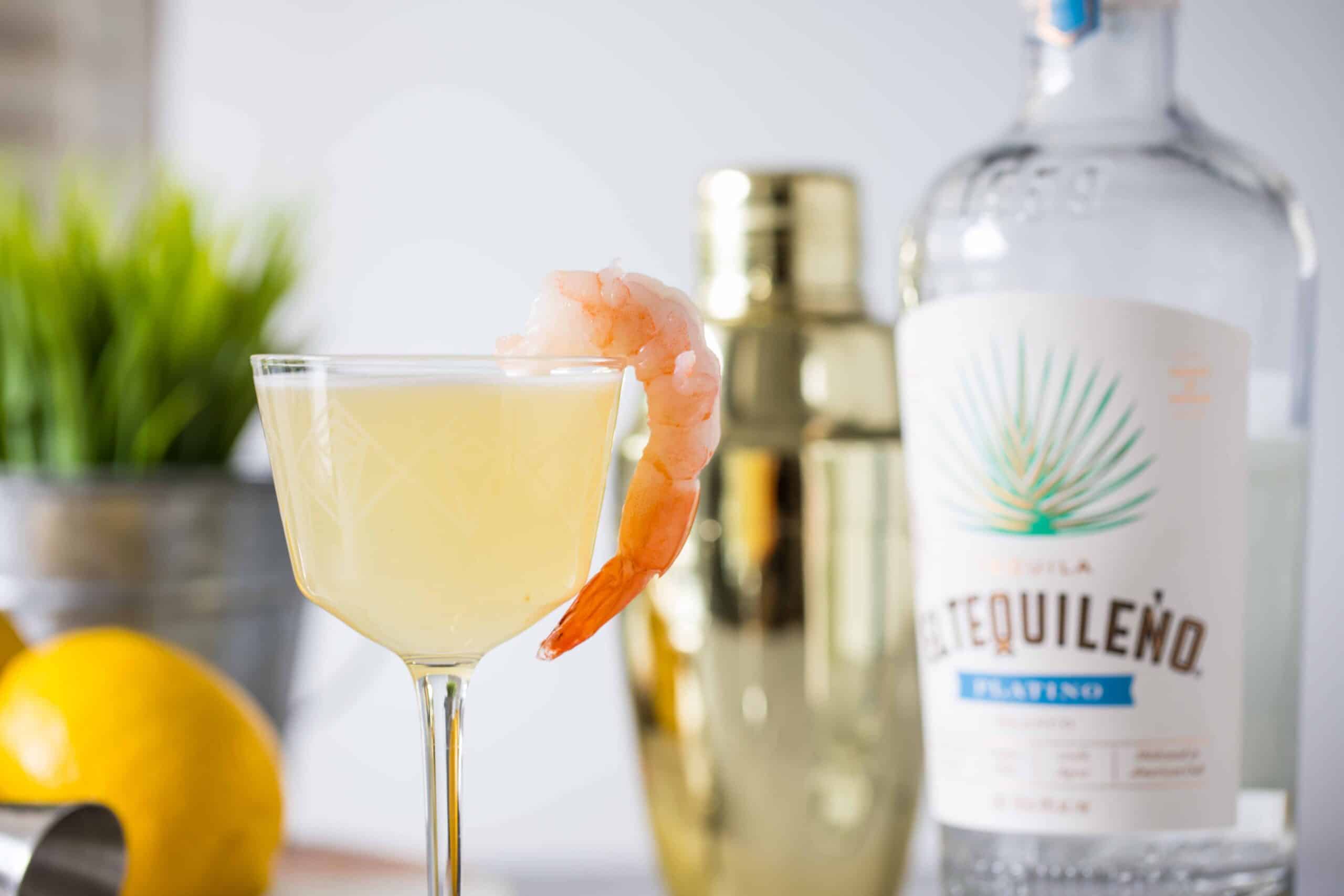 Tequila Shrimp Cocktail
I heavily debated using tomatoes once more and almost create a tomato based cocktail to represent the iconic shrimp cocktail. Thing is, I've done the tomato thing, so I wanted to experiment! I looked up some classic flavour pairings with Shrimp, thanks to The Flavor Bible, and that's where pineapple popped up. I realized that I could easily make a riff of a Margarita or something of the sort.
Playing around with the ratios was the most difficult part of this cocktail. That's because I wanted the shrimp to come through while still balancing the cocktail with the sweet and citrus components. Here's the thing, you may not love my combo I've shared here. Just like a margarita, everyone has their own preference in ratio. So play around with it and let me know what you love!
Creating your Shrimp Stock
Ever since I received the Zero Cocktail book, I realized how much further I can use my kitchen with cocktails. Creating a stock of shrimp seemed the logical way to introduce this flavour. It doesn't take much work AT ALL, I SWEAR! Just allow the shrimp tails to simmer for a few minutes with a bay leaf and voila you're done. Here's how I made the stock:
In a small saucepan, add 1 cup water with approximately 1/4 cup of Shrimp Tails (this was about 21 shrimp tails, which was about half of a shrimp party tray I picked up). Add 1/2 tbsp of Kosher Salt. You want this to be salty to bring out the shrimp notes. Add one bay leaf and bring this up to a simmer for 5 minutes. Remove the bay leaf and cover the pan. Remove your pan from the heat and let this cool completely. SO YES, prep this in advanced. Once cooled, created your Tequila Shrimp Cocktail!
Choosing your Spirit
Tequila seemed like a natural choice here. That's because I wanted to keep this cocktail fairly bright, and a blanco would do just that. If you don't care for tequila (slight heart break writing that), that's okay! I would actually recommend a Pisco for this, Mezcal could go a long way, even Cachaca.
Let me know if you end up experimenting and some of your favourite creations!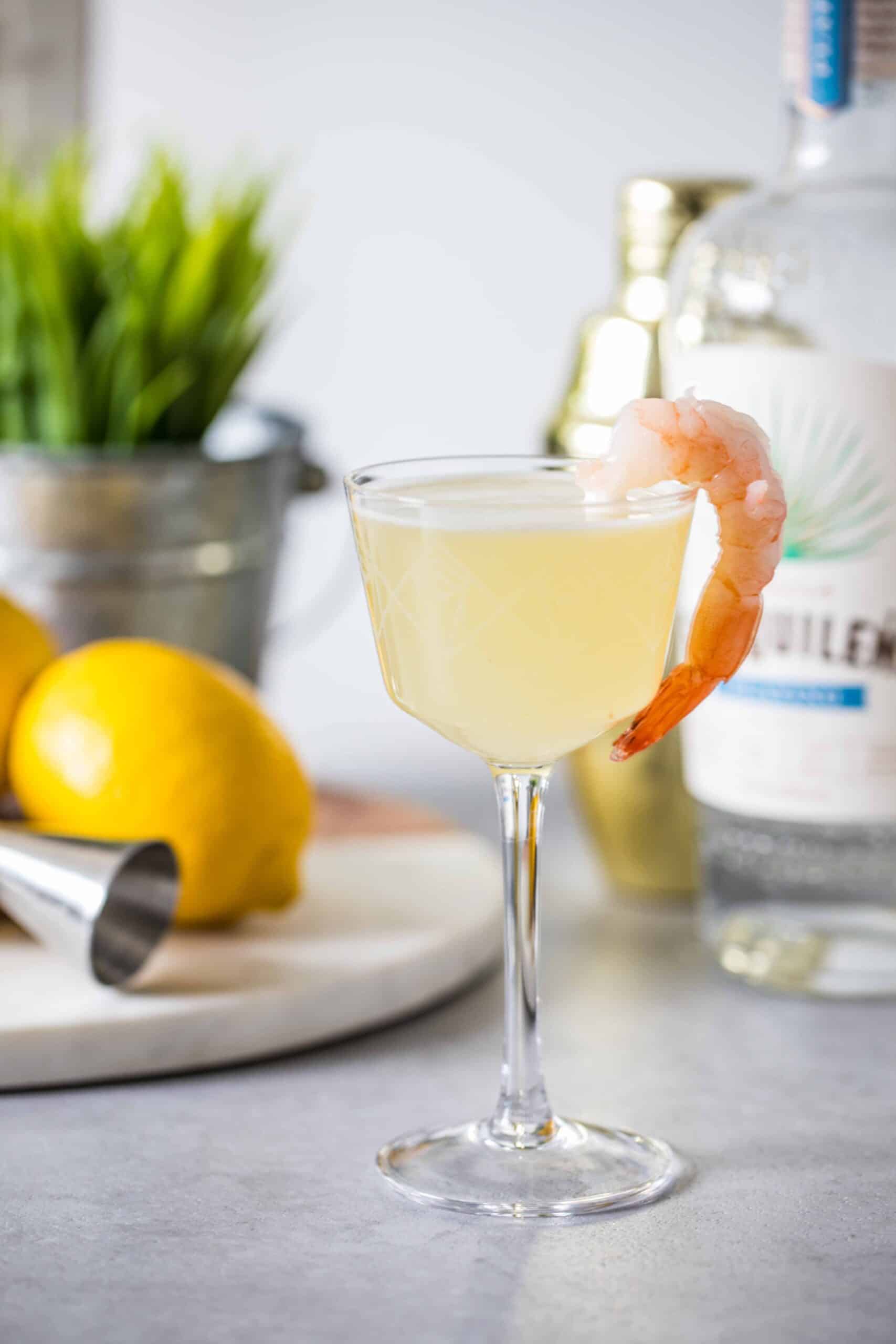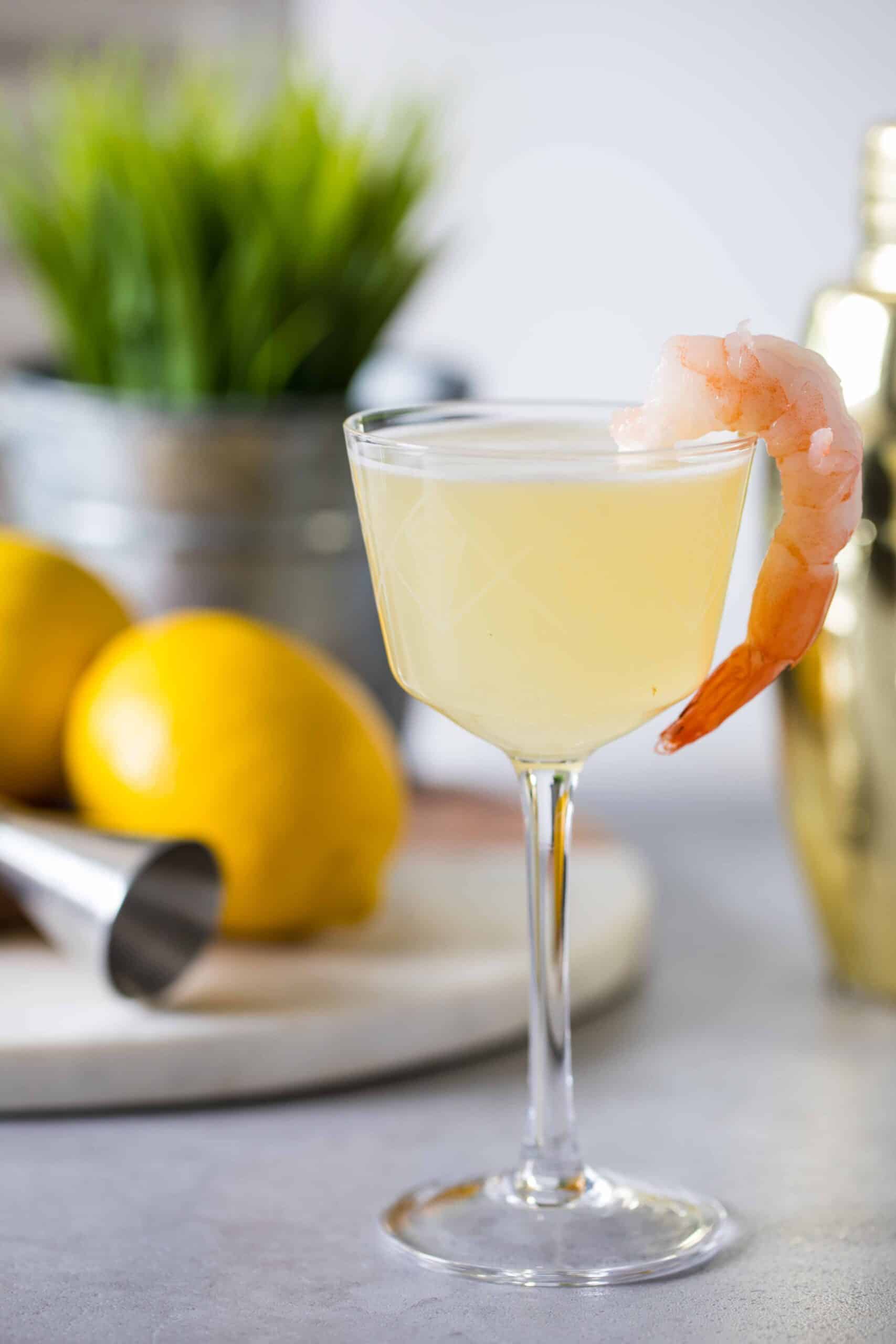 Tequila Shrimp Cocktail
Serving you a Savoury Pineapple and Tequila Cocktail infused with Shrimp Tails!
– Difficulty: Intermediate
Ingredients
1.5

oz

Tequila Blanco

El Tequileno used here

3/4

oz

Lemon Juice

1/2

oz

Pineapple Juice

1/2

oz

Simple Syrup

(1:1)

1/2

oz

Shrimp Stock

*
Instructions
Add all your ingredients into a shaker and fill with ice.

Shake well and strain into your favourite coupe.
Recipe Notes
*Find the recipe the Shrimp Stock in the write up above!