I thought my love would stop at a Negroni…but little did I know that I would fall in love with Cesar.
I don't know how to top this cocktail when it comes to accommodating my palate. I'm insanely obsessed with agave spirits, so of course I put both Tequila and Mezcal for a bit of a smokey component. I love tomatoes, and I have a stunning Staub Cast Iron in the shape of one to prove it. I love citrus. I love cilantro. I love salsa, because low key this is a salsa in cocktail form. So….that's it. I've found true happiness. Oh and did I mention I love TOMATOES?!
Something else I haven't brought up is my incorporation of mangos. This may sound basic, but I always tend to throw in some fruit in my salsas, mango being one of my favourite pairings. And there you have it. There is literally nothing else I can say, because if you're reading this then you don't need anymore convincing and you're probably pissed I'm still talking. Got it…Here's the recipe…did I mention I love Tomatoes?!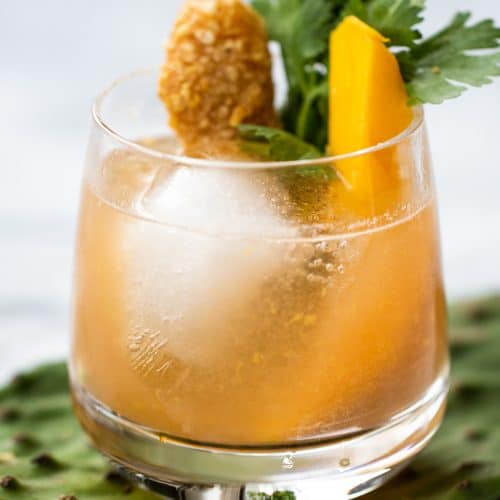 Mexican Cesar
This cocktail combines some of my favourite flavours together to create the ultimate cocktail. Low key it should be the national drink. Cheers!
Difficulty: Easy
Ingredients
1

oz

Tequila Blanco

1/3

oz

Mezcal

1/2

oz

Simple Syrup

1/2

Fresh Mango

Ripe and sweet!

1/4

cup

Fresh Tomato

approx. 1/3 of beefsteak Tomato

1

oz

Lime Juice

2

sprigs

Cilantro

1

piece

Chicharron

Optional
Instructions
In a shaker, muddle tomato slice and mango to a pulp

Add ice and the rest of the ingredients (only 2 leaves of Cilantro, leave the rest for garnish)

Double strain into a Old Fashioned Rocks Glass and garnish with Chicharron, cilantro and mango slice
Recipe Notes
I simply added the Chicharron to the cocktail, but you can crush it up and have it rimmed on the glass as well!