Meloco-what? If you haven't google translated yet, I'll save you the step and let you know that Melocotón is spanish for PEACHES! With Cinco de Mayo approaching, I've been having some serious spanish vibes and it will definitely show on Liquid Culture. So in honour of mixing my love for peaches and my Cuban roots, I'll be highlighting some of the best that Central America has to offer! First stop is the ever so popular Piña Colada featuring some Peach Vibes!
As much as my father likes to think that everything was born and created in Cuba, the Piña Colada dates back to Puerto Rico. It's also the origin for the famed Coco Lopez product, which if you're unfamiliar with it, it's a can of creamed coconut. The Canadian market makes things a little bit difficult when it comes to finding unique products like Coco Lopez, but if you ever stumble upon it, pick up as much as you can! There is a reason why professional bartenders across the globe only use Coco Lopez for their Piña Colada. Now if you can't find that, just browse through the market for coconut milk or cream. I would recommend finding one with the least amount of sugar, so that when it comes to creating the cocktail, you have complete control.
This recipe also calls for my Peach syrup to infuse some of the flavour. Now if you want to cut back on the sugar, and time is on your side, roast some fresh peaches and cook it in a bath of Coco Lopez. Let that simmer for a bit over the stovetop and you have one UNREAL infusion (my mouth is salivating now just thinking about it). Roasting peaches is one of my favourite ways to extract a lot of its flavour, so do not skip this step if that's the way you want to go! Now I know we are all here for the recipe, so lets get to it!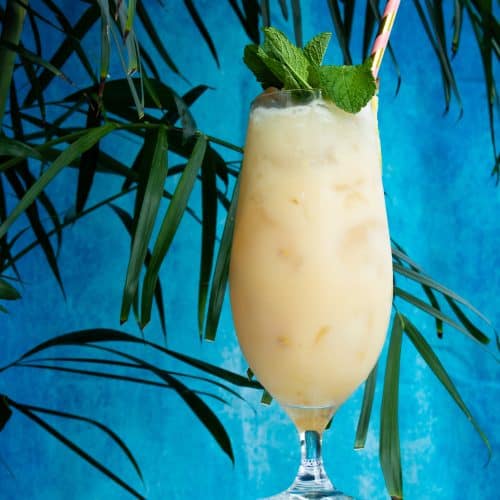 Melocotón Colada
A take on the traditional Pina Colada but with the addition of Peaches for Peach Wednesday!
Difficulty: Intermediate
Ingredients
1

oz

Havana Club 3 Yr Old Rum

1/2

oz

Havana Club 7 Yr Old Rum

3/4

oz

Coco Lopez

Famous Puerto Rican Cream of Coconut

1

oz

Peach Syrup

See link below for peach syrup

1/3

oz

Freshly Squeezed Lemon Juice

4

pieces

Small Pineapple Cubes

4

wedges

Fresh Peaches

2

dashes

Angostura Bitters

1

dash

Cinnamon Bitters

1

sprig

Mint

For Garnish
Instructions
Muddle 3 pieces of pineapple and 3 wedges peaches (the last pieces will be used for garnishing) in a shaker until well pressed and juices extracted

Add Ice and the rest of the ingredients into the shaker and shake vigorously

Double strain into a your favourite tiki mugs or julep tin over crushed ice, and garnish with mint, pineapple and peach slice!
Recipe Notes
So why do I split the rums with different years? When I want to get a bit more of the molasses characteristics from the Rum, I will use Havana Club's 7 yr Rum, but to still keep it light and fresh, I mix it with the 3 yr edition.  It's all about balance!
If you're looking to cut down on the sugar content for this cocktail, make sure to read through my post about how infusing roasted peaches in a bath of Coco Lopez can save the day!
For the Peach Syrup recipe, make sure to follow here.