So a friend of mine inspired this warm serve and I'm wondering why I didn't jump on this sooner. If you love Gin, Hot Toddy's and/or Lavender, this hot cocktail will definitely be up your alley during the cold months. With a drizzle of honey, citrus, Gin and Lavender, this is an easy beverage to whip up in the comforts of your home!
Jump to Recipe
There was a massive trend for Lavender cocktails that I was not about for a long time. The perfume alone would make me think I was sipping on a cleaner. My palate has been a lot more understanding now, and in the right balance, Lavender can be a great addition to a beverage.
Ratio for your Gin Lavender Toddy
Nailing the ratio was a bit tricky, and I'll be honest, you'll likely want to adjust this to your preference. I was also serving this in the tiniest, afternoon tea-inspired cup, so a little went a long way. What's important to note is that Gin when mixed with boiling water can almost hit you in the face. I used less than I would with a traditional Hot Toddy. Now that was my preference, and you may want more Gin in your cup. That's okay! This is a fairly forgiving drink that you can play around with the flavours without it completely destroying the balance. Just adjust ratios in 15 ml increments.
I will however show you how I preferred it (still quite boozy), but tasty AF! I created this with 1 part Gin, 3 parts Boiled Water and 1 part Honey. You'll find further details below!
Lavender Tea vs Dried vs Extract
There's many ways you could incorporate the Lavender into this Lavender Gin Toddy. Maybe you have bitters, extracts, or a special tea that's infused with Lavender. That's what's great about this hot cocktail. In this particular case, I had some dried Lavender around so I decided to let it steep for a bit before pouring. My recommendation is that you adjust on the go and see what works for you, BUT REMEMBER, Lavender can QUICKLY overwhelm a cocktail so use this flavour sparingly.
Choosing your Gin
With Gin, you really have a ton of flexibility. A London Dry Gin would be my go-to, even those new Western style that's more delicate on the palate would be delicious. I took this opportunity though to use a floral Gin I love and haven't shaken up yet for Liquid Culture. That's the Violette Gin which I figured would lend well with the Lavender pairing. Usually I mention Gin's to avoid, but really, this Lavender Gin Toddy should be made specifically to you. If you have a Gin you love and want to try, then do it! Share your thoughts via my socials or send me an email!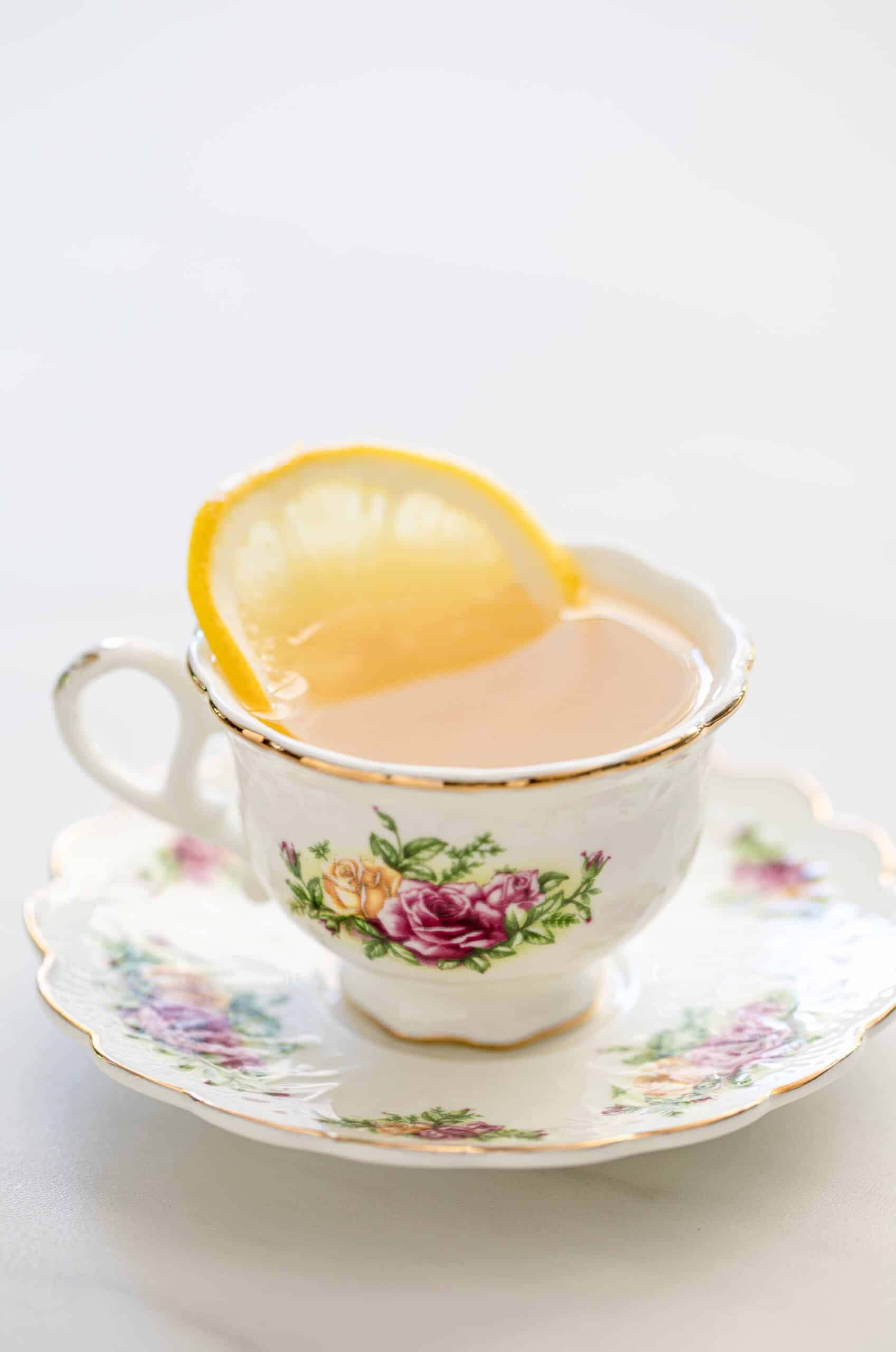 Lavender Gin Toddy
A delicious Warm cocktail to keep things bright this Winter!
– Difficulty: Easy
Ingredients
1.25

oz

Violette Gin

3

oz

Boiled Water

1/4

tsp

Dried Lavender

1

tsp

Honey

1/4

oz

Lemon Juice

plus lemon Wheel
Instructions
In your tea cup, add your honey, lemon juice and Gin. In a strainer, add your dried Lavender and pour your hot water.

Cover and let this steep for 5 minutes before straining. Stir to ensure the honey has dissolved. Top with Lemon wheel (optional)
If you want more Hot Beverage inspirations, check out some of my recipes here!