So the T has been spilled. Whisky Beth and I are working closely together to offer some fun virtual spirits and cocktail classes! With Valentine's Day around the corner, we teamed up with Fireball to create some special Valentine's Day Fireball Whisky Cocktails for your sipping pleasure. What exactly are we creating? Well a delicious Fireball Hot Chocolate plus a refreshing cold Whisky cocktail to enjoy year round. Whether this holiday you're on your own, or wish you were, we've got a cocktail just for you.
Creating Fireball Cocktails
I know most of us have a very different experience when it comes to Fireball Whisky. Even I'll admit, I judged the hell out of Fireball thinking it couldn't possibly be a part of my home bar…until I tasted it. Once I did, and realized that it does have a place in the cocktail scene with A LOT to offer, I immediately wanted to create.
When you want to create cocktails with Fireball, it's important to note that any flavour that pairs well with Cinnamon, can pretty much work with Fireball. I almost have it act as a "liqueur" when balancing out my cocktail. Now it's definitely not sweet enough to replace that component, but it helps. Plus that famous burn at the end, is actually a great experience when moderated into a balanced cocktail. KEY WORD BEING BALANCE!
Hot Chocolate & Fireball
When this concept came to mind, it was a NO brainer. Having experimented with Mezcal and Hot Chocolate, when you have decent bitter chocolate around, it can be MAGICAL. Now the chocolate syrup featured below was something created by the lovely Beth. I know this is something that many won't have access to, so I wanted to make sure you had a reference. That's where my friends in Toronto will love that I recommend the Chocolates coming from Soma! They have hot chocolate mixes that are outstanding, even ones with chile, etc. If you're not from Toronto and looking for a substitute, hit up a decent quality chocolate shop that offers hot chocolate mixes. The Bitter, the better (at least for my palate), but always remember to make this completely with your palate in mind.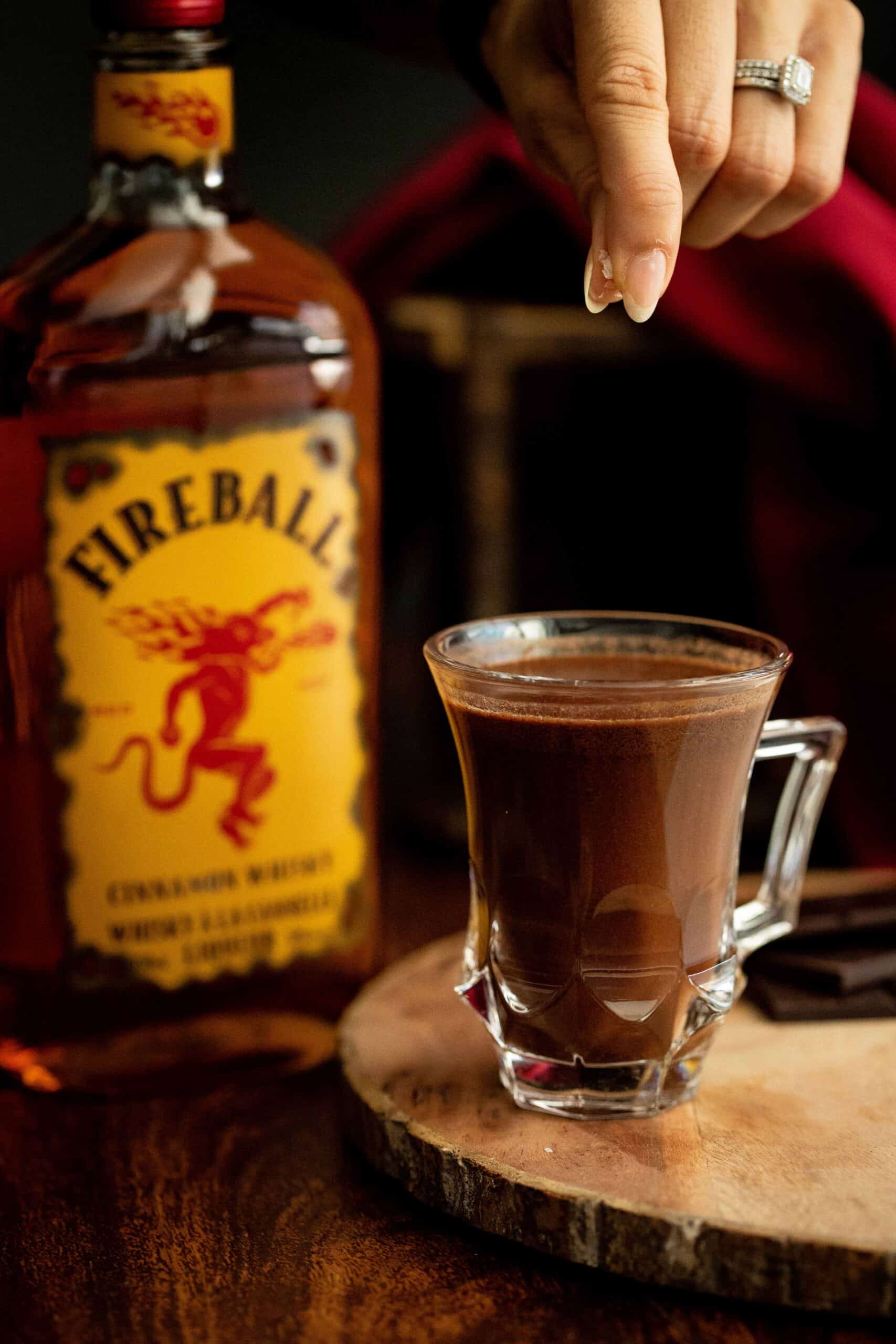 CinnaBURN
Featuring a Fireball Hot Chocolate Recipe to get you warmed up this Valentine's Day!
– Difficulty: Easy
Ingredients
1.5

oz

Fireball Whisky

3/4

oz

Chocolate Syrup

3

oz

Hot Milk or Water

1

pinch

of salt *optional
Instructions
Boil Milk or Water. In your favourite mug, add Fireball Whisky, Chocolate Syrup and a pinch of salt. Top with boiled Milk or Water and stir until combined.
Recipe Notes
Chocolate Syrup made exclusively by Aunt Beth Bakes. They can create their own syrup at home. We recommend heading to Soma Chocolates for the Spicy chocolate mix.
Fire on the Beach
We wanted to feature two Fireball cocktails both warm and cold. February isn't exactly the warmest month here in Ontario, so it's nice to have a boozy cocktail to warm up to. But I also love contrasting cold and heat together in a cocktail which is exactly what I've done with this Fire on the Beach cocktail.
One of the driving factors to my flavour pairings here had to be the fact that I love Pineapple and Cinnamon together. I always think of the Brazilian Steakhouses, and in truth, the BBQ I would have with my family! Cinnamon and Banana is another game changer. But I decided to keep this simple with ingredients you can find at home. Just ensure you shake this cocktail to get all the flavours well integrated!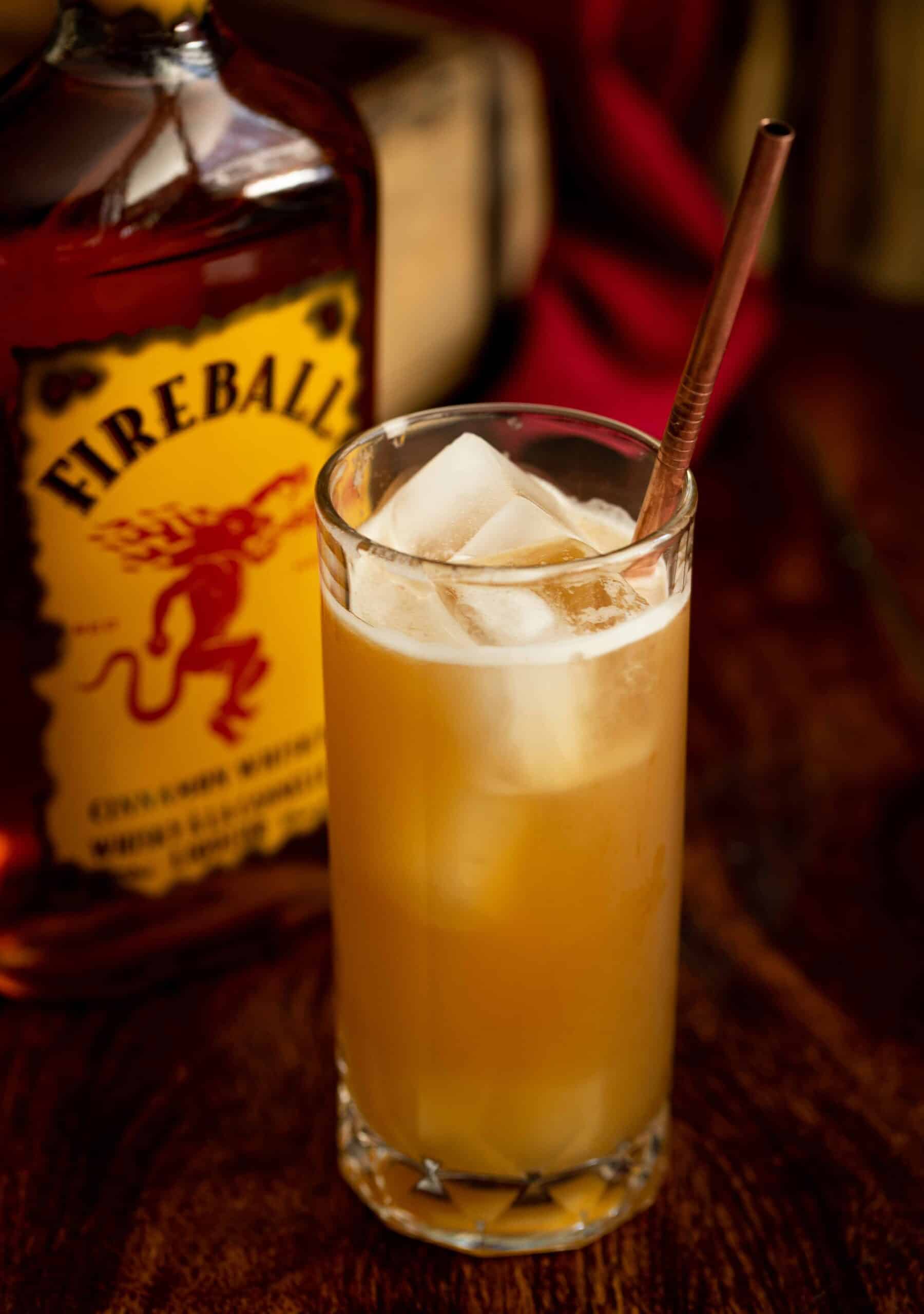 Fire on the Beach
Featuring a refreshing Fireball and Whisky cocktail combining Pineapple, Lime and Bitters!
– Difficulty: Easy
Ingredients
1.25

oz

Seagram's Whisky

0.75

oz

Fireball Whisky

1.5

oz

Pineapple Juice

0.5

oz

Lime Juice

0.5

oz

Brown Simple Syrup

1

dash Angostura Bitters
Instructions
Add all ingredients inside a shaker and fill with ice.

Give this a good shake and strain in a Collins Glass over fresh ice.
Recipe Notes
To make the Brown Sugar Simple Syrup, simply combine 1 part brown sugar to 1 part boiled water. Stir until dissolved.
For an extra special treat, Aunt Beth Bakes Cookies has even created cookies with Fireball and Cinnamon hearts! For my friends out in the states, she even offers online shipping from here!
Curious to find more Whisky recipes on the Liquid Culture Website, ensure to check out our page here! Plus email us if you're looking for a fun team to host your next cocktail virtual event!