Whenever I think of a luscious Ramos Gin Fizz, I immediately start drooling. Now for today's #NoDrinksWasted, I had a friend seek out a cocktail made with Vanilla Liqueur because that's definitely a bottle that can sit around. The thing is, a Vanilla Liqueur can be used in so many ways. I don't typically push a Ramos recipe for those just starting their bartending journey, so I'll list off some other options with the Vanilla Liqueur as well! In the meantime, get a taste of this Orange Vanilla Gin Creamsicle Cocktail here!
Working with Vanilla Liqueur
The reason your Vanilla Liqueur is likely sitting around in your bar, is because you don't need much for it to go a long way. It's rare that you'll ever see me use more than 1/2 oz of a liqueur in a single serving of cocktail, especially with vanilla having a loud flavour. So my suggestion, if you're ever trying to finish off some bottles, maybe add a 1/4 oz to your Old Fashioned or Manhattan. Classics that are warming and uses dark spirits is definitely a good way to go. Check out some of the recipes I share here on Liquid Culture that uses Vanilla!
Orange Creamsicle Gin Cocktail
I know Cream can sound like a foreign concept to those new to the cocktail, but if you're here, you either know the Ramos Gin Fizz game or adventurous enough to try! What I love about this cocktail is the oxymorons going on. You wouldn't think Gin being so bright and herbaceous to work with Cream, but it does! Plus when I think of Cream and Vanilla, I do like some sort of citrus component which is where the Orange came in. Orange and Cream together, we naturally think of a Creamsicle and what I decided to shake up here.
Ratio is VERY important with this cocktail. Try to be exact with the measures because Ramos aren't exactly forgiving. Hence why I don't recommend this to those who are not feeling very confident with shaking up cocktails just yet. What I do recommend is reaching out to those bartenders you love and ask them questions! There's so much to learn in terms of glassware, the right ice, how to properly shake it and it's always good to have the visual reference.
Until then though, and for those of you ready to take this drink on, give this Orange Vanilla Gin Creamsicle a try. I promise, you will LOVE IT.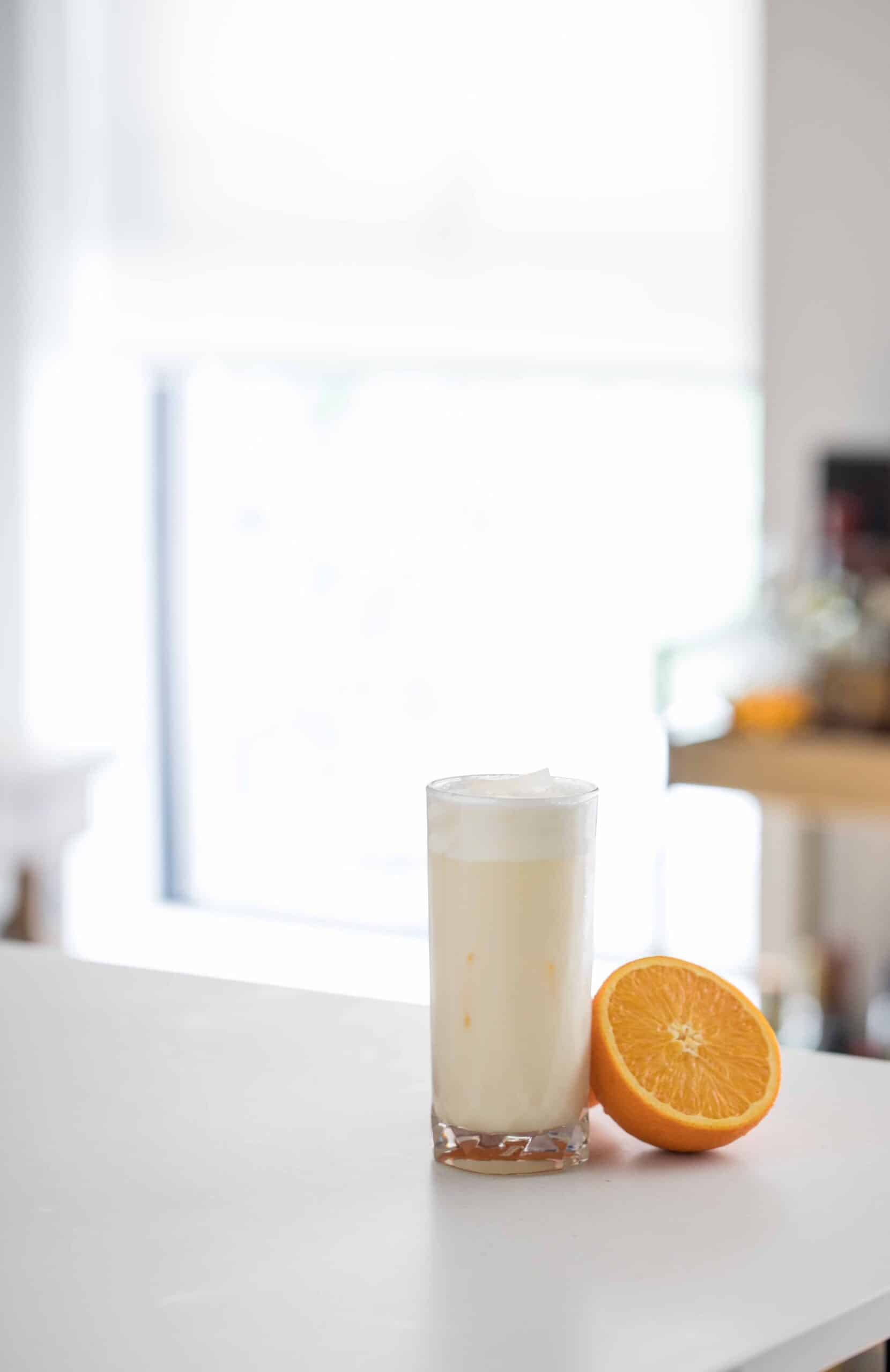 Orange Vanilla Gin Creamsicle
We're shaking up the classic Ramos with Gin, Orange and Vanilla!
– Difficulty: Expert
Ingredients
1.5

oz

Steinhart Dry Gin

A proper London Dry Gin

3/4

oz

Orange Juice

1/2

oz

Lemon Juice

3/4

oz

Heavy Cream

1/3

oz

Vanilla Liqueur

1/3

oz

Simple Syrup

1

Egg White

1

oz

Soda
Instructions
Fill your collins glass with ice.

Add all ingredients into your shaker (except Soda) without ice. Give this a vigorous shake.

Add ice to your shaker and give this another vigorous shake.

Strain into Collins Glass. Let that settle for approximately 1 minute.