I was feeling nostalgic for this Cocktail Segment on CTV's The Social. I kept thinking about the Ice Cream Truck that would turn the corner and the Rocket Popsicle was always something I looked forward too. So I decided to make an adult version, with real flavours this time and some Gin that packs a punch. Plus, I show you multiple ways this treat can be served! Ready to make the Gin Berry Rocket?
Want to see this TV Segment live in action? Make sure to click the photo below to direct you to all the fun on TV. Or find this on the Liquid Culture YouTube Channel. (Please note, if nothing is linked, that's because it hasn't gone live yet! Hang tight!)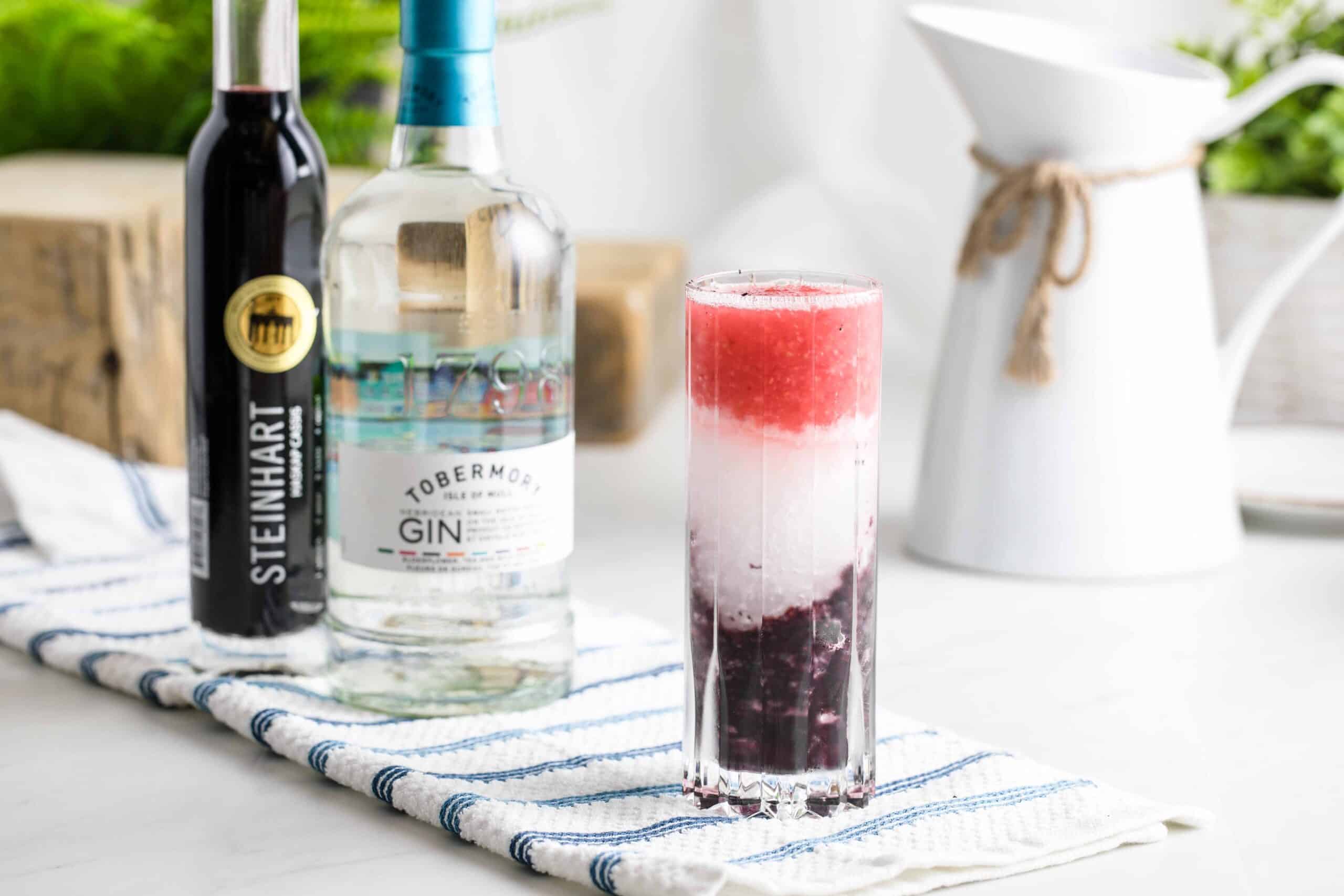 Building your Gin Berry Rocket
I knew with this Adult Slushie that I wanted to keep things fairly simple when it came to flavours. To bring out those nostalgic flavours and colours, my criteria was to make sure I used REAL ingredients and that they're fairly accessible to find.
With the layers of Berries used in this cocktail, I had a ton of flexibility with the spirit I wanted to use. But it didn't feel right to have an Adult Slushie segment without a Gin creation! When choosing the Gin for this Adult Slushie, you want it to be fairly classic, pronounced and dry. That's why a London Style Dry Gin is always a win and the reason I chose the outstanding Tobermory Gin here. Just because we're mixing something non-traditional, doesn't mean you don't want to use quality in your spirits. Plus this is great to have around for your next great Martini.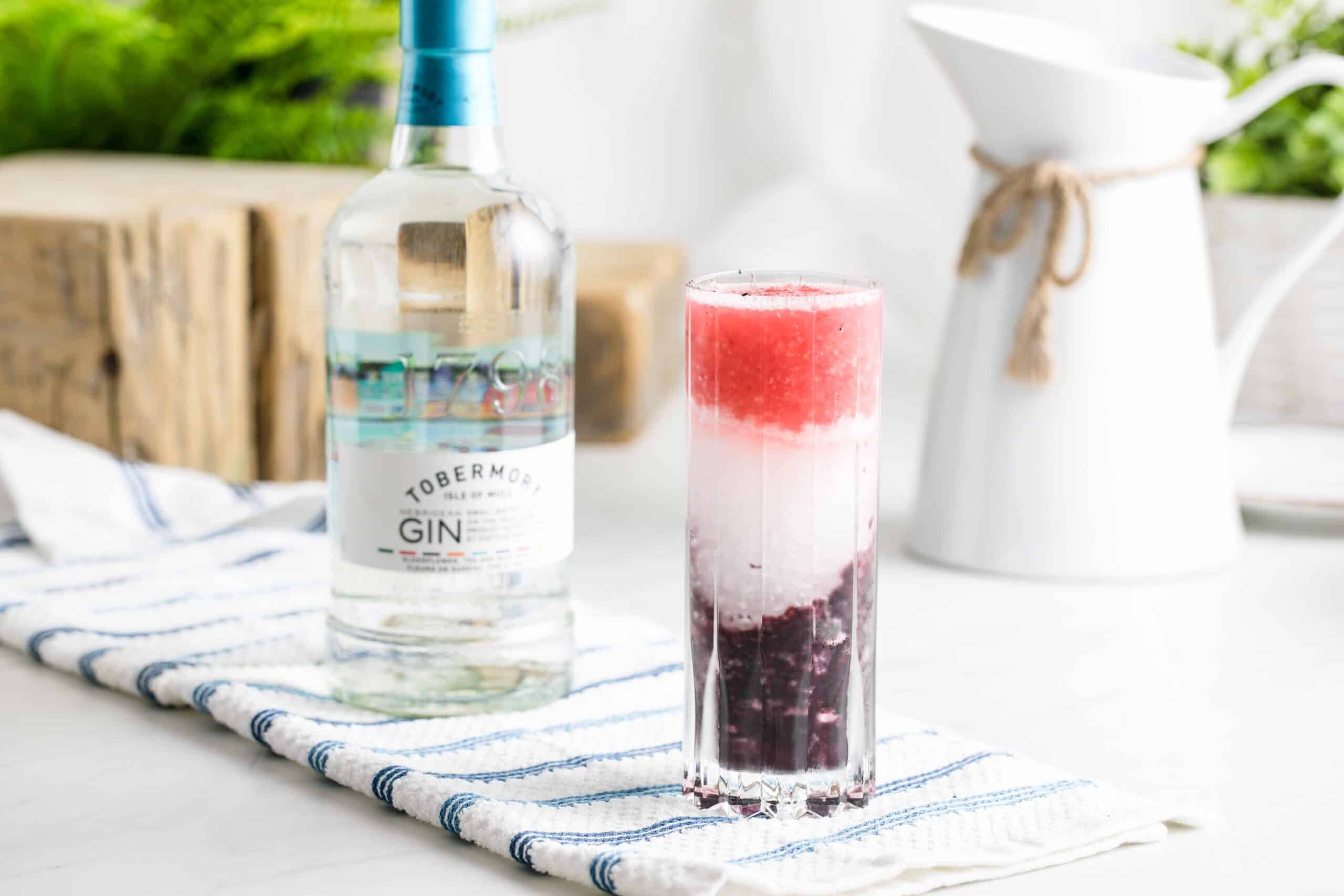 Choosing your Liqueur
When it comes to Adult Slushie Recipes, you need to up the sugar in your creations. Even for those who ban sugar from their drinks, needs to adjust slightly. Not just to allow the flavours to pop, but the sugar allows for a better texture and consistency in your overall creation.
That's why I'm layering in a Cassis. I'm not using just any Cassis, I opted to use Steinhart's Haskap Cassis. If you're unfamiliar with Haskap, it's a berry native to the northern hemisphere, including Canada. It looks like a long blueberry, but it's tart like a raspberry. Absolutely unique and worth seeking out. Now I know I mentioned this Haskap Cassis, but you don't HAVE to source out this particular one. Any cassis could work, but I love the acidity that this one brings, plus I love supporting a local Canadian Brand.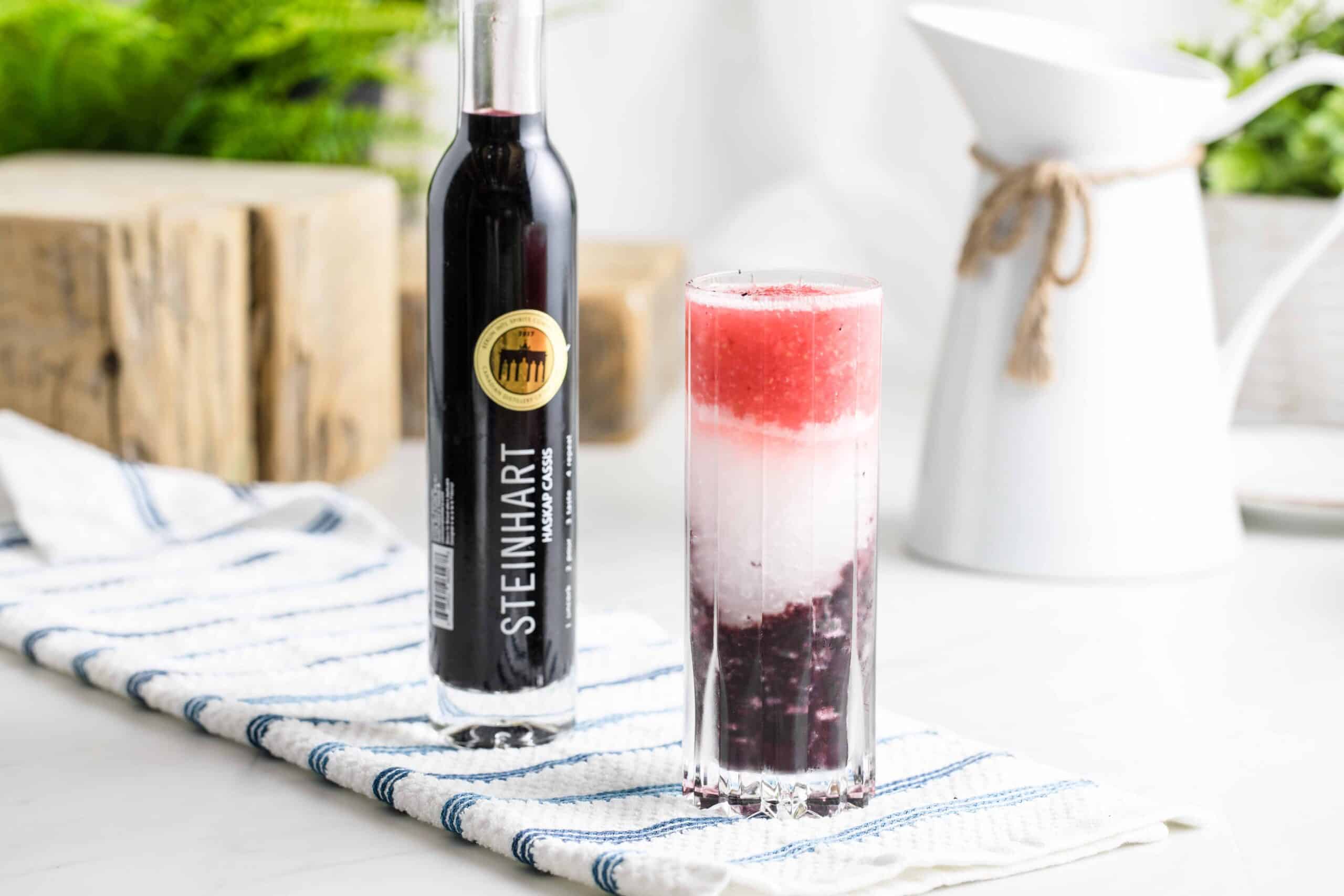 Making a Drink vs Popsicle vs Freezie
So the fun thing about this recipe is that it can come in many forms. From serving it up in a drink, to putting it in a popsicle mold or even a Freezie! My only piece of advice for the Popsicle and Freezie option is to use about 25% less ice when blending. You want it to be a bit more watery for the mold, and give the product itself the time to freeze up a bit before adding in the other layer.
My other piece of advice, especially when wanting to serve this up to a bunch of people over on the weekend (or weekday): Create a batch of all three layers, put them in a container and let them hang out in the freezer before serving. This will allow for better layering come time to serving! Just note that if it completely freezes over, put it into the fridge for about 15 minutes before breaking it down.
I'm getting thirsty, how about you? So let's get to that recipe!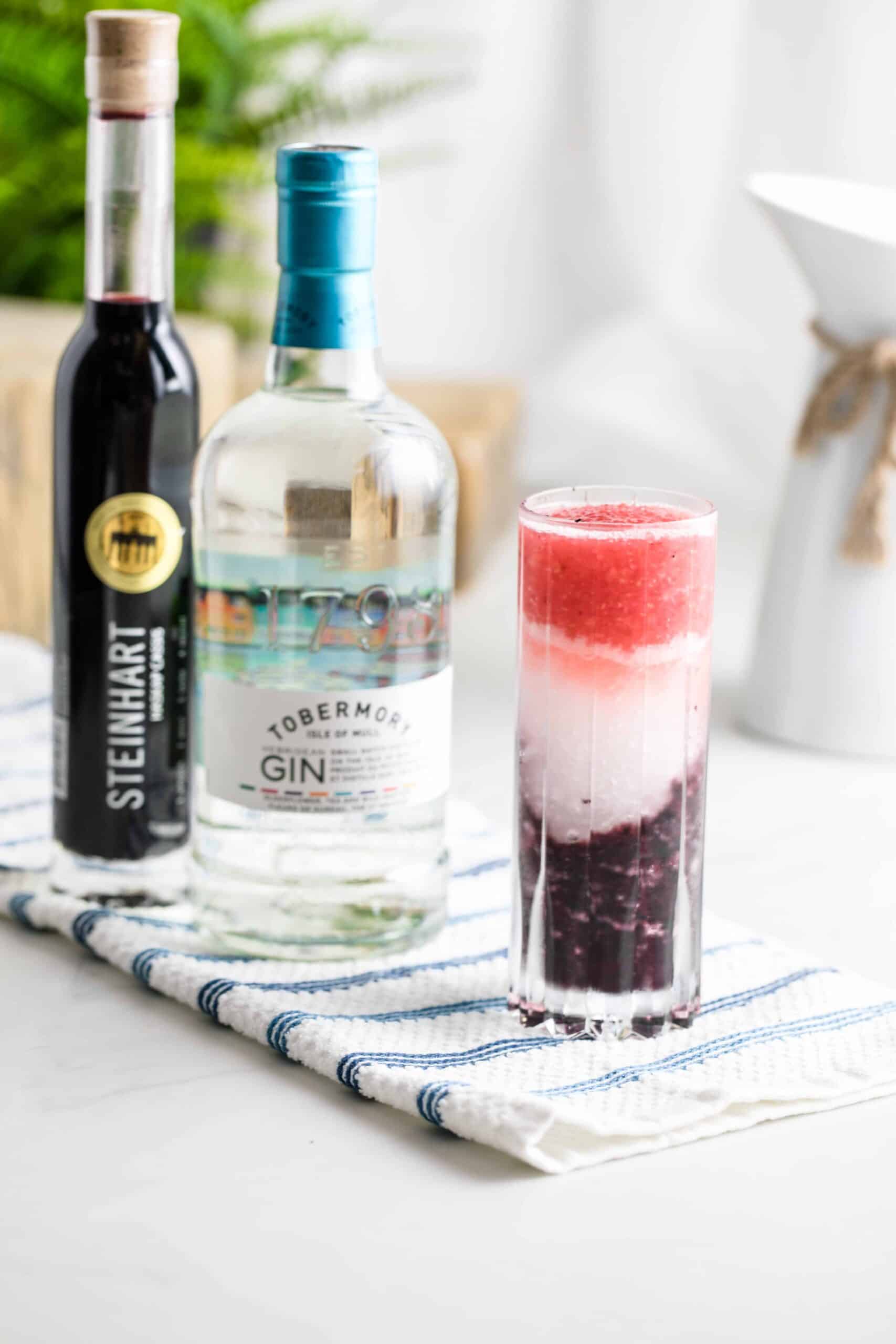 Gin Berry Rocket
An adult version of the classic Rocket Popsicle layering in Strawberry Gin, Lemonade and Berry Cassis!
– Difficulty: Easy
– Serves 8 Popsicles / Freezies
Ingredients
Blueberry Bottom Layer Component:
½

cup

Frozen Blueberries

1/8

cup

Cassis

1/8

cup

Cranberry Juice

½

cup

Ice
White/Middle Component:
½

cup

Lemonade

½

cup

White Cranberry Juice

1

cup

Ice
Red Component:
1/3

cup

Frozen Raspberry

1/3

cup

Frozen Strawberries

½

cup

Ice

¼

cup

Tobermory Gin

¼

cup

Simple Syrup

To make Simple Syrup, it's simply 1 part boiled water and 1 part sugar and stir
Instructions
Start off with the Bottom layer (Blueberry) by blending all the ingredients. Pour into your glass and keep it in the freezer while you make the other layers.

Blend the White / Middle Component and pour over top of the blueberry cassis layer. Place glass back into freezer.

Blend the final top component and pour over top of the White / Middle Component.

For ease, create all layer and pour into containers in the freezer before ready to serve. Use a Straw to enjoy all the flavours together!