I'm ignoring the weather right now in Toronto and dreaming about the hopeful days of spring. Whenever I need to be reminded that winter WILL end, I think about this gem of a cocktail.
It's a light, refreshing blend of Gin, Lillet Blanc, Cucumber, Oroblanco Grapefruit and Sparkling Wine! If you're new to the beverage scene, then you may not be familiar with Lillet Blanc. That's ok, I didn't know much about it either until my days working behind the bar at Canoe. Even then, I didn't utilize this spirit to its true potential.
In the simplest of terms, Lillet is an aromatized wine. Vermouths would fall into this category as well, but with Lillet we get a blend of bordeaux wines with the addition of citrus peel, quinine, fruit liqueur and spices. With the presence of quinine, gin is a natural pairing with Lillet, which made it an obvious choice when creating this cocktail. In addition, I like to utilize this spirit when budgets are involved. It keeps the cocktail boozy without breaking the bank.
Another important component to this cocktail is the Oroblanco Grapefruit. I know, I'm sounding like a fruit connoisseur, but there IS a difference. My whole life all I've known is the Ruby grapefruit with the familiar properties of being pink, juicy and tart. But one fateful trip to the market expanded my limited knowledge. So I picked up this very pale grapefruit, with a promise of a sweet grapefruit and many consider as "white gold". It's the perfect balance of sweet, zest and without the bitter taste! Since all the elements of this cocktail are delicate in nature, I didn't want a grapefruit that would overwhelm the palate.
And there you have it! The reason and method behind my madness. Every component was thought out, and now you have an EASY recipe to throw together! The lesson is over, and now let's get to the good part!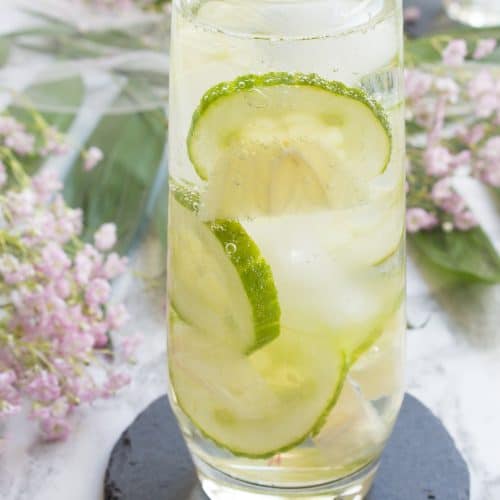 Gin, Lillet and Oroblanco Grapefruit Cocktail
A delicate and refreshing blend of Gin, Lillet Blanc, Cucumber, Oroblanco Grapefruit and SPARKLING WINE!
Difficulty: EASY
Ingredients
1

oz

Gin

1 ½

oz

Lillet Blanc

1/3

oz

Simple Syrup

3

oz

Sparkling Wine

1/6

Oroblanco Grapefruit

4

cucumber slices
Instructions
In a small Collins glass, layer the cucumber, and diced grapefruit in between the ice.

Add the Gin, Lillet Blanc, Simple Syrup and top with the sparkling

Give it a quick stir to mix all the ingredients and enjoy!
Recipe Notes
Gin Mare was used here, but any London Dry-styled Gin would work well!
As a reminder, all Simple syrup recipes use a 1:1 ratio. 1 part sugar to 1 part boiling water. That's it!