If you're looking for a cheesy, neon green cocktail that has enough sugar to supply Willy Wonka's Chocolate factory…well it ain't here folks.
I had debated for a while with what I should do as a St Patrick's Day cocktail. I wanted something that still represented Liquid Culture, but with the green, Irish flare, minus McGuinness Green creme de menthe. So with the help of some fresh kiwi, cucumber and mint, I came up with this gem here!
I'll be honest, this isn't the ideal drink for large groups, but I'm here to break the status quo of green beer and baileys. And maybe…JUST MAYBE this St Patrick's day doesn't have to result in the worlds worst hangover ever? #nothankssuga #newtraditions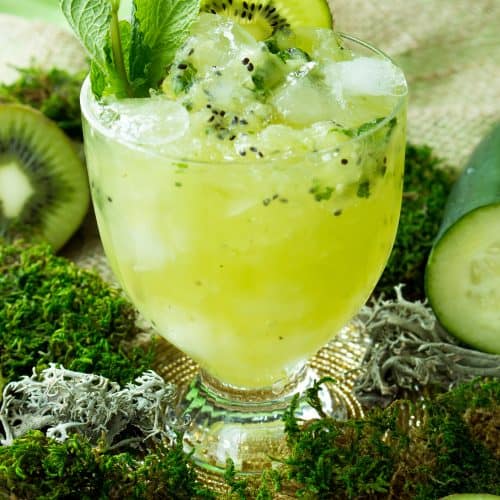 Kiwi, Cucumber and Mint Irish Julep
A healthy and refreshing way to drink through St Patricks Day, with the luck of not getting a hangover.
Difficulty: Intermediate
Ingredients
1.5

oz

Irish Whiskey

1/2

Kiwi

4

Slices of Cucumber

8

leaves

Mint

1/2

Freshly squeezed Lime

approx. 1/2 oz

1/2

tbsp

Honey
Instructions
In a shaker, muddle the kiwi, cucumber and mint until it is pretty much fluid and completely broken down

Add the honey, lime, whiskey and ice into the shaker and shake vigorously! At least 15 seconds to ensure the honey is well combined

Fill a double Old Fashioned glass with crushed ice (or a julep tin) and strain the cocktail over the ice.

Garnish with Kiwi and Mint
Recipe Notes
I will leave the Whiskey up to you! I went with an Irish Whiskey to celebrate St Patrick's Day. I've always been a fan of Tullamore Dew, but this is completely up to you and your preference!
I also can't stress enough the IMPORTANCE of the crushed ice. Regular ice just won't do. But if you don't have time to pick some up, believe me, you can bang out some regular ice (just like what I've done here) until you get it to the size you want.