Maybe it's the fact that I'm over winter already, or that I'm in desperate need of some sun, but I couldn't help myself when I decided to create a boozy peach popsicle for Peach Wednesdays. And what better way to get my hopes up then with a variation of my Tequila Peach Negroni!
The one thing I've found when creating homemade popsicles is that sugar is not the enemy here. Just when I think I've put enough sugar, I am gravely mistaken and need more. If it hasn't been obvious enough, I try to limit sugar at all costs with my cocktails, but you can't here. It's the only way to truly marry all the flavours together, especially when using freshly squeezed juices.
One of the ways I avoid diluting the cocktail with just plain water is the use of teas. It's an essential addition to allow your popsicle to properly freeze, so for this recipe I use Teavana's Peach Tranquility blend. I've always been a big fan of their teas, and this is an easy way to tie in the peach flavours from the tequila. Now I'm going to stop chatting, and finally give you what you're all waiting for!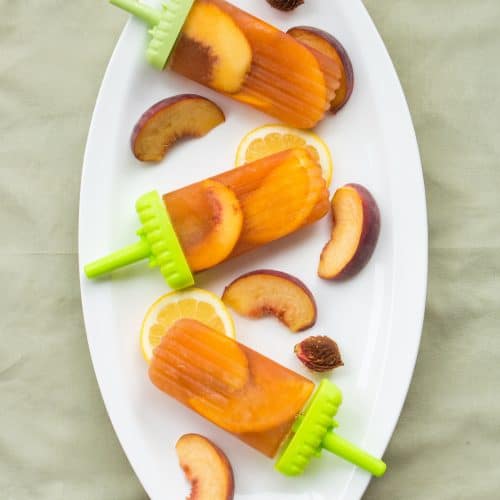 Peach Negroni Popsicles
A boozy and frozen edition of my Peach-infused Tequila Negroni!
Difficulty: Easy
Ingredients
1½

oz

Peach-infused Tequila

1

oz

Aperol

1

oz

Dolins Sweet Vermouth

4

oz

Teavana's Peach Tranquility Tea

Sweetened

1

oz

Orange Juice

6

Thinly sliced Peaces

3

Orange Wheels
Instructions
Fill the popsicle molds with sliced peaches and orange wheels

In a spouted container, place all liquids and give it a good stir

Pour into the molds and allow to freeze (overnight best)

Run the molds under hot water to take out the popsicles without breaking.
Recipe Notes
This recipe makes approximately 3 of 4 oz Popsicle Molds. Make sure to measure the molds first so you can adjust the recipe accordingly!
For the Peach-infused Tequila Recipe make sure to follow this link here.