This beer reduction was inspired by a fellow Drinkstagrammer, and I turned to a local Ontario gem for this special creation. 
Today I'm featuring one of my favourite local brewers and that's the team behind Collective Arts Brewery out in Hamilton. The beer I'll be reducing for the Jake Shake is Collective Arts Prophets and Nomads Gose Brew, infused with Pink Himalayan Salt and Coriander. If you're unfamiliar with Gose beer (don't worry, I didn't know about it either), it's an unfiltered wheat beer made from malted barley. This reduction came together like a dream, and got me pumped to make more beer reductions for cocktails! Cheers to this wonderful creation and many more!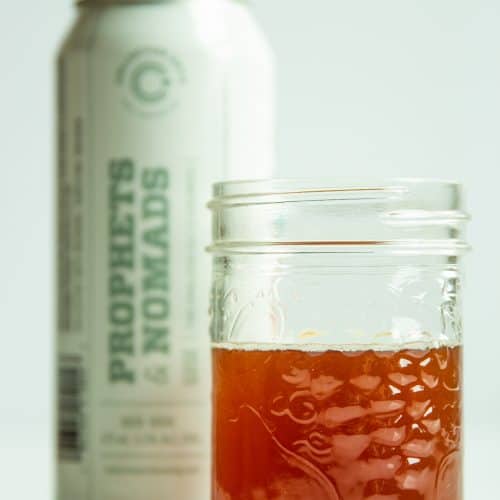 Gose Beer Reduction
Featuring an unfiltered wheat beer reduction made by Collective Arts Brewery here in Hamilton Ontario.
- Difficulty: Easy
Ingredients
1

can

Collective Arts Prophets and Nomad Gose Beer

3

tbsp

Granulated Sugar
Instructions
Over medium-low heat in a small saucer, pour beer and sugar and allow to simmer until it is reduced by half. Will take between 10 - 15 minutes.

Remove from heat and pour into sterile container until it reaches room temperature before storing into the fridge. Can last a maximum of 3 days before it starts to lose its flavour.