I've definitely been feeling the 'Monday Blues' lately as I think about the mountain of work ahead of me. Assuming I'm not the only one on this boat, I've been pushing for easy, quick recipes to keep myself (and you!) well motivated and hydrated to tackle the rest of the week. For this week, I decided to mix my love of coffee in this easy AND delicious Vanilla Ice Spiked Coffee cocktail, which I'm sure you will all agree, will get you over that Monday hump!

This year I'm really pushing for easy and carefree cocktail recipes for the start of the week, because I get it, you're not ready. Even I'm not ready for the start of this week, but unfortunately life doesn't stop, so that extra pick me up can really go a long way. For today's cocktail recipe, I'm using 2 very special products which include the infamous Spanish liqueur Licor 43 and Brewer's Cold Hard Coffee.
If you're giving me one of those dirty looks because you have to buy another liqueur on your bar, well just stop! This liqueur is going to quickly become your best friend simply because it can mix with EVERYTHING. Licor 43 is made with a no fewer than 43 unique ingredients and spices (hence the name). It has a strong vanilla characteristic, and as you can imagine, vanilla pretty much pairs with everything. You can mix it with an Old Fashioned, spice up a cake, mix in a tiki cocktail, it is virtually limitless. So yes, I do HIGHLY recommend having this behind your bar.
So for this cocktail, I added the Licor 43 to act as a sweetener for your coffee. Now when it comes to the coffee product, I used one of my favourite Cold Hard Coffee Brew from Brewers. I do apologize for my people outside of Canada following Liquid Culture, because this isn't exactly an easy product to get your hands on. This is local to Ontario by the team behind All or Nothing Brewhouse, which just recently moved their facility to Oshawa. Their Cold Hard Coffee Brew is still my favourite cold coffee I've ever tasted, and I anticipate they will produce a ton more variety with this brew. So my word of advice, find the best Cold Hard Coffee in your market, because it really goes a long way.
Now I mentioned how easy it is to whip up this cocktail, and I wasn't lying. Those are the only 2 ingredients in this cocktail! That's it! No syrups, no complicated techniques, just pour all the ingredients over ice. That's why I'm happy to include this in the 3 series section where you can find the easiest cocktail recipes on Liquid Culture!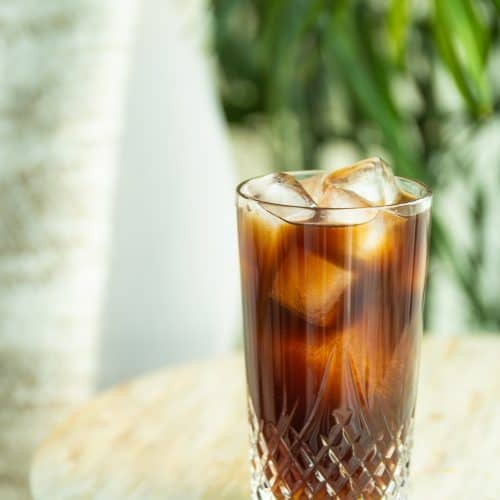 Vanilla Spiked Iced Coffee
An easy to make Iced Coffee that's made with Brewer's Cold Hard Coffee Brew with Licor 43's vanilla liqueur!
- Difficulty: Easy
Ingredients
1

part

Licor 43

4

parts

Brewer's Cold Hard Coffee
Instructions
Fill a collins glass with Ice cubes and pour ingredients over top. Give it a stir before tasting.