I figured since we're talking about the infamous Dark n Stormy, I thought I would give the classic recipe a Home Bartenders facelift with this sophisticated version. It calls for a bit more ingredients than the traditional, but if done correctly, you'll think a professional bartender just shook this up for you.
This wouldn't be an LC facelift to a classic without a bit of Peaches! Peaches are finally in season here, so I'm finding that I'm putting it in every cocktail. I even whipped up a Peach Cordial for you to make at home, which will come in handy…a lot. Say you want a gimlet, or a lengthy summer cocktail with Vodka, Tequila, Rum, PRETTY MUCH ANYTHING. But enough about peaches, because I know you're here for some delicious Gosling's cocktails.
If you didn't get a chance to catch our LIVE demo, you can see Emily Gosling and I shake up some cocktails, including this gem and a Lost Plane (riff on the classic Paper Plane), here on my socials.
Now I really wanted to break down why certain ingredients were used for this cocktail and why before diving into the recipe. So hold on tight.
---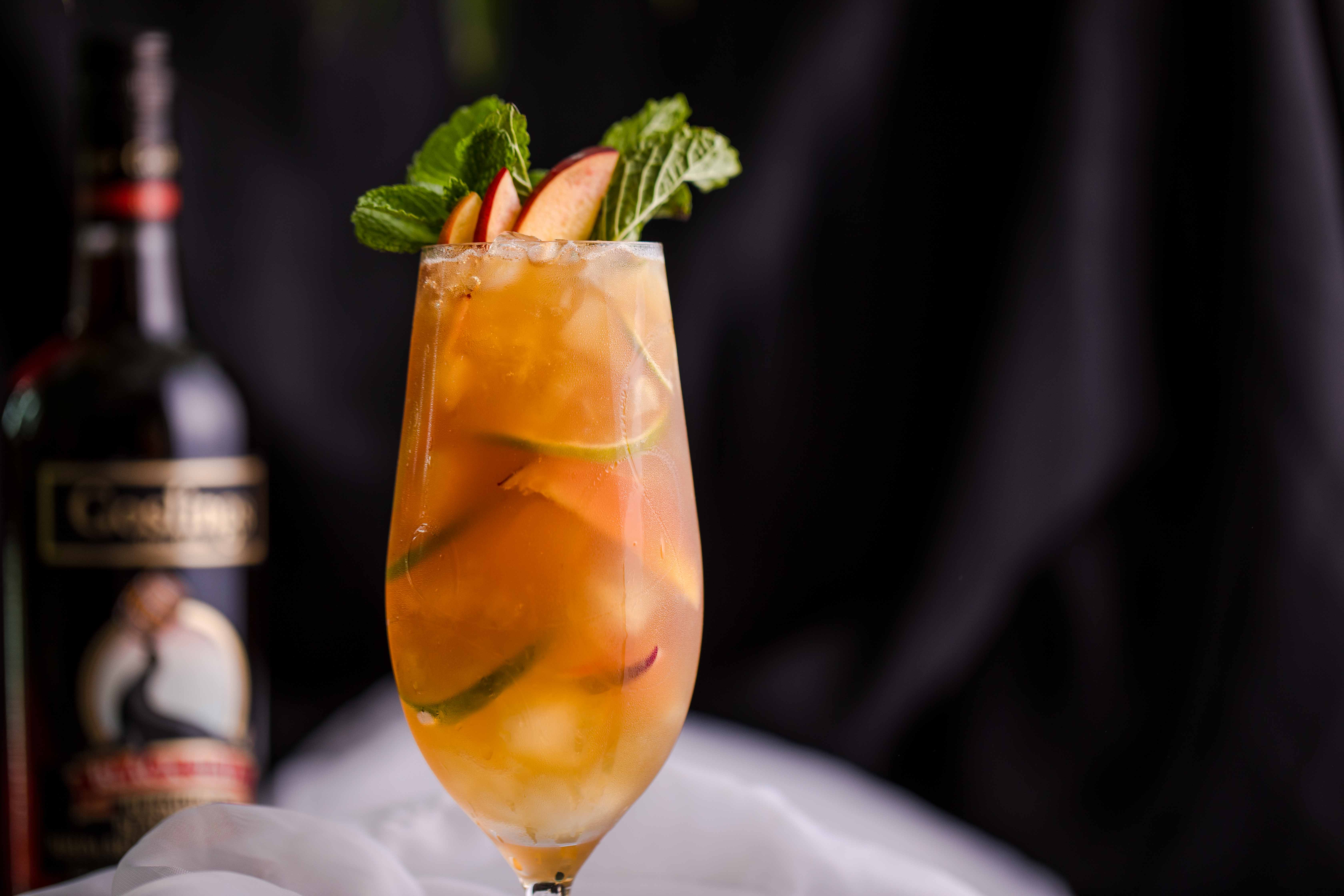 ---
Crushed Ice
I can't stress ENOUGH the importance of ice when it comes to cocktails, and whenever I call for crushed ice, you know you're going to get something boozy and delicious! Since the cocktail is heavy on the Gosling, crushed ice comes to play to balance out the spirit in the cocktail, because WATER is our friend when it comes to cocktail. Now even if you don't have crushed ice at home, you can easily make it, with a lewis mallet or getting angry at your ice with a muddler. What I typically (pretty much always) do is grab my shaker, fill it with 2 cubes and start beating at the ice until it gets to the right shape.
Ginger Syrup vs Ginger Beer
Here's the thing about Ginger Beer, I've officially become very picky. There are only two brands I trust that you can find in the grocers, and that's Grace or Gosling's Ginger Beer. I'm not saying that since I'm working with Gosling, real talk, their Ginger Beer is fantastic! But this is the thing, in order to have complete control over a cocktail, Ginger Syrup becomes very important. By creating my own ginger syrup, I'm giving myself the control over the sweetness, rather than trusting what's going on in the can. It's this attention to detail which makes this the "sophisticated" version of a Dark n Stormy.
Now I created my own syrup, but I don't plan to share this sacred recipe I created. Instead I urge you to search, there's a ton of specialty shops, local businesses creating delicious syrups as well. For my people in Ontario, head over to Cocktail Emporium (or online!) as they have a ginger syrup in their store! When making your own, I'd make sure to use Peruvian or Jamaican ginger, demerara sugar and don't forget the spices such as cinnamon, cardamom and clove!
You're probably getting thirsty, at least I know I am. So let's get to that recipe!
---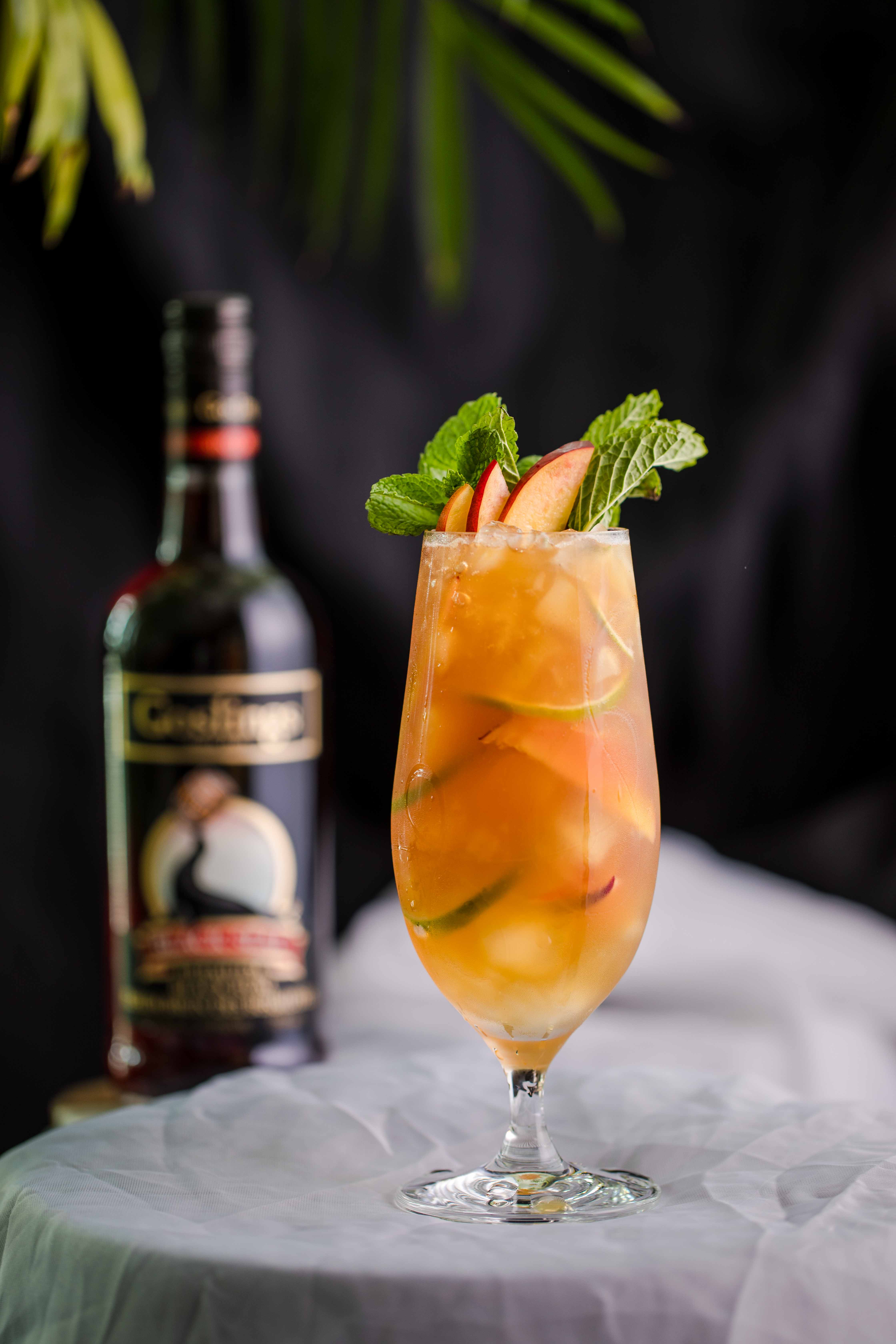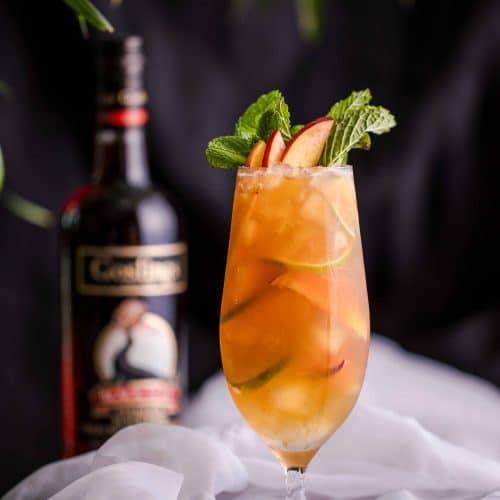 Gosling's Dark n Stormy 2.0 LC Edition
I'm creating a sophisticated version of the easy classic Dark n Stormy with a bit of peaches!
– Difficulty: Intermediate
Ingredients
2

oz

Gosling's Rum

3/4

oz

Ginger Syrup

1/2

oz

Lime Juice

1/2

tsp

Pomegranate Molasses

1/2

Peach

2

sprigs

Mint

4

slices

Lime

Thinly Sliced for garnish

4

slices

Peaches

Thinly Sliced for garnish

1

oz

Soda
Instructions
Layer your glassware with cracked ice, peach slices and lime slices

In a shaker, muddle Peaches to a pulp. Add 1 sprig of mint and lightly muddle.

Add Gosling's Rum, Ginger Syrup, Lime Juice and Pomegranate Molasses. Fill with ice and give this a quick shake.

Strain over cracked ice and top with soda. Garnish with remaining mint sprig.