For today's #DrinkYourGram, I wanted to learn all about your dads! With Father's Day this weekend, I figured this would be a great chance to shake up something for the Father Figure in your life to make their day extra special. So I asked you all sorts of questions, what they like, what they don't like, and this cocktail is the result! Combining some Single Barrel Jack Daniels, with refreshing Grapefruit, Cocchi Rosa and Ginger Beer, this is the ultimate easy treat for Papa Bear.
We're living in a time where Father's come in many shapes and forms, and I really want to respect that. I didn't want to assume that your Father figure only drinks Whisk(e)y and Beer. So I put my community to a vote, and asked what their Father Figures typically drink. Here were the tallies:
21% – Beer
17% – Wine
39% – Whiskey
21% – All of the Above
Okay so maybe MOST like a Whiskey, Beer or all of the above, but I decided to make one that I know EVERYONE can enjoy. And I PROMISE you, this cocktail is made with easy ingredients you'll likely already have at home!
In terms of the rest of the votes, here's what my #DrinkYourGram voters had to say:
Wanted something Easy Drinking (70%) vs Straight up (no Calories)
Said your Father Figure would be sipping this by the BBQ (73%)
vs by the couch
Said that your Father Figure wouldn't come close to
sharing this cocktail (64%) vs. getting only a sip
---
---
Don't have Cocchi Rosa?
It's a huge understatement to say that Cocchi Rosa is a staple in my bar. IT'S A NECESSITY! But the thing is, I know it's not always accessible, especially for my Ontario folks. So if this is you, don't fret! I would substitute it with Aperol, but since it's fairly sweet, got the ratio in half from the recipe (so pour 1/3 oz) and I would pour 1.25 oz of the Jack Daniel's Single Barrel Select.
Don't have Jack Daniel's Single Barrel Select?
Again, I won't be that upset. But make sure to pick up a bourbon that speaks to you, and one that isn't heavy in Caramel. Even a Rye could work well, just avoid the Bourbon's that can be a touch on the sweet side.
Ginger Beer
This recipe calls for Ginger Beer (which heads up, if you didn't know is NOT alcoholic). The brands I lean towards is definitely Grace and Gosling's Ginger Beer. They are still my favourite after many years of tasting of Ginger Beer and even creating my own syrup. Of course, if there's one that's uniquely local, give that a try! With this recipe, you even have the option of switching it out to a Pilsner or Lager if you'd like, or even a light style IPA.
Ready to make an Easy cocktail for Father's Day? Look no further with this citrus whiskey gem!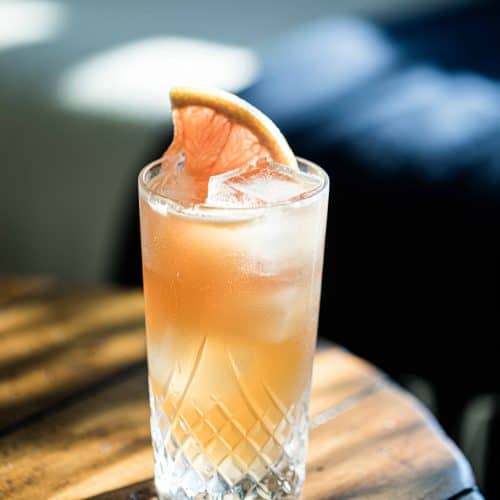 Papa Bear Whiskey Grapefruit Cocktail
Combining Whiskey, Cocchi Rosa, Grapefruit, Honey and Ginger Beer for a refreshing, yet easy cocktail for Father's Day!
– Difficulty: Easy
Ingredients
1.5

oz

Jack Daniel's Single Barrel Select

3/4

oz

Cocchi Rosa

1

oz

Grapefruit Juice

1/2

oz

Lemon Juice

1/2

oz

Honey Syrup

1:1 ratio of honey and water

1/2

oz

Ginger Beer

1

Garnish with Grapefruit Slice
Instructions
In a shaker, add your ice, Whiskey, Cocchi Rosa, Grapefruit, lemon, honey syrup and give this a good shake.

Strain over fresh ice in a collins glass and top up with ginger beer. Garnish with Grapefruit slice.
Recipe Notes
See notes in write up about how you can replace certain items if you don't have it around the house!