I'm sure I'm not the only one that feels this way, but as a Canadian, I know I can be blindly optimistic. Once April hits, I completely disregard the weather app, and assume that after Easter, bunnies and flowers are here to stay, and my winter jacket is gone for good. As you can imagine, I'm usually disappointed with continued grey skies, and persistent below 0 temperatures. So if Spring weather won't come to me, then I'm going to bring on some spring, and in the best way I know how; THROUGH A COCKTAIL!
For this week's cocktail, I'm busting out the vodka. No, it is not my usual choice, and a lot of bartenders shun vodka, but there's a few things we need to remind ourselves. Whiskey and Vodka are the top liquors sold in Canada. Period (results as per the recent Mintel Spirits and Mixed Drink Report).  So as much as bartenders hate to deny it, this is what the people want (in Canada at least). Now there is nothing wrong with gently educating the masses, and this cocktail does just that by introducing some of my favourite flavours and liquors.
I'm a huge fan of splitting the base spirit. By that I mean, I use equal portions of 2 or more liquors. It may sound like the recipe for an alcoholics dream, but typically I throw in Vodka or Gin with a Dry Vermouth which has a low ABV. I love showing people what you can do with dry vermouths because very few recipes use it outside of a martini. The last thing you want is for a bottle to just hang out for years on end on your bar cart. It's also very affordable, relative to other base liquors, so it's a great way to keep your drink tasty without breaking the bank!
As usual I went on a rant about vermouths, because if it isn't obvious already, I have a massive obsession with this aperitif. So with its light, clean and slightly acidic palate, it only made sense to pair it with some citrus and delicate fruits. With the addition of lavender, I wanted to highlight a bit of the herbaceous notes, which is why I topped it off with tonic. And there you have it. The method to my madness, that created one of my favourite spring cocktails to date! Cheers!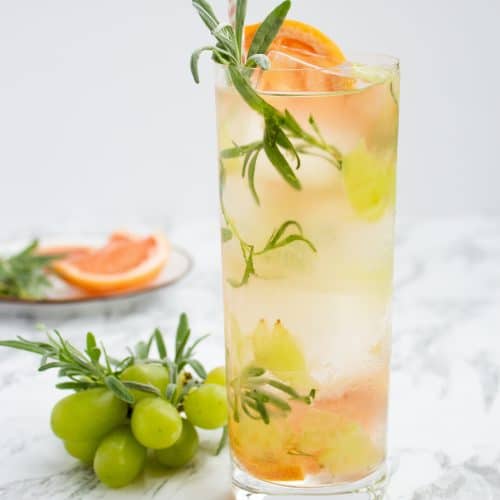 Grapefruit and Lavender Breeze
A refreshing blend of grapefruit, lavender and cotton candy white grapes! Paired with vodka, dry vermouth and tonic, you have yourself a delicious Spring cocktail!
Difficulty: Easy
Ingredients
1

oz

Vodka

1

oz

Dry Vermouth

1/2

oz

Simple Syrup

2

dashes

Angostura Bitters

5

White Grapes

halved

2

sprigs

Lavender

3

slices

Grapefruit

2

oz

Tonic Water
Instructions
In a collins glass, place the grapes inside the glass and press until crushed

Add in layers of ice, grapefruit slices, and lavender.

Top with vodka, dry vermouth, simple syrup, bitters and tonic. Give this a stir with a straw and enjoy!
Recipe Notes
As a reminder, all Simple Syrup recipes on this site use a 1:1 ratio of water and granulated sugar!