I'm proud to call Toronto my home, but little do people know that we have a namesake cocktail! Liquid Culture is here to shed some light on this abandoned cocktail, and add some peachy flair for #peachwednesday! Combining local distiller Dillon's Rye infused with peaches and cinnamon, with a touch of Fernet-Branca, I am proud to call this my own in honour of this beautiful city! Say hello to Toronto's Liquid Culture (aka TLC)!
Before we dive into my take on a classic 'Toronto' cocktail, I have to explain a little bit of history first. I'll admit, I had a hate on for Fernet-Branca. I didn't get it. I couldn't understand why Bartenders were obsessed with this extremely bitter and herbaceous amaro, and putting it into every single recipe. After a few terrible rounds of cocktails with Fernet, I cast it away, and never wanted to see it again on a menu or bar. Dramatic much?
The one thing I will give myself credit for, is that I can be forgiving. After a few years of hiatus from Fernet-Branca, I was feeling adventurous and gave it a shot at Toronto's Thoroughbred Bar. This place will always have a special place in my heart for opening up my mind and palate to how Fernet (in the appropriate amounts) can bring together a cocktail! Appreciation was finally gained, and I understood how Fernet can create an elegant and balanced cocktail.
Now for those of you new to the industry, you may be wondering why I'm calling this a Toronto. Much to some disbelief, we actually have a namesake classic cocktail recipe. It wasn't until much later on in my career that I got wind of this, but of course, it was during my 'Shun the evil Fernet-Branca' era, so I set it aside. This classic consists of Rye, Fernet Branca, Sugar And/Or Bitters (depending on which bar book you stumble upon). So in honour of my ABUNDANT love for this city, and infusing Liquid Culture in every turn, we have some peaches to shake things up.
Staying true to the Canadian and Torontonian feel of this cocktail, I used local distiller Dillon's and their newly released Rye. Lot 40 rye would also be an amazing addition to your bar, if you wanted to grab a local brand, but my excitement for this new product blinded my efforts and I went with Dillon's instead. With a few other small adjustments, we have a delicately balanced cocktail that borders the taste profile of a Manhattan. If most nights include a Manhattan for you, then you'll definitely want to get your hands on this recipe! Cheers!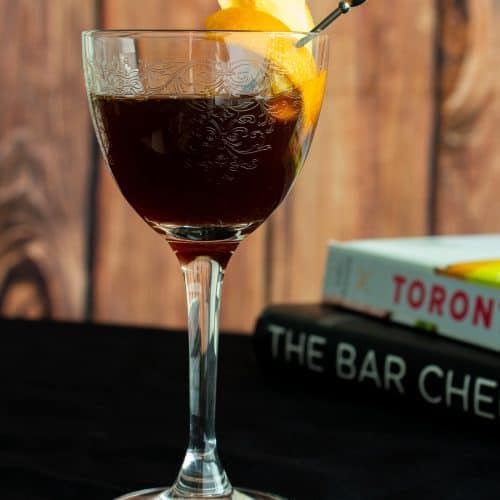 Toronto (Liquid Culture Edition - aka TLC)
A spin on the namesake classic 'Toronto' cocktail, which uses peach-infused Rye, Fernet-Branca, Brown Sugar Syrup and bitters.
Difficulty: Intermediate
Ingredients
2

oz

Peach-infused Dillon's Rye

1/4

oz

Fernet Branca

1/3

oz

Brown Sugar Syrup

2

dashes

Peach Bitters

1

dash

Angostura Bitters

6

thin slices

Peaches

(3 for garnish)

1

peel

Orange Rind
Instructions
In a Mixing container, place 3 thin peach slices with bitters and gently press to extract its juices

Add Rye, Fernet, and Syrup, and top with ice. Stir until well chilled (approximately 30-45 seconds).

Strain into a chilled Nick & Nora Glass (or Coupe) and garnish with 1 Orange Peel and remaining peach slices.
Recipe Notes
The Brown Sugar Syrup mentioned, is simply Simple Syrup, but instead of granulated sugar, I used Brown Sugar instead. When it comes to Peaches, I find the brown sugar works best at highlighting its flavour. This also ties in the cinnamon that is used in the Dillon's Rye infusion.
For the Peach and Cinnamon infused Dillon's Rye Recipe, follow here!