This syrup was created with the Italian Rose in mind, which pays tribute to Evelina of @bipolarbartender and Amy of @MoodyMixologist. See how this delicious syrup is made here!
This recipe is fairly simple in nature. Allow water and sugar to come to a gentle boil, let the hibiscus steep in this simmer for 3 minutes before adding in the Rose water and you're done! But I'm sure you want more detail than that, so take a look at the recipe below.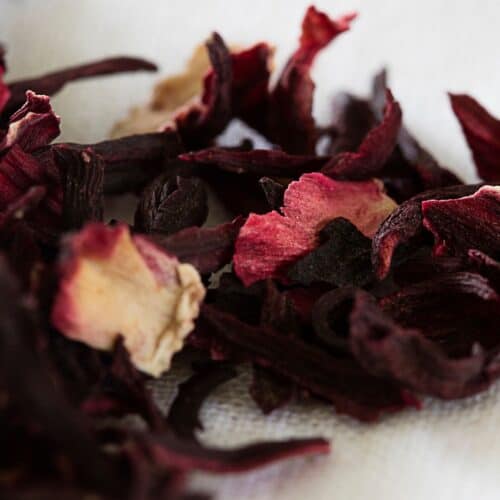 Hibiscus Rose Syrup
A delicious syrup that can be used in a number of ways, from a refreshing lemonade, to an assortment of cocktail recipes. Originally created for the Italian Rose, which you can find the links attached to this page.
– Difficulty: Easy
Ingredients
2

tbsp

Dried Hibiscus Leaves

1/2

tsp

Rose Water

1

cup

Water

1

cup

Granulated Sugar
Instructions
In a small saucepan, bring water and sugar to a boil. Make sure to stir occasionally so sugar is well incorporated.

Add the dried hibiscus leaves and reduce the temperature down to a simmer. Let this simmer for 3 minutes before adding the rose water and let it simmer for an additional 1 minute.

Strain into sterile container and allow this to come to room temperature before storing in the fridge. Can last up to 2 weeks in the fridge when properly sealed.