With World Gin Day around the corner, I wanted to honour the relationship I used to have with Gin. It's the first spirit I truly fell in love with and started to develop an appreciation for cocktails. But I would be remiss to say that our love life took a pause. I grew to love other spirits, expand my knowledge and so I left Gin on the back burner. That's the thing about old love, they tend to find a way back (whether we want it or not). Is this the start of my new Sex and the City spinoff, Cocktails and the City? Maybe. What I do know is that this martini has all the sophistication I want for this Island Martini made with Artisanal Dry Gin and Rhum Agricole!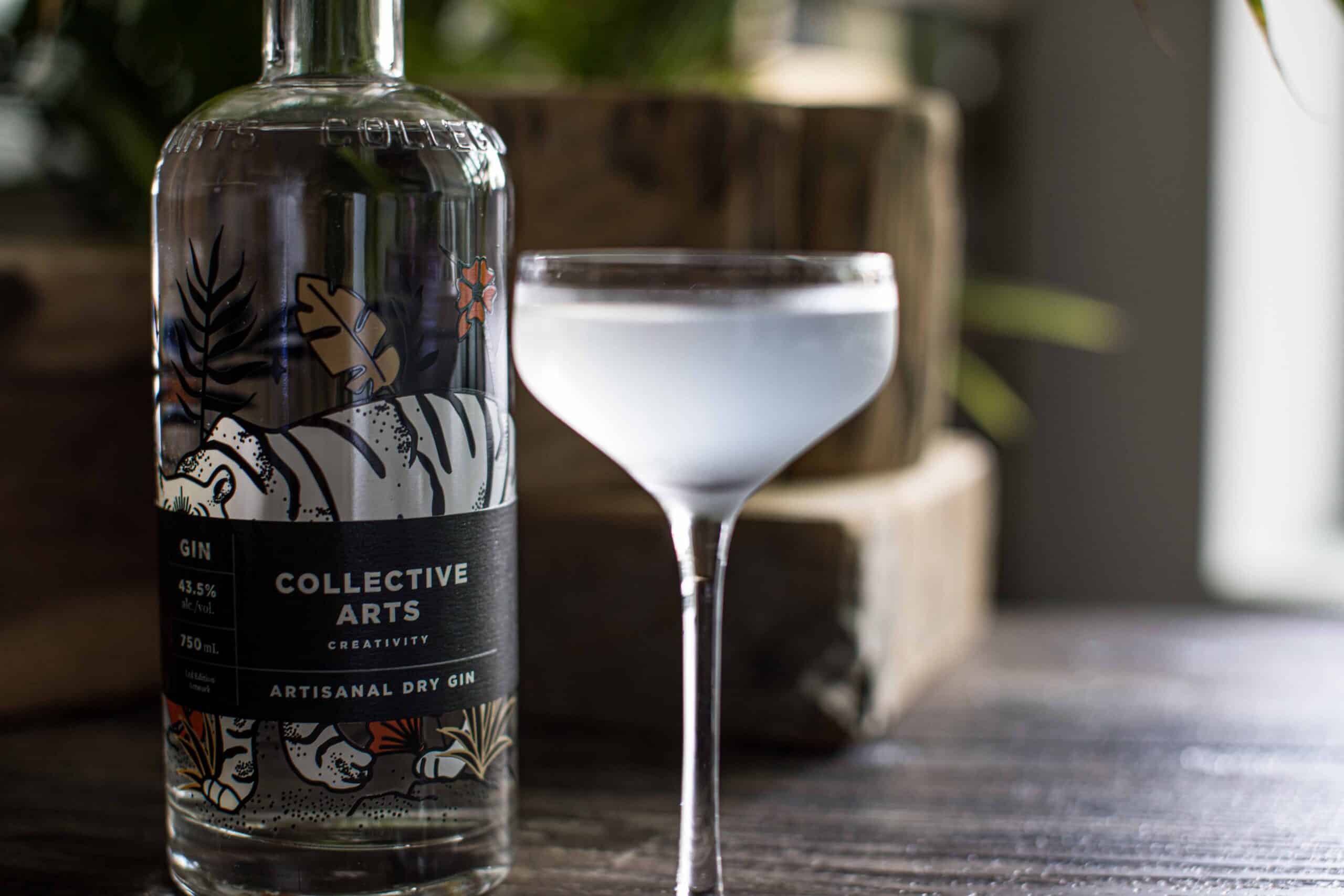 Stocking Your Home Bar with Gin
Compared to Single Malts or my evolving Rum Collection, I keep my Gins very simple. It's RARE I pick up an infused Gin flavour, because to me, you can easily infuse most flavours via a cocktail or infusion. That's why you will see only the staples in my home. I want to have a classic London Dry, Tanqueray 10 (because that is a must), maybe something new world such as a Botanist that light on the Juniper, Plymouth and an Old Tom. I want variety in the STYLE of Gin, not the infusion.
So if you're a purest like me and want to support local, Collective Arts Artisanal Gin is the one to grab. This would be your traditional London Style Dry Gin and a great opportunity to support your local distillers. So yes, I am saying you don't have to stick to just Collective's, but I used it here and it was incredible.
If you didn't know, the traditional Martini is made with Gin (psst so not Vodka). And with World Gin Day around the corner, I wanted to stir something unique. That's why I decided to bring out the Rhum Agricole Blanc in a tropical island twist of the Vesper Martini. Gin still plays a dominant role in the martini, but it's accented by the vegetal notes of a crisp Rhum Agricole. The selling point? It's garnished with some chili oil which truly sealed the deal for me!
What's Rhum Agricole?
I know this is still a new concept for most, but you can likely guess that it is some style of rum. Well it is, but manufactured in a completely different way. First off, it's distilled from cane juices compared to most rums. And they're typically unique to the French Islands in the Caribbean. Plus, Rhum Agricole tastes nothing like most rums. It's bright, vegetal and almost reminds me of a Cachaca. With that said, this martini would work with an un-aged or lightly aged cachaca as well. But it's worth seeking out Trois Rivieres Rhum Agricole, which is what I used here.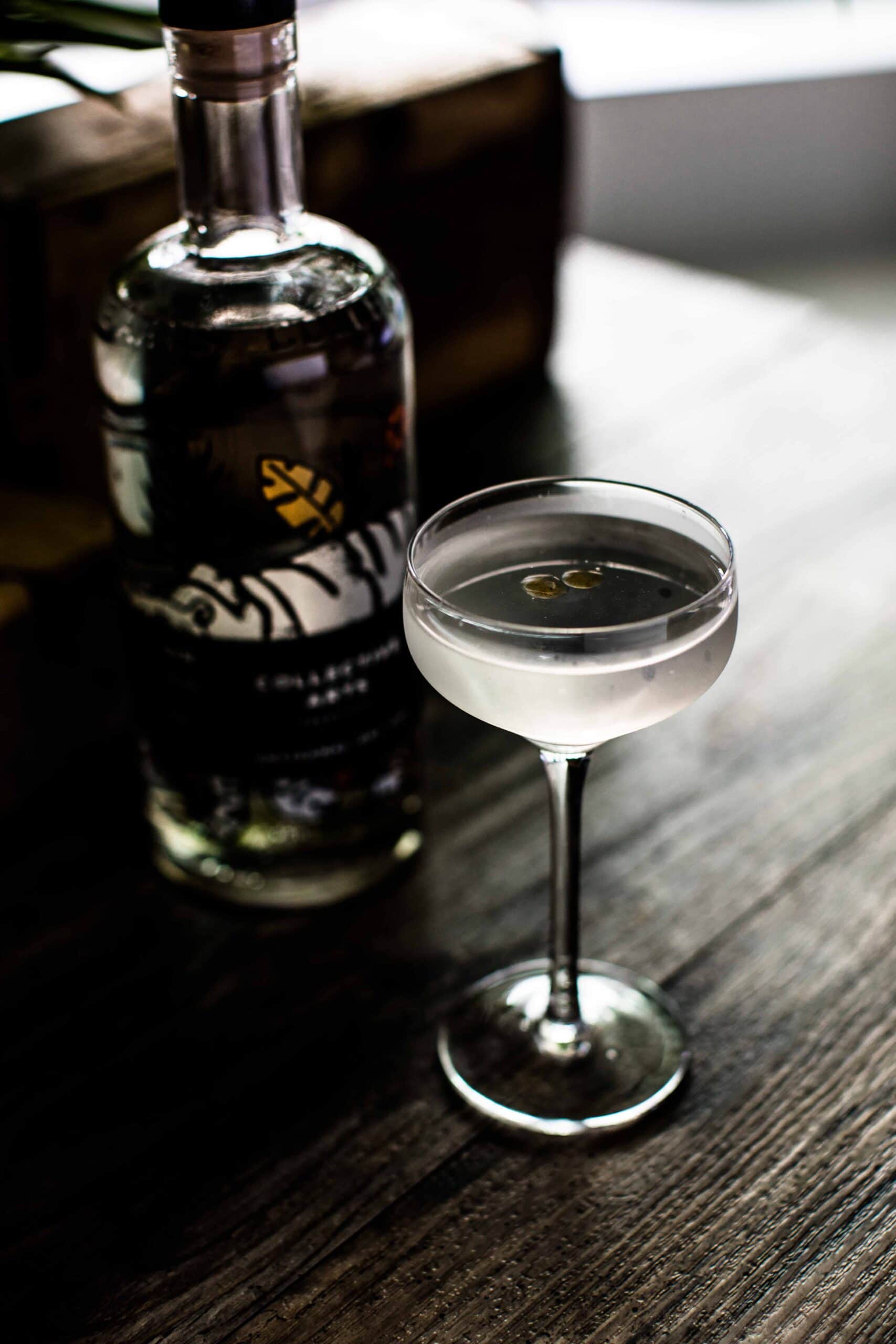 Building Your Island Martini!
This Island Martini made with Gin and Rhum Agricole is to me the perfect Summer Martini. It has become my new favourite blend that I call the new-aged Tropical Vesper. Plus I add in a few drops of chili oil just to really round out these flavours. Ready to make this Island Martini with Collective Art's Artisanal Gin? Well here we are…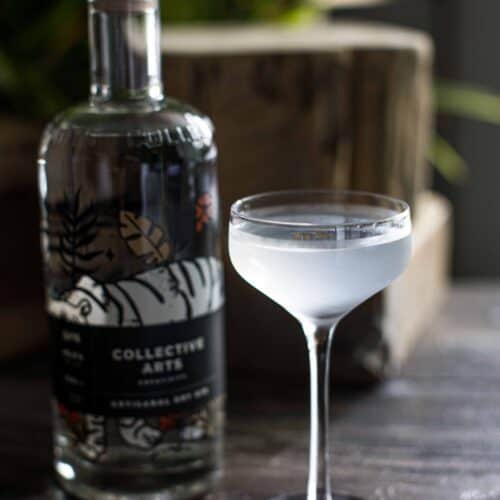 Island Martini
Made with Collective Art's Artisanal Gin, Rhum Agricole Blanc and a splash of Dry Vermouth and chili oil!
– Difficulty: Intermediate
Ingredients
2

oz

Collective Arts Artisanal Gin

London Dry Style

0.75

oz

Trois Rivieres Rhum Agricole Blanc Cuvee de L'ocean

0.25

oz

Dry Vermouth

Preferably French

3

dashes

Chili Oil
Instructions
In a mixing glass, add all your ingredients except the oil. Fill it with ice and give this a good stir for approximately 35-40 seconds.

Strain into your favourite martini or coupe glass. Garnish with 3 drops of Chili Oil.