I'm getting you set for the entire Long Weekend with some exclusive recipes working with Collective Arts. From something easy to get your weekend started, to a chance to show off your cocktail skills, I'm creating some unique seasonal recipes to enjoy now! Whether you're craving a Gin Cocktail or something fresh with their Beer and Sparkling Hard Teas, we've got options for you with these Collective Arts Cocktails!
I'm doing something extra special folks. I have officially partnered up with Collective Arts for the rest of the year, bringing you goodies and treats thanks to their delicious brews and spirits. If you've followed Liquid Culture for a while now, you know that Collective Arts has a special place in my heart. We go wayback, with my serving up their beer at restaurants I worked at PROUDLY. So this long-term partnership is based out of a true passion and love for the brand, and I'm excited to introduce you to the Collective Weekend Concepts.
The concept of Collective Weekends is to honour each and everyday of our weekends. The thing is, we don't always need something complicated, especially on a Friday at the end of the week. But then maybe you've got that little bit of extra time on Saturday to do something special for you, yourself and I (or a date!). Whatever you want to sip, we've got something seasonal and fresh for you to choose from. And I'll be sharing these recipes all weekend long. Now these won't happen every weekend. They will pop up throughout the year, but I'm excited, as you should be too!
FRIDAY – Easy PEASY Raspberry Squeezy
To start off the weekend, you may be like me where a Friday just DEMANDS something easy. I definitely pull out the popcorn, watch a movie and enjoy an easy sip. That's why I've combined two flavours you will NOT get enough of!
This simple cocktail combines Rose Vermouth with their Raspberry Lemon Verbena Sparkling Hard Tea. The natural berry notes coming from this amazing Rose Vermouth compliment the Raspberry and Lemon notes in their Sparkling Hard Tea. Plus, it keeps this cocktail lower in alcohol! Because if you're like me, you'll need a fresh start on Saturday to conquer the weekend!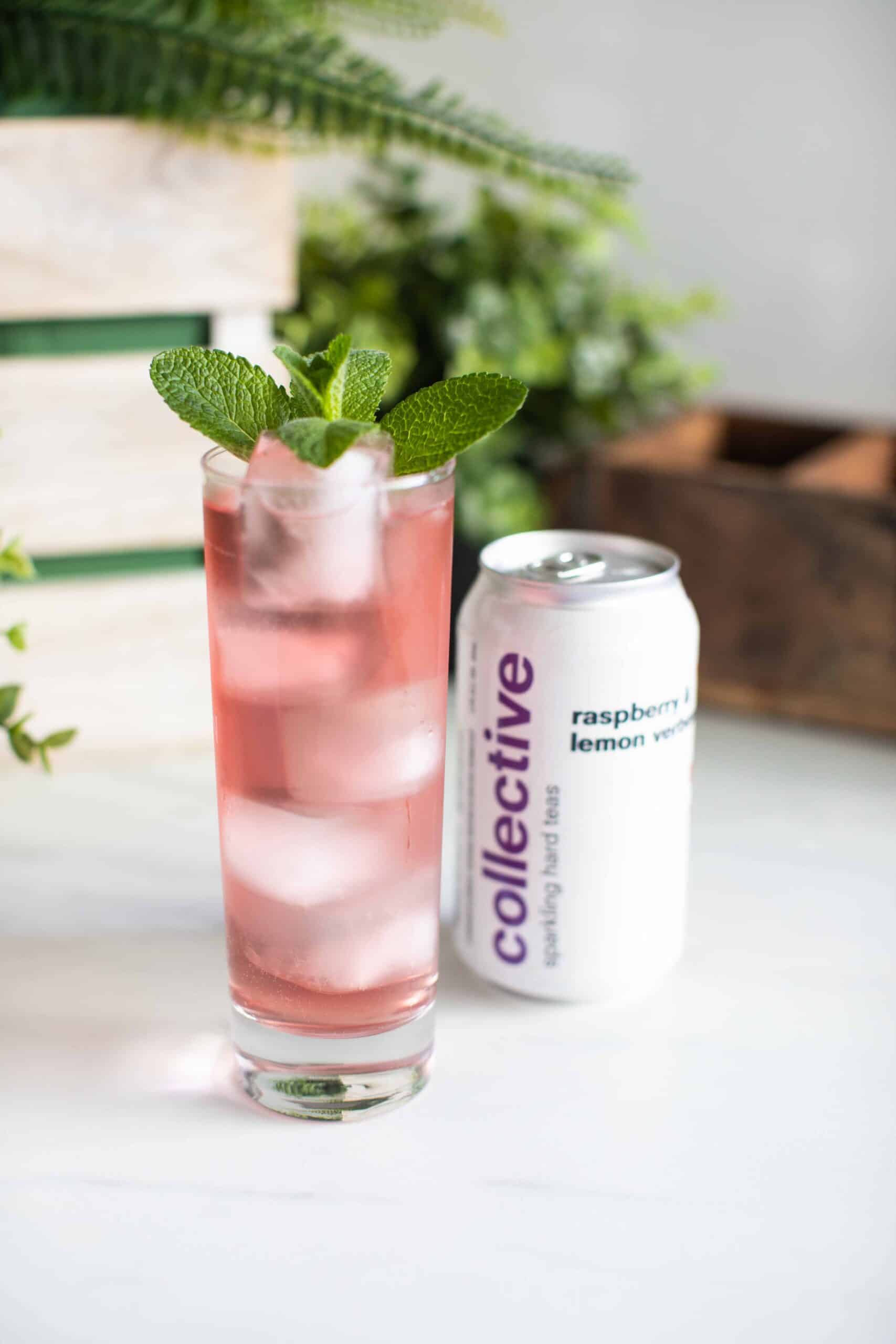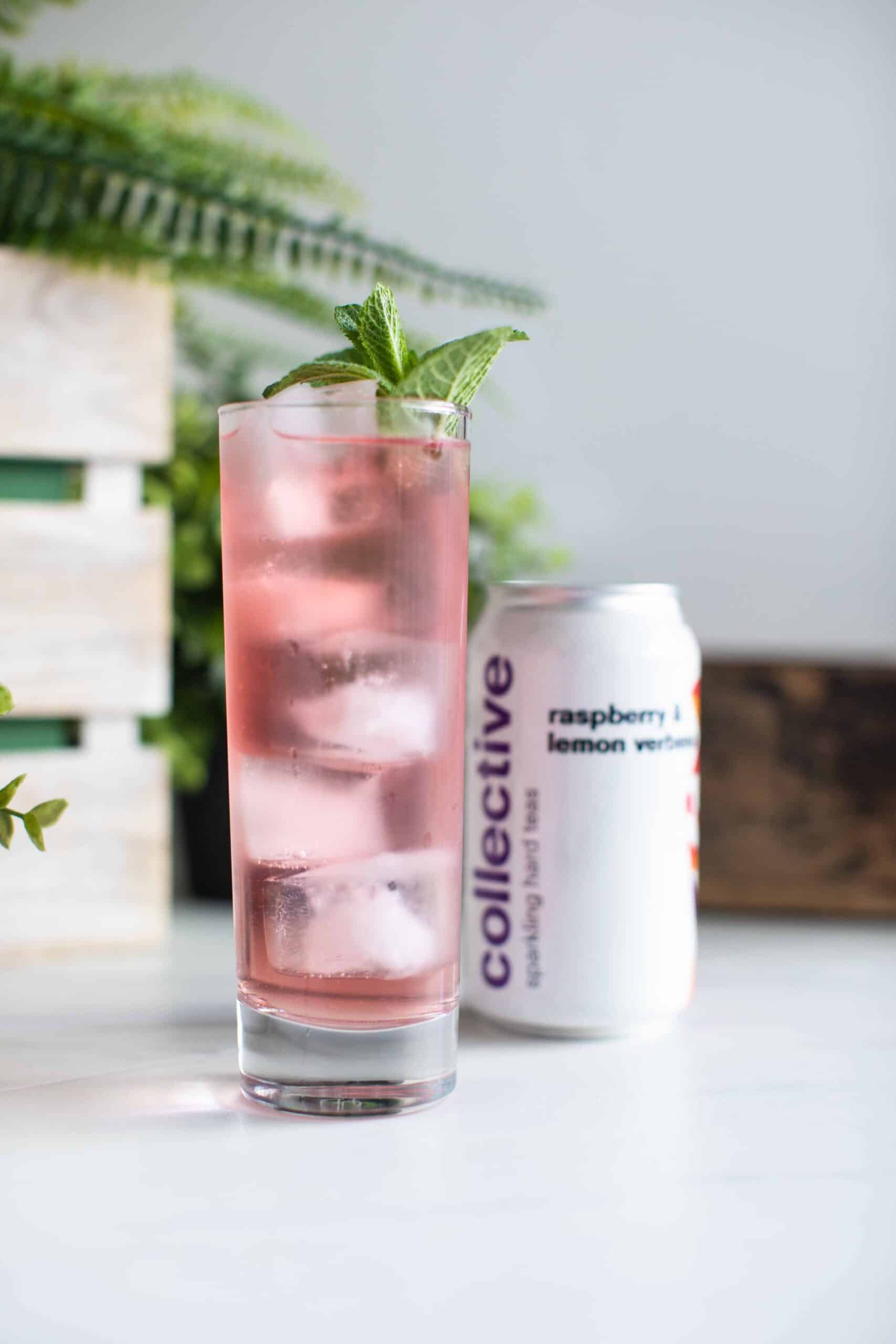 Verbena Breeze
Combining an exception Rose Vermouth with an even better Sparkling Hard Tea by Collective Arts. Serving you an easy cocktail to enjoy this long weekend!
Difficulty: Easy
Ingredients
1

part

Rose Vermouth

Lustau Rose Vermouth used here.

3

parts

Collective Arts Raspberry Lemon Verbena Sparkling Hard Tea.

Fresh Mint
Instructions
In a Collins Glass, fill with ice and add your vermouth, top with CA's Sparkling Hard Tea and stir.

Garnish with Sprig of Fresh Mint.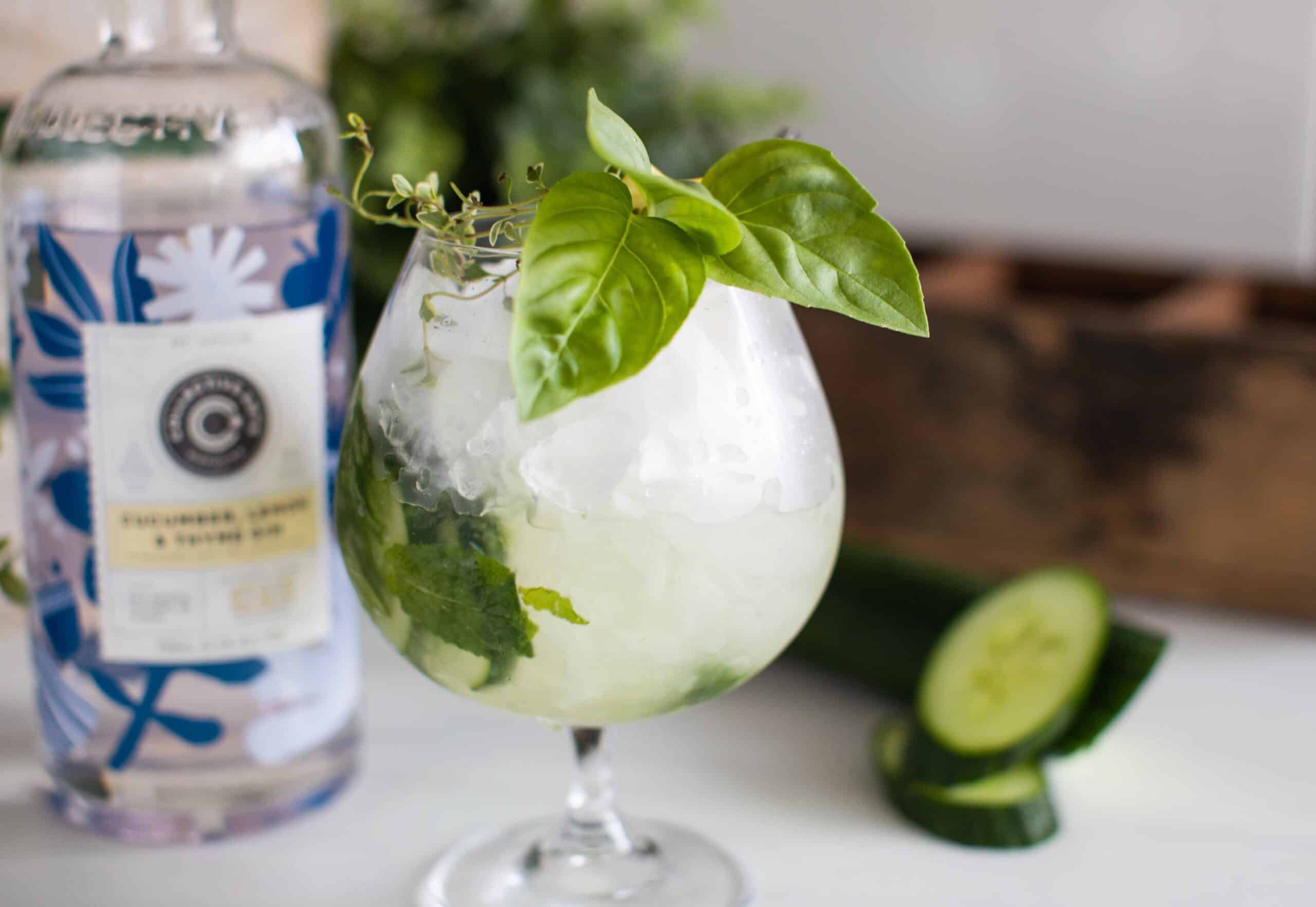 SATURDAY – Ready to Impress
This is for my people looking to experiment a bit. That is willing to take a challenge and maybe wanting to impress a date. Plus with the weather gods hooking up some amazing sunshine, this is the sort of thing you need for the hot temperatures and VERY fresh.
We're combining their Gin of Summer – Cucumber and Lemon Thyme Gin with a nice healthy portion in the cocktail, with fresh cucumber and herbs from the garden. This is a REAL winner in my books and a must try, especially if you love Juleps.
I created a special reel, showing you how to build this at home! Head over to my Instagram Page to view it today.
Cucumber Garden
This Gin-Inspired Julep takes advantage of your garden with fresh Basil and Cucumber for this bright and refreshing cocktail.
– Difficulty: Intermediate
Ingredients
2

oz

Collective Arts Cucumber Lemon Thyme Gin

1

oz

Fino Sherry

1/3

oz

Simple Syrup

1/3

oz

Lemon Juice

6

Basil Leaves

1/3

cup

Sliced Cucumber Wheels

1

Lemon Thyme, Lemon Peel and Basil Sprig

For Garnish
Instructions
In a shaker, muddle Cucumber and Basil. Add your gin, sherry, simple syrup and lemon juice with a handful of cracked ice and give this a short shake.

Dump contents into your glass and add in your crushed ice until about ¾ of the way. Stir.

Add more crushed ice and stir and garnish.
Recipe Notes
I ran out of Mint hence why I didn't add it in this recipe, but this would definitely work with a bit of fresh mint involved as well!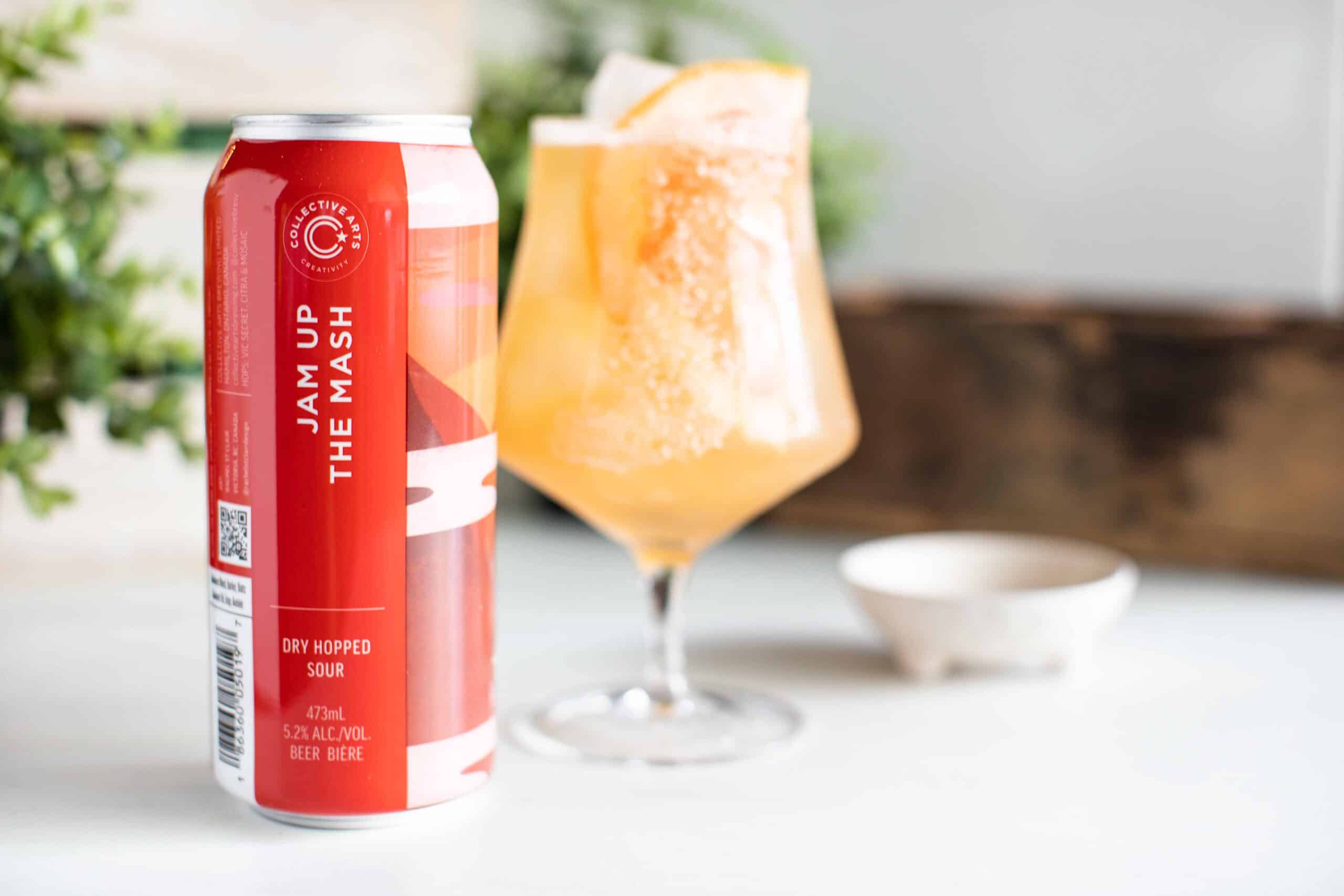 SUNDAY – FUNDAY BRUNCH with a Beer Paloma
If you're not ready for the long weekend to be over, we've got a treat for you this Sunday Brunch. Not only that, it is WORLD PALOMA DAY! So your girl has you covered with a delicious Tequila Paloma that is made with….BEER. Not just any beer, but with Collective Art's Jam up the Mash Sour Beer. This is a must-have for anyone who loves a good sour beer. So don't miss out on this delicious Beer Paloma.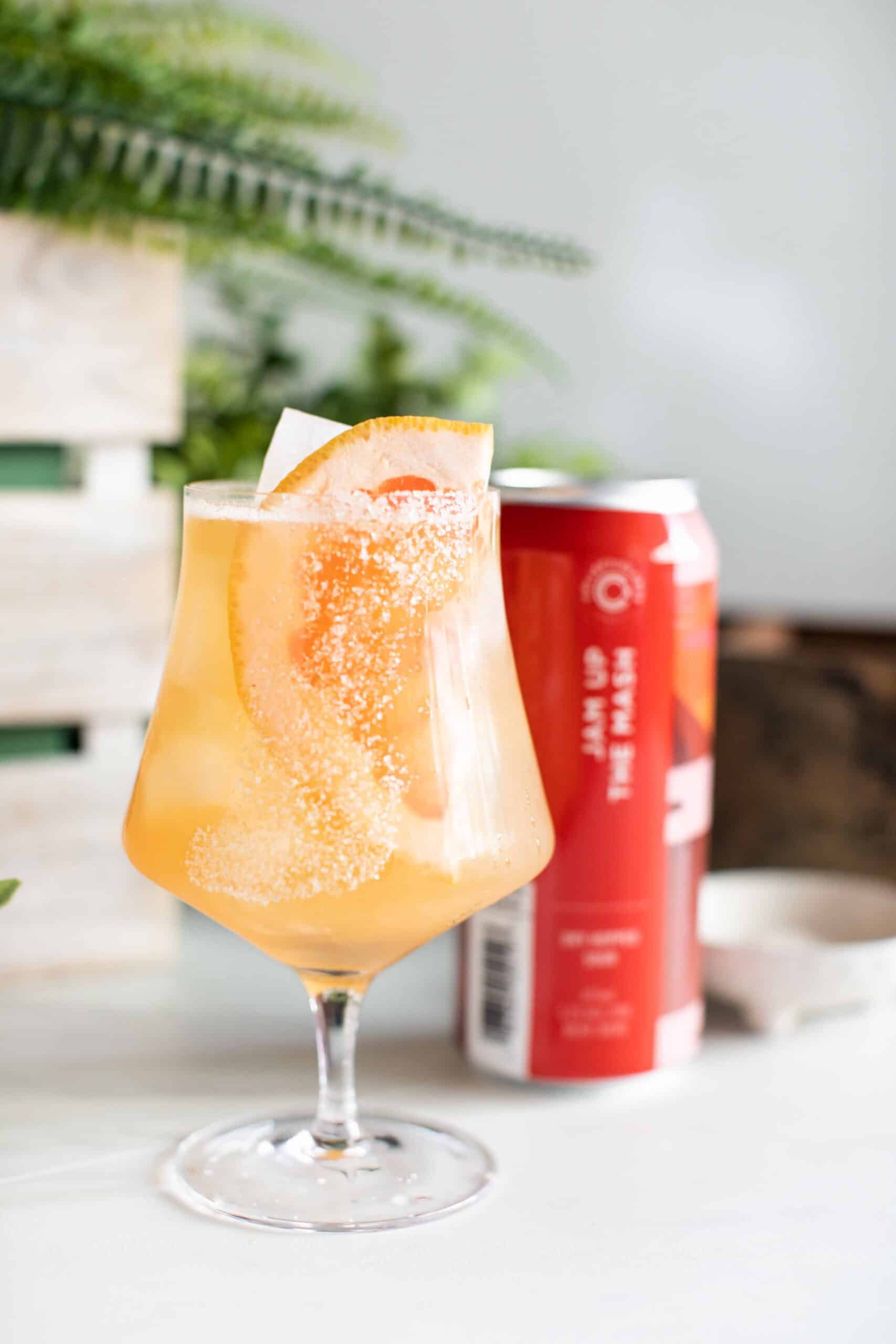 Beer-loma
In honour of World Paloma day, we're creating the classic Paloma Cocktail with beer instead!
– Difficulty: Intermediate
Ingredients
1.5

oz

Reposado Tequila

cada dia tequila used here

2

oz

Grapefruit Juice

1

oz

Simple Syrup

2

oz

Jam up the Mash Sour Beer

Salty Paloma's Fiesta Salt Rim
Instructions
Prep your glassware by salting half of the rim (or any other decorative way you'd prefer)

In a shaker, combine Tequila, Grapefruit and syrup, with a handful of ice and give this a short shake.

Strain over fresh ice in your glassware and top with Collective Art's Jam Up the Mash Sour Beer.
Want to explore more Collective Arts Cocktails? Click the link HERE to see all the recipes that shake up with this local Brand I love.