In honour of St Patrick's Day, I'm going to share 2 special cocktail recipes that I made with Jameson's Irish Whiskey! I created these Jameson Cocktails in time for an exclusive Virtual Event with the one and only @WhiskyBeth, and our guests loved the cocktails! Since they loved it so much, I decided to share the Jameson Matcha Sour and Vacation with James with my LC community. Curious how to make these Jameson cocktails were made? Head down below for details!
Creating your Jameson Cocktails
I need to give a big shout out to WhiskyBeth and Jameson for this one. This was our best virtual cocktail class yet, and I can't wait to create more for the LC community. But one of the biggest successes of the night had to be the cocktails shared. First we created a delicious sour made with Irish Whiskey that uses a Matcha Syrup that's easy to make at home! Our second cocktail was a tropical Jameson cocktail, because I'm sure you're about sick and tired of this cold weather and ready for summer! Since we can't travel, why not make our cocktails transport us to a beach destination?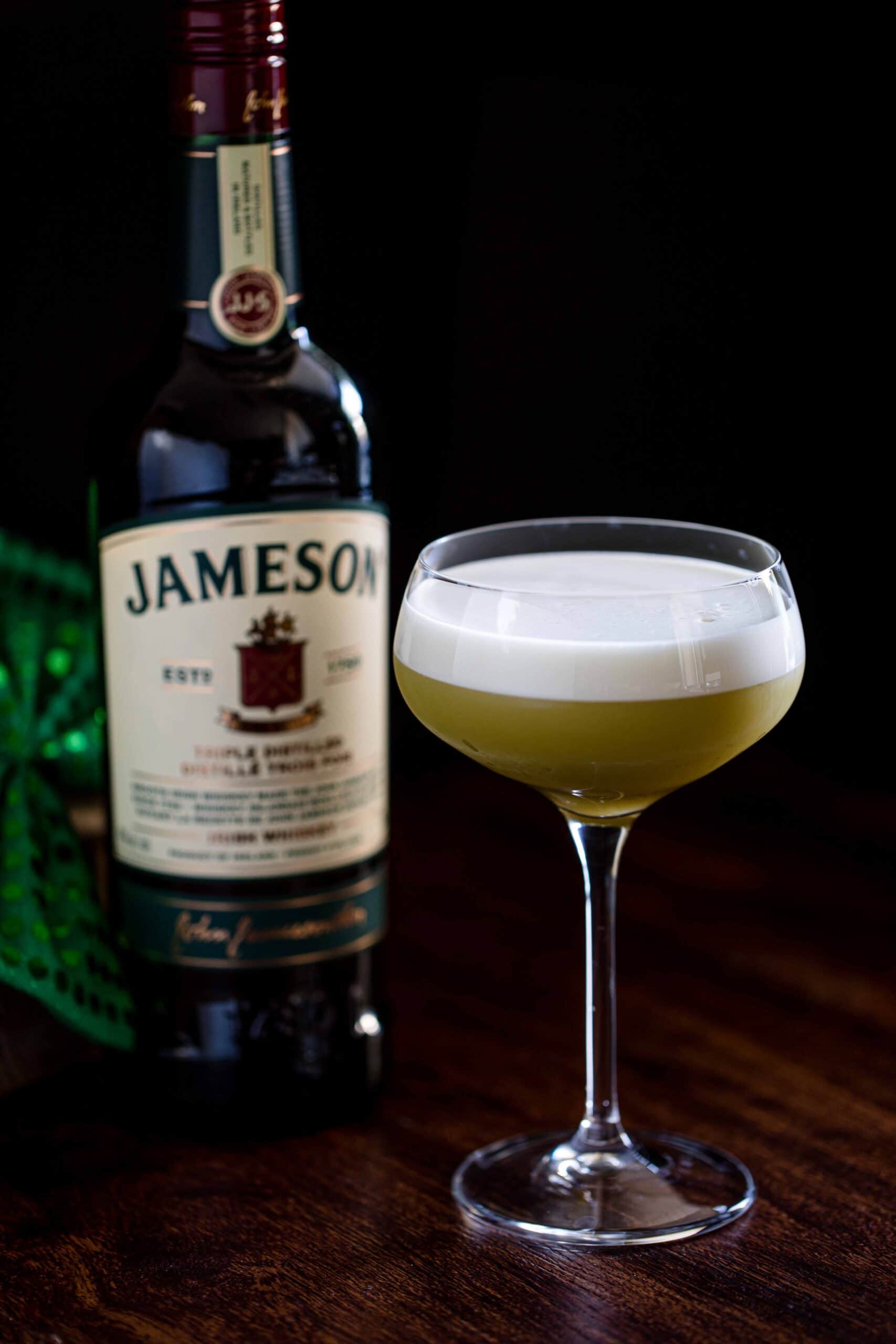 Jameson Matcha Sour
Before I dive into the recipe, I wanted to add a quick note about why the flavours in this cocktail worked as well as it did. For one, I used Matcha because it isn't something you see in cocktails often but with it's slight bitter qualities, it can do wonders! Then we have the Irish Whiskey, which I paired with Lemon and Pineapple. I love mixing Pineapple with aged, dark spirits, especially one that has a bit of bite. Also, one of my favourite flavour pairings is Pineapple and Matcha. They go so well together, and when creating Jameson Cocktails, finding a pairing that compliments the spirit as well is everything! In addition, I try to avoid the green dyes for St Patricks day and use natural green products for my cocktails. That's why you'll see Kiwi used a ton, mint, lime, basically anything naturally green!
Curious how to make this Jameson Matcha Sour? Check out the recipe below!
Jameson Matcha Sour
A delicious Irish Whiskey sour that combines a Matcha Syrup, Lemon and Pineapple…and of course, Jameson's Irish Whiskey!
– Difficulty: Intermediate
Ingredients
1.5

oz

Jameson Irish Whiskey

1

oz

Lemon Juice

3/4

oz

Pineapple Juice

3/4

oz

Matcha Syrup

1

Egg White
Instructions
In a shaker, add all your ingredients and dry shake vigorously (without ice).

Open your shaker and add your ice and shake once more.

Double Strain over your coupe glass.
Recipe Notes
To make the Matcha Syrup at home, use premium Matcha Powder, boiled water and granulated sugar. The ratio I used was 1 cup Boiled Water, 1 Cup Granulated Sugar and 2/3 tsp of Matcha Powder. Combine the sugar and Matcha together and stir in the Boiled Water until it fully dissolved. Let this sit at room temperature before storing into the fridge. Can last up to two weeks.
Vacation with James – Guava Ginger Irish Whiskey Cocktail
I LOVE a good Irish Whiskey cocktail paired up with some tropical flavours. I know it's not the norm because naturally we gravitate towards something spirit forward like an Old Fashioned or Manhattan. But with the right whiskey, complimenting the tasting notes provided, it can lend so well!
I'm not sure what made me gravitate towards guava juice (other than the fact that I LOVE IT!), but I loved how it harmonized with the spices in the whiskey. That with some freshly squeezed lime, and a simple Ginger Brown Sugar Syrup, this was pure magic. Curious how to make this Guava Ginger Jameson cocktail? Details down below!
Vacation with James
A tropical Irish Whiskey Serve combining Guava, Brandy, Lime and a Ginger Brown Sugar Simple Syrup.
Difficulty: Intermediate
Ingredients
1.5

oz

Jameson Irish Whiskey

0.5

oz

Brandy

1

oz

Guava Juice

1

oz

Lime Juice

2/3

oz

Ginger Brown Sugar Simple Syrup
Instructions
Prep your glassware first by filling your collins glass with 1 inch cubes.

Add all your ingredients into a shaker and give this a short shake.

Strain over fresh ice and enjoy!
Celebrating St Patrick's Day with Jameson and a virtual concert!
Now this virtual class we hosted was also largely done to promote the Jameson Whisky Party at Home Kit which IS AVAILABLE FOR PURCHASE! Plus they have a virtual concert that they are hosting this March 17th with Jessie Reyes and Friends. If you'd like to purchase this kit or attend the concert for this St Patrick's Day, make sure to follow the link attached. We know St Patrick's Day is looking a bit different thanks to COVID, but it doesn't mean you can't have any fun! So have some fun, watch a virtual concert and shake up some Jameson Cocktails featured here and on the website!
Want to find more St Patrick's Day Inspired Content? Head over to this link here for all the details!