What do you do when you have delicious sweet vermouth in your house, but you're not a big fan of spirit forward cocktails? This had me stumped for a second, thinking what I would create for this week's #NoDrinksWasted. But the stars aligned, and with the inspiration of a Pimm's Cup, I put together Vermouth and Scotch in a layer of Strawberry, Mint and fresh citrus. This Strawberry Mint Cup is an easy cocktail to make at home, and perfect on a sunny day (potentially Springy) Day.
What's #NoDrinksWasted?
After a fun year of #DrinkYourGram on my social platforms, I wanted to create cocktails with you in mind. Many of you likely have random bottles or ingredients around the house that you don't want to go to waste, so why not use them in a cocktail? A girlfriend of mine, doesn't like too many heavy, spirit forward cocktails. But she has this amazing vermouth (Cocchi to be exact!), and didn't know how to use it in a cocktail of her "style and preference". Inspired by the Pimm's Cup, we layer this delicious and refreshing Strawberry Mint Cup for the ultimate cocktail. Are you like Camile? Well, Liquid Culture is here to save the day.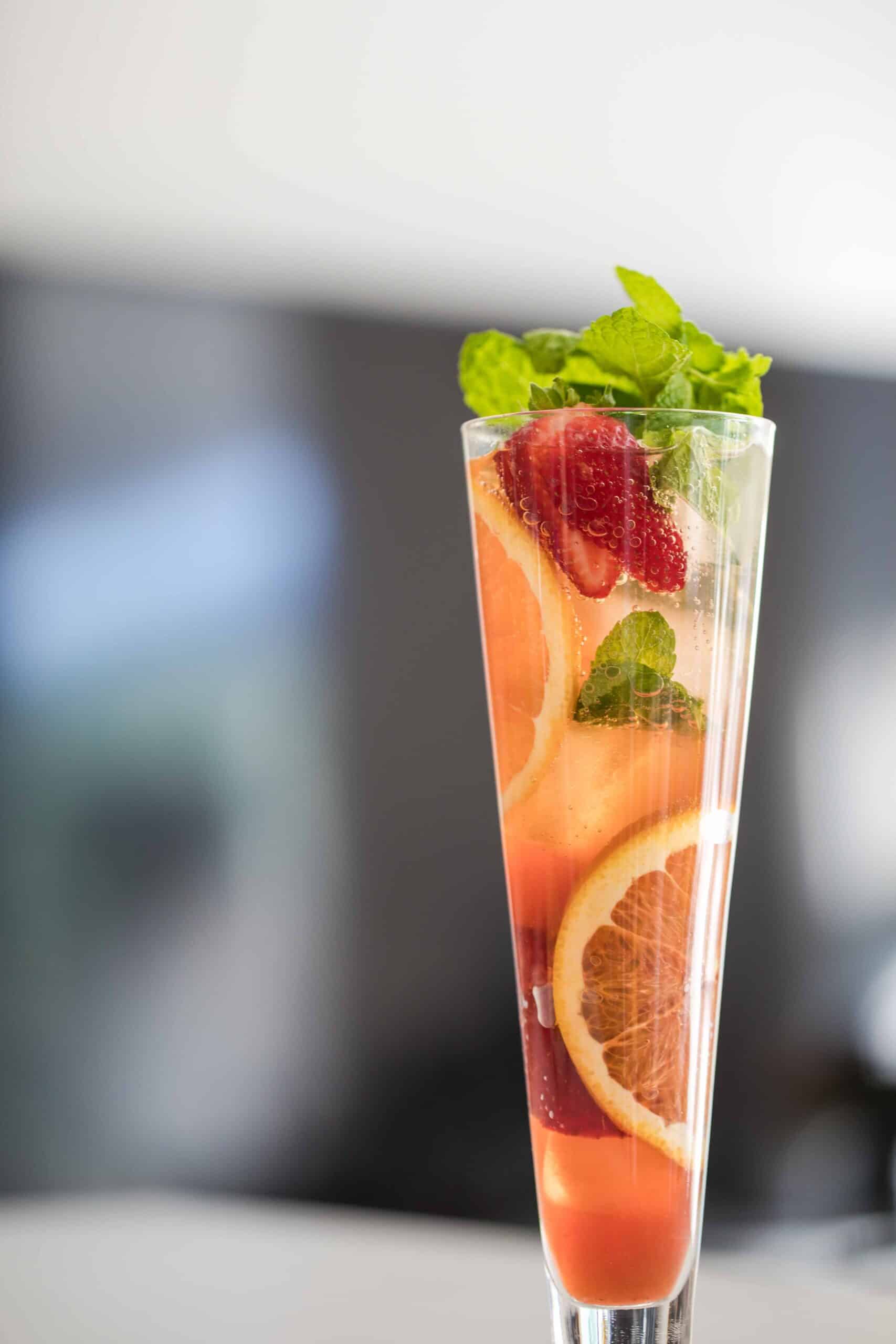 Choosing a Scotch for this Strawberry Mint Cup
This cocktail could use a lot of different bases here. You don't even technically have to go Scotch Whiskey. You could make this completely bitter forward and add equal parts campari and sweet vermouth. Of course there is pimms, or sloe gin that you can replace. But I wanted something warming. Something a touch sophisticated and surprising to the palate.
I decided to highlight more of the oranges and spices in a Single Malt, and I went with the Glenmorangie for this one. I usually like to put my trust in Glenfiddich, but the thing is the 12 yr has a ton of winter fruit and spices I didn't think matched as well.
Don't want to use a Dark Spirit? You could also go with clear spirits like a vodka, Gin, or blanco Rhum Agricole. Even PISCO would go a long way. Try to keep the ratio close to 1:1 of the spirit and sweet vermouth. Needs adjusting? Keep experimenting to make this unique to you. Just try not to add too much liquid to this cocktail. It's important to allow the fruits to absorb into the cocktail as well.
Gingerale vs Ginger Beer
A good Pimm's Cup uses a decent Gingerale. For someone who LOVES Ginger Beer, even I lean towards the gingerale for this sort of recipe. If you're adamant to use Ginger Beer, add a dash of simple Syrup. This recipe calls for Honey in this Strawberry Mint Cup, but if you think it will be too sweet for your palate, omit it and you can always add a honey syrup after to adjust.
You could also use a ginger syrup that's topped up with soda. Whatever you do, find the one that fits your creation and one that you love!
Sweet Vermouth
For this Strawberry Mint Cup, I knew the vermouth in question because I had run a class that featured Cocchi Vermouth with Camile! Now Italian vermouths I find very different from the French Style. I get a ton more bitters and spices with this Cocchi Vermouth, plus a ton of body. The great thing is that it isn't too sweet. Say you had Antica Formula vermouth in your bar, I would say add a touch less of this vermouth in your cocktail, because it's already heavy on the sweet.
And that's pretty much it! Make sure you have a muddler around, fresh strawberry, mint and orange, and you're about to have one tasty Strawberry Mint Cup!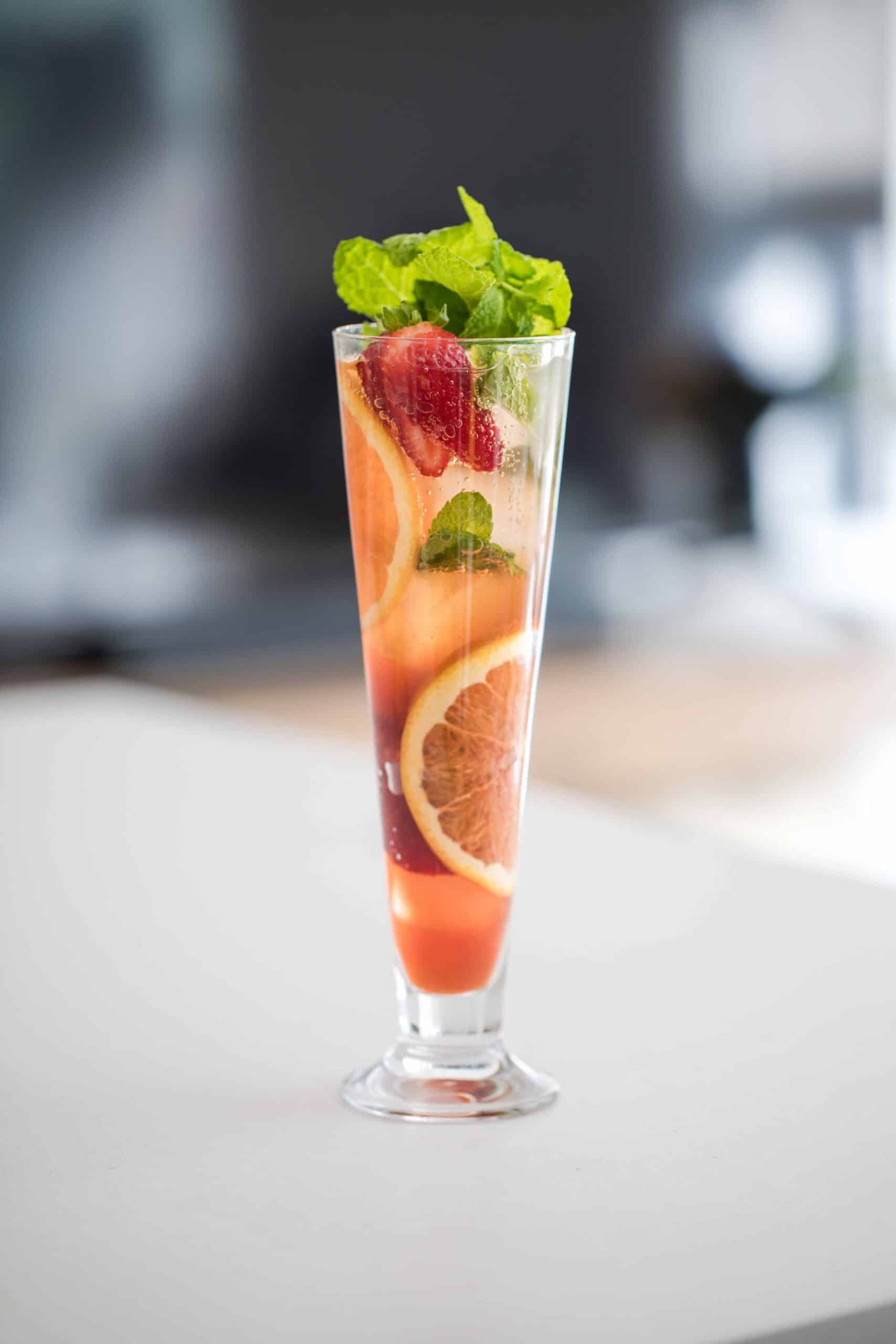 Strawberry Mint Cup
A take on a Pimm's Cup that uses Sweet Vermouth, Scotch, Strawberries, Mint and Orange!
– Difficulty: Intermediate
Ingredients
1

oz

Scotch Whiskey

Glenmorangie used here

1

oz

Sweet Vermouth

Cocchi Vermouth used here

1/2

oz

Orange Juice

preferably freshly squeezed

1/4

tsp

Honey

4

sprigs

Mint

3

Strawberries

2

Orange Wheels

1.5

oz

Gingerale
Instructions
Muddle 2 Strawberries 2 sprigs of mint (approximately 8 leaves) and honey to a pulp inside a pilsner glass.

Add your Vermouth, scotch and orange, and your ice about half way and stir.

Fill the remainder of your glass with ice and orange wheels (yes, you need a lot of ice!) and top up with ginger ale. Garnish with remaining strawberry and mint.
Want to see the other #NoDrinksWasted creations? Head over to the link attached for this catered inspiration!