Lemon, Grape, Sloe Gin Cake. Now try and say that 5 times fast. Or not, and just enjoy this INSANELY magical cake right here, that I've whipped up with fresh lemon, coronation grapes and sloe gin.
The gram knows how much I love to experiment with boozy desserts. I had #IceCreamSundazeee last pretty much all summer long, an outstanding Strawberry Lavender Gin Cheesecake that I really need to whip up again, and boozy floats with beer! A recent trip to the market though, left me with a ton of Ontario's Coronation Grape. They have a thick skin that give this bitter taste, but the inside is so sweet and juicy that it had me excited to bake up something unique.
This recipe came together with the help of a few references. I once made this lemon blueberry cake from Natasha's Kitchen that was fantastic! And having mastered a few additional techniques from the professionals at Bobbette and Belle, this cake came together.
What I really wanted to highlight was some tea and herbal flavours, as I knew it would lend well with the lemon and grapes. That's when Sloe Gin came to mind and I knew it would do well as a sweetening agent for this cake.
---
---
Mind you, the first round of this cake didn't really turn out. It was TASTY, but the gin notes just wasn't coming through as much as I'd like. So I went back to the drawing board, and switched a few items. I threw in more flour and added more Sloe Gin, PLUS a dash of Empress Gin. This was good for two reasons. Empress Gin brought out the juniper notes I wanted to shine through (and was definitely needed). PLUS if you didn't know, Empress is infused with the signature tea blend at the famous Fairmont Empress hotel in Victoria, BC, Canada. All that and with it's signature lavender profile that comes through to me, I knew it would work so well with the flavours of this cake.
Truth is, you can definitely be flexible with the gin used for this recipe. A London Dry Gin will go a long way, but again, if you have access to Empress, I would definitely give this a try!
Excited for a tasty treat? You should be, because it's definitely one of my FAVOURITES on the website!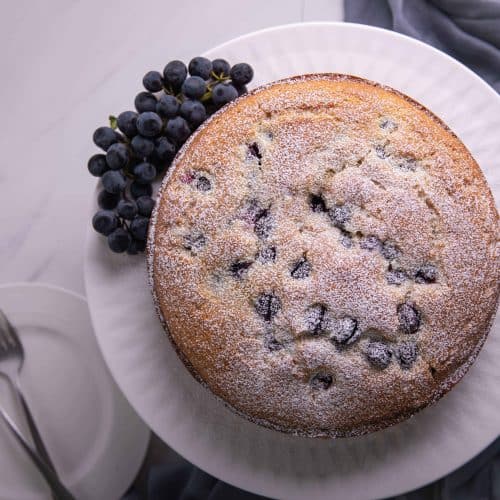 Lemon Grape Sloe Gin Cake
Say this 5 times fast, or not and just whip up this outstanding, zesty cake!
– Difficulty: Intermediate
Ingredients
2 1/3

cup

All Purpose Flour

3/4

tbsp

Baking Powder

1/2

tsp

Salt

1

cup

Sour Cream

1

tsp

Baking Soda

1/2

cup

Unsalted Butter

room temperature and cubed

1

cup

Granulated Sugar

2

Large Eggs

1/3

cup

Lemon Juice

2

Lemons

for zest (and juice)

1

tsp

Vanilla Extract

2.5

tbsp

Sloe Gin

+ dash

2.5

tbsp

Empress Gin

2

cups

Coronation Grapes

1/2

tbsp

Cornstarch

1

tsp

Cinnamon Powder

Icing Sugar for topping
Instructions
Preheat oven to 365 degrees F, grease 9 inch springform circular pan and line the bottom with parchment paper.

Grab 1 large and 1 small sized bowl. In large bowl, whisk your flour, baking powder and salt. In small bowl, add sour cream and baking soda and set it aside.

Plug in your Standup mixer with the paddle attachment and add your eggs and sugar. Mix at Low-med, until it starts to become light and fluffy (approximately 3-5 minutes).

Increase your speed to medium and add your eggs one at a time. Ensure that all sides and bottom are incorporated, stop the machine when you have to to do this.

Add Lemon Juice, zest, followed by vanilla extract, sloe gin and gin at low-medium speed.

Next, you'll want to add the flour and sour cream mixture in parts. First start off with dumping 1/3 of the flour mixture, and mix low-med until combined, stop and add 1/2 of the sour cream, again until combined (DON'T OVERMIX), followed by 1/3 flour, then last half sour cream, then last bit of flour. Again, do not overmix.

Prep your coronation grapes, by grabbing a small bowl and adding cornstarch, cinnamon and dash of Sloe Gin, and give this a quick stir until combined. Stir in your coronation grape. Try not to bruise or pierce them.

Add half of the cake mixture to the prepped springform pan and add half of the grape mixture. Once that's done, grab the rest of the cake mixture and add it on top, making sure to cover the initial grapes. Add the rest of the grapes on top (you can LIGHTLY press it down as well).

Toss into the oven for approximately 45 minutes. It is done when your toothpick comes out clean from the centre. Let it sit for 15 minutes at room temperature (on top of cooling rack), before removing the springform pan. Sift Icing sugar on top.