It's officially the Canadian Thanksgiving Weekend, and you probably have a ton of people that you need to feed and serve. Well I'm here to drop a recipe that's delicious and accommodating to the masses. It's stirred up with Honey, Rye, Sweet Vermouth, Apple Cider, Orange and an Apricot Wheat Ale! Trust me, it's a winner, I promise!
As much as I love my summers, I have definitely been vibing with the tones, flavours and colours of Fall. It gets my creative juices going, whether that's with my photography or my cocktail recipes.
Now I wanted to create a punch that is SIMPLE! I swear to you, I'm not lying. Because the reality is, there is SO much prep already involved with the food, that the drink can sometimes get that "last leg" of effort. I decided to create something that you'll likely have in your house already. That's right, not specialty syrups involved! #Hallelujah
---
---
I'm not even going to bother going on a rant here, because I actually have some Thanksgiving Dinner planing to do myself. The most important thing to note about this recipe is that it is for 1 PERSON! Please make sure to multiple the recipe by how many people you plan to serve (assume 1.5 cocktails/person). I find the citrus can play a varying role when mixed in mass amounts, so add LESS of the orange juice (preferably freshly squeezed) and adjust to your preference! To my Canadians, I wish you an amazing Thanksgiving Weekend. XO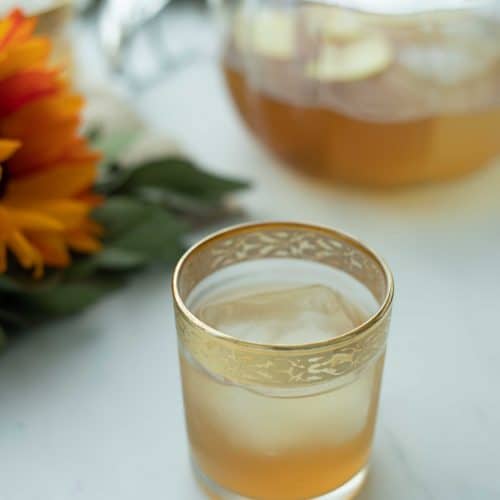 Thanksgiving Rye Punch
A thanksgiving inspired punch that the whole family can enjoy, mixing rye, honey, apple and cinnamon!
– Difficulty: Intermediate
Ingredients
1

tsp

Honey

1

tsp

Boiled Water

2

dashes

Bittered Sling's Kensington Market Bitters

1.5

oz

Rye

Lot 40 used here

1/4

oz

Sweet Vermouth

Dolins used here

1

oz

Apple Cider

1/4

oz

Freshly squeezed Orange Juice

1/2

oz

St Ambroise's Apricot Wheat Ale

2

Apple Slices

1

Cinnamon Stick
Instructions
Grab a pitcher, and add your honey and boiled water. Give this a stir until honey dissolves before filling your pitcher 1/3 way with ice.

Add the rest of the ingredients, EXCEPT APRICOT WHEAT ALE, and give this a stir for about 20 seconds.

Strain into your punch bowl, and add a couple large chunks of ice to keep it chilled.

When serving guests, have it served in a rocks glass with 1 large cube and a thinly sliced apple. Top it off with a splash (1/2 oz) of the Apricot Wheat Ale.
Recipe Notes
A few notes about this recipe:
If you don't have Bittered Sling's Bitter, don't fret, Angostura Bitters would be perfectly acceptable as well!
The Apple Cider I picked up was from Pine Farms Orchard in King city, which is GREAT. Again, if you don't have access, I really like PC's Apple Cider as well. Just make sure to get a good quality item that isn't overly sweet (no sugar added). 
St Ambroise Apricot Wheat Ale – This is one of those ingredients you shouldn't switch. These Apricot Wheat Ale is outstanding, and I've even seen it in the loblaws beer section, so IT IS AVAILABLE, just take a look!
DO NOT MULTIPLY CINNAMON STICK – For a batch of 6, I would throw in max 2, because while it sits, it will infuse the cocktail but you don't want to go overboard. I wouldn't have more than 4 for any sized batch.