Thanksgiving is going to take on a whole new meaning this year, with liquidgiving. That's right, what better way to share memories and time with loved ones than with a delicious beverage in hand, and this year you're about to seriously step up your game. Impress your family, tease them that you're a mixologist now, because YOU GOT THIS, and no one will complain if the turkey is dry. For my first cocktail this Thanksgiving weekend, I'm providing you with a Gin-based punch with fresh plum juice, yuzu liqueur, spices and Oast Saison to top! If you know me well, then you know I love a balanced beer cocktail, and this punch does that and more. This may turn into a Liquidgiving tradition.
This idea actually came to me in the summer when I created this plum and mint punch, topped off the some Oast Brewery Saison. If you haven't hit up this brewery in Niagara, IT'S A MUST! I can't tell you how much I love visiting Niagara, and my recent trip to this brewery felt like a dream. My family and I were out in the backyard porch, with a delicious BBQ Food Truck close by and a live band setting the mood. For someone who doesn't listen to country music, in the right setting (and the right amount of booze), we were all feeling the vibes that night.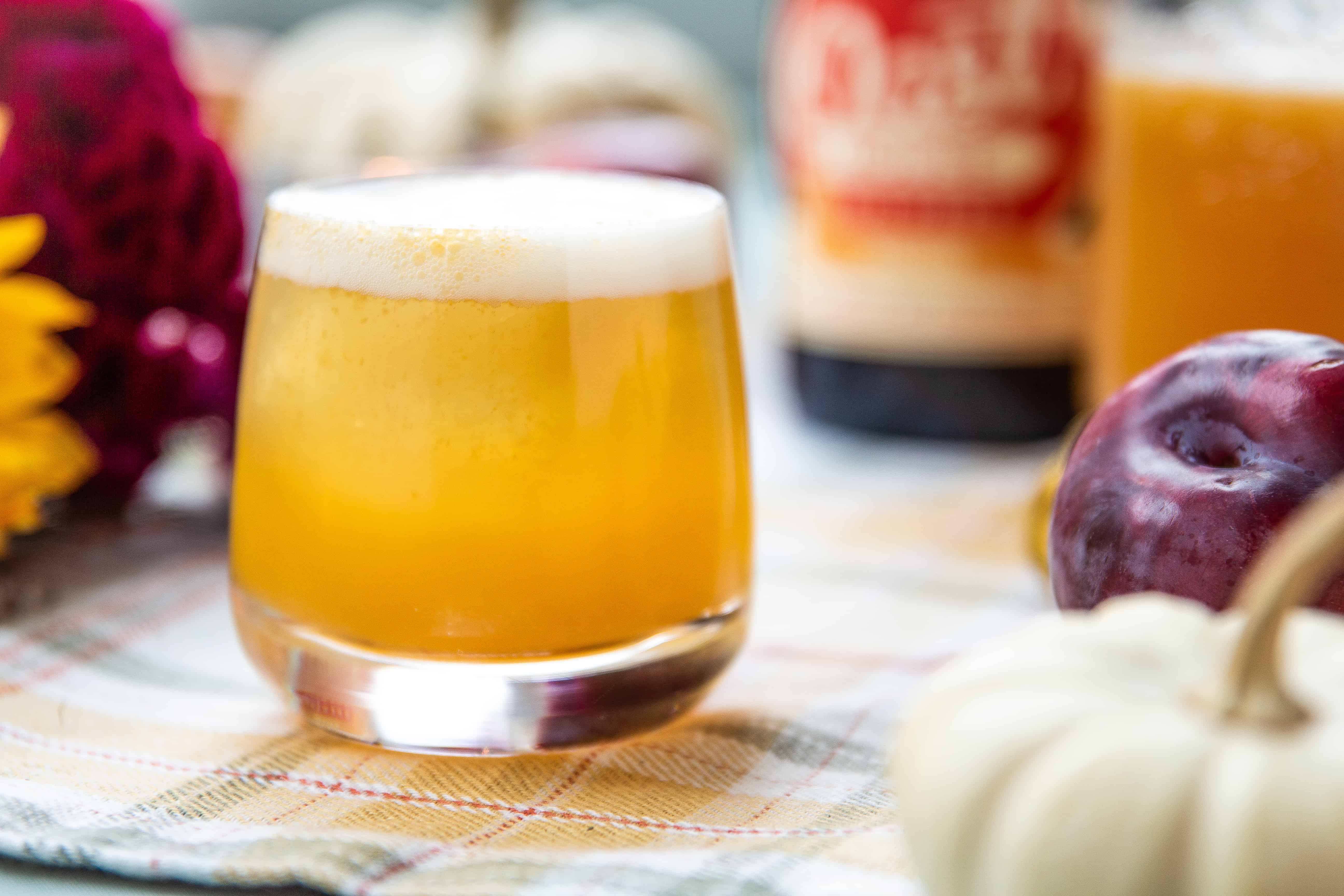 Anyway, this brewery is always pumping out some great seasonal selections on top of their classic brew line up, and with today's cocktail, I use their Farmhouse Saison Ale. Saison beer has been a favourite variety of mine for a while now. I went through a serious beer phase, with trappist ales completely taking over my bar, but when it comes to a summer sipper that has a bit of weight to it, Saison is the way to go. It's still bright and refreshing, but has the weight to pair with a ton of food, from chicken, a cheese and meat board, and so much more!
I wanted to create punches for you this Thanksgiving, because I'm sure that once your family and guests arrive, you want to set it and forget it. Punches are just that! It's a great way to have a quality cocktail close in hand while getting to enjoy and mingle at your own party. It combines some unusual flavours, but the Plum and Yuzu just came together so well that I had to drop this recipe for you today. With very little prep involved (NO INFUSIONS OR SYRUPS REQUIRED, YAYY), you have an easy group cocktail ready for your liquidgiving feast!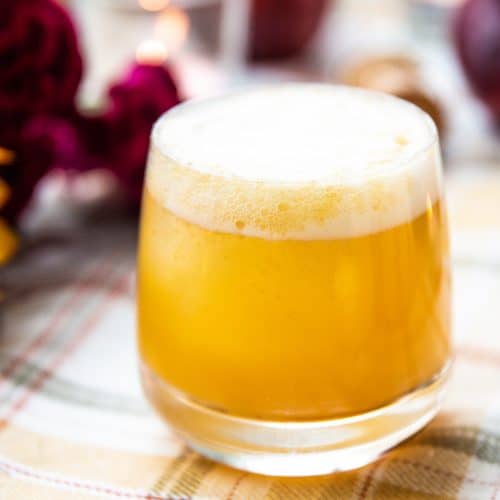 Plum, Yuzu, Gin and Beer Punch
This seasonal Fall punch was created to make your Thanksgiving festivities that much better! Just set it and forget it, and enjoy your time with loved ones with this delicious punch cocktail.
Difficulty: Intermediate
Ingredients
5

Brown Sugar Cubes

10

dashes

El Guapo Holiday Pie Bitters

6

oz

Gin

3

oz

Yuzu Liqueur

8

oz

Plum Juice

(2 Plums and 1/2 cup water blended and strained)

3

oz

Orange Juice

5

oz

Club Soda

2

Cinnamon Sticks

2

Cloves

5

oz

Oast Brewery Saison Ale
Instructions
In a pitcher, combine sugar cubes with bitters and 1 oz Club Soda. Muddle and stir until well dissolved.

Add gin, yuzu liqueur, orange juice, plum juice, soda, cinnamon and cloves.

Fill pitcher half way with ice and give a stir until well chilled.

Strain into punch bowl, but keep the cinnamon the cloves in liquid for 30 minutes before serving.

For individual pours, use a rocks glass with 1 large ice cube and top with 1 oz of Saison beer for each cocktail. Garnish with plum slices.