Full disclosure, I am not one to celebrate St Patrick's Day. I think I partied hard ONE year during University (I was super cool, can you tell?), but that was all my body was willing to take. So when I think of Green Beer to commemorate St Patrick's Day, I want to run the other way. What way is that? Well, I'll make sure that my drink has as little sugar as possible, using a clear spirit like the Prairie Vodka used here, and some sort of green herb/vegetable. Since I still had a ton of Celery from last week's #DrinkYourGram cocktail, I decided to juice this vegetable and create a VERY refreshing imbibe. See how below!
Before we dive into this cocktail, I did want to give a bit shout out and thank you to the sponsors of this post which is Prairie Organic Vodka. I've had the honour of collaborating with the team last Christmas and they wanted some more LC love. Now why do I love and support this brand? For a number reasons, including:
Everything is crafted with a mission in mind; doing right by the land. They produce, distill and create everything with the planet, farmers and end consumers in mind. That's why they are a member of the Organic Trade Association, and so much more.
Launched in 2020, Prairie Organic Spirits started the Spirit of Change Fund, to help fund the next generation of Canadian Organic Farmers. 1% of sales is donated, with a mission to help make a better future for the land and farmers. In addition, they support the Canadian Organic Growers association by offering training and resources to raise awareness of the organic industry and to establish sustainable practices.
Offering up spirits that are Gluten Free, Free of chemicals and GMO's.
Almost every process of the manufacturing is calculated and measured so that little to no waste exists, from reusing leftover grain for animal feed and so much more.
For my people of Ontario, you can find Prairie Organic Vodka at select stores in LCBO or shop online.
---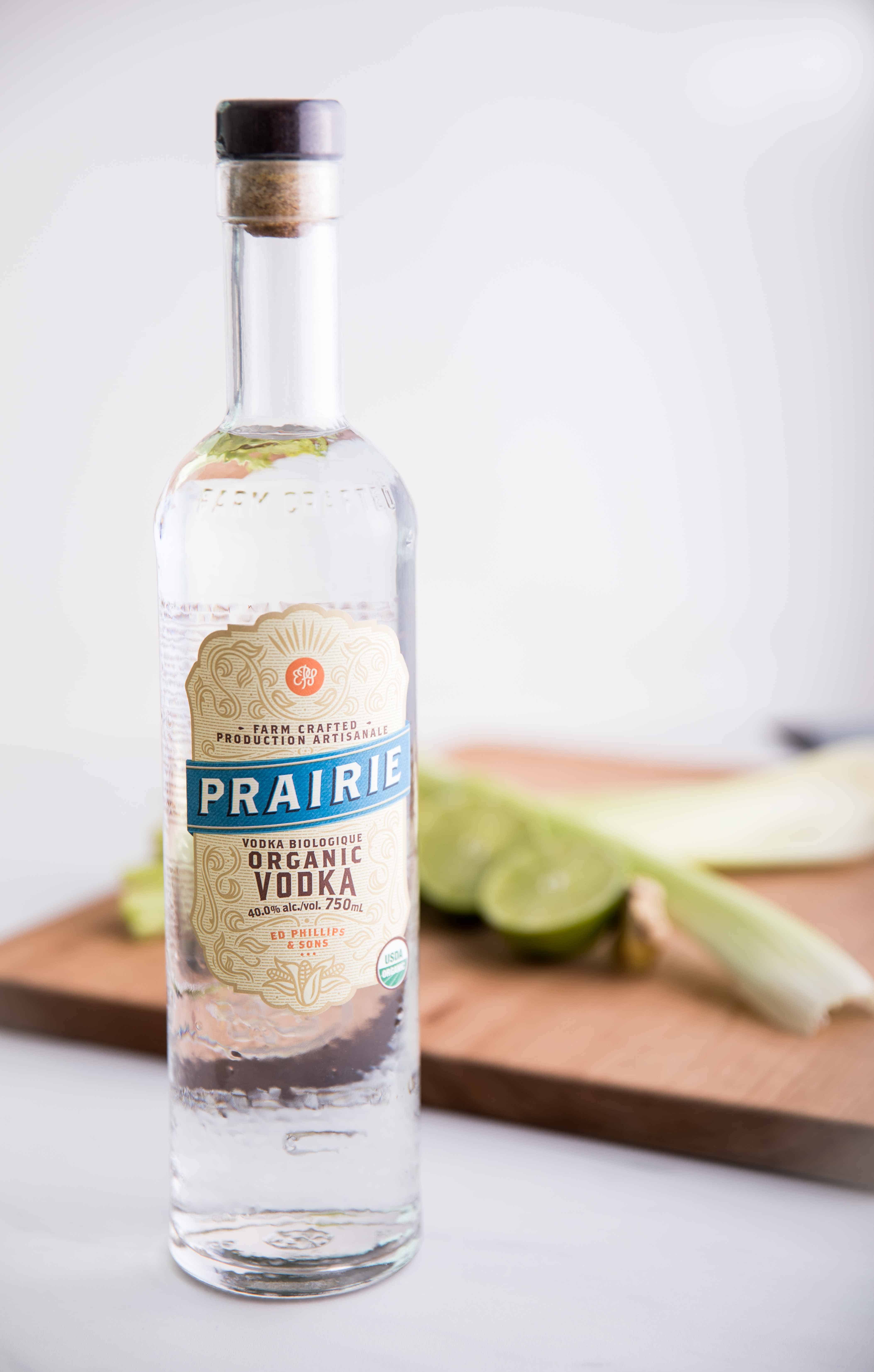 ---
As mentioned, this cocktail is really easy to throw together and for my "green" inspiration, I decided to use the mountain of celery I had from last week's feature and create a Celery and Ginger Juice. Now if you have a juicer at home, simply grab a handful of Celery Stalk with a 1 inch ginger to press through. That's all it takes! But if you don't have a juicer, I simply cut up 3 celery stalks with a 2 inch ginger that I had removed its skin, blend and strain through a fine mesh strainer. It's a bit more work, but it's the measures I have to take since I don't have space for a juicer. OR you can easily pick up Celery Juice at your specialty food stores. I added Ginger because I love the bite it creates, but it's not necessary if you can't find one already pre-made with ginger.
Next, I decided to add a slight nutty note to the cocktail by using Orgeat Syrup vs Simple Syrup. For those of you that may not know, Orgeat simply means a syrup made from Almonds. I love it because it adds another layer to the cocktail that will be a PLEASANT surprise. Cocktail Emporium (shop here in Ontario) even has a brand of Orgeat Syrup that is nut free and DELICIOUS! Typically I run away from that kind of artificial mess, but this product is REALLY tasty and worth the grape. If however you are struggling to find or don't want to create an Orgeat Syrup, Simple Syrup is an easy way to go, or even adding a bit of honey!
The last essence of the cocktail was the Grapefruit Soda, which if you've never tried Jamaica's 'Ting' carbonated soda, you don't know what you're missing! It's a must to tie this whole cocktail together, and it's in most grocery stores.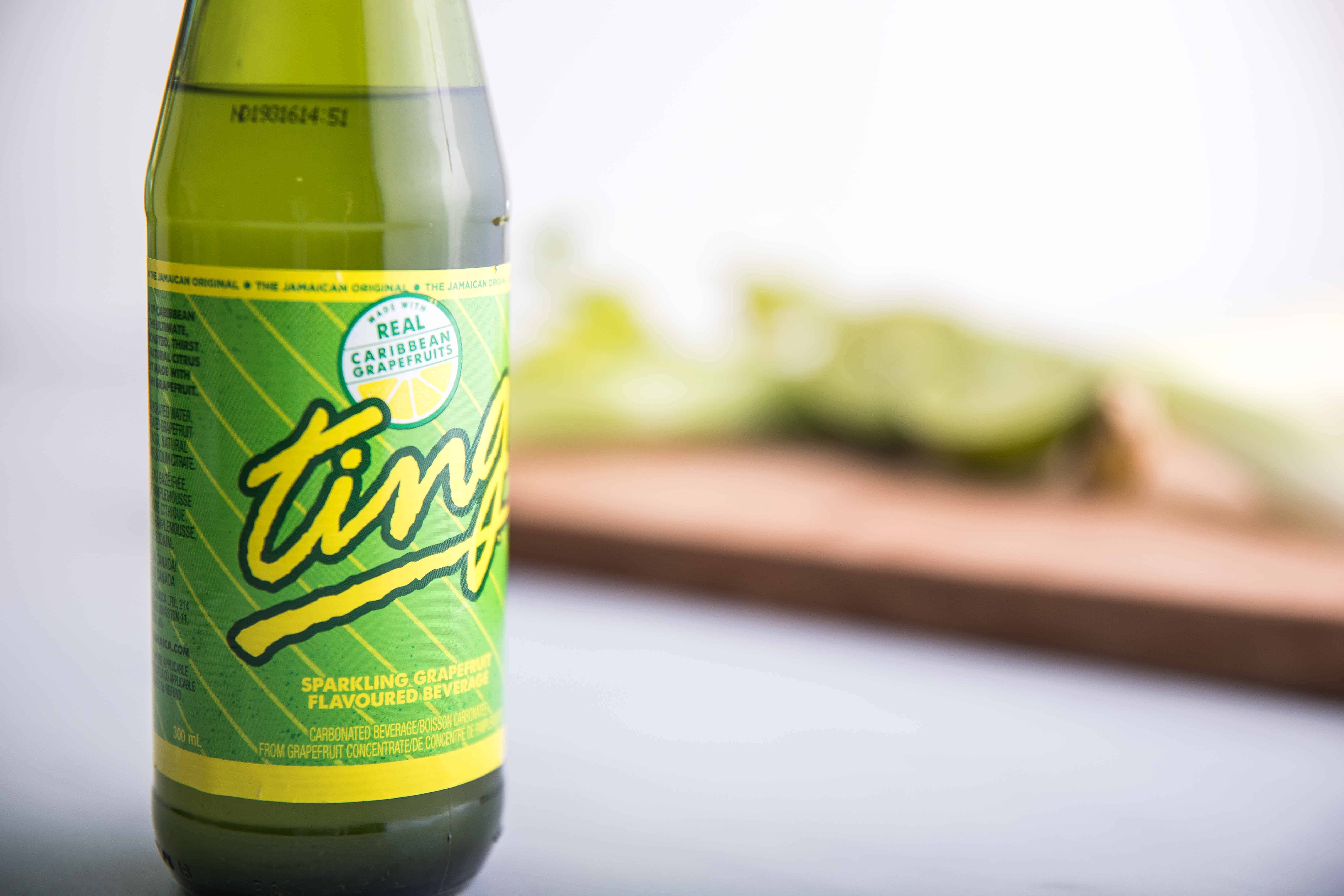 ---
If you're looking for a low-in sugar option when it comes to cocktails and St Patrick's Day, you don't have to look much further. Looking for more creative Cocktail Options for St Patrick's Day with Prairie Organic Vodka? Head over to their socials for inspiration by following this link HERE!
---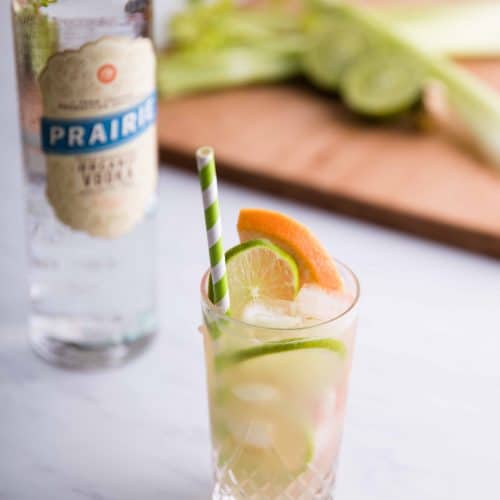 Luck of the Celery
A refreshing, low in sugar cocktail to serve up for this year's St Patrick's Day festivities!
– Difficulty: Easy
Ingredients
1.5

oz

Prairie Organic Vodka

1

oz

Freshly Pressed Celery and Ginger Juice

*

1/3

oz

Orgeat Syrup

1/2

oz

Freshly Squeezed Lime Juice

1

oz

Grapefruit Soda

Jamaica's Ting Carbonated Soda used here
Instructions
Grab a collins glass and fill with ice, slices of grapefruit and lime juice.

Next grab your shaker and add all your ingredients (except Soda) into your shaker filled with ice. Give this a good shake before straining over your prepped Collins glass.

Top with Grapefruit Soda. Cheers!