For this special edition of #NoDrinksWasted, I'm featuring a liqueur that's HARD for me to get through. It definitely hangs out on my bar, because I'm not the BIGGEST fan of the flavour. BUT in this cocktail realm, Maraschino Liqueur holds a huge place and I'm always willing to adapt. So with that said, I brought out the Old Tom Gin and Maraschino liqueur in this Old Tom Mint Julep! It's unique, SO TASTY when done right, but don't forget the most important ingredient in a Julep; Crushed Ice.
What's #NoDrinksWasted?
After a fun year of #DrinkYourGram on my social platforms, I wanted to create cocktails with you in mind. Many of you likely have random bottles or ingredients around the house that you don't want to go to waste, so why not use them in a cocktail? For today's creation, we're working with an ingredient that I ALWAYS struggle to get through. It's the iconic Maraschino Liqueur, which for me, has never been my bag of tea. The thing is, I do know it's important and VERY effective in cocktails. So what do I do? Bring out that Crushed Ice to the rescue.
Why Maraschino and Old Tom Gin together?
Honestly, there's a ton you can work with when it comes to Maraschino. That cherry flavours lends well to many spirits, but I can't tell you why I gravitated towards the Old Tom. Maybe because I don't use it enough? Or I wanted to see how these two unlikely characters could come together? Nevertheless, it worked extremely well, especially with a Julep which can be so forgiving with all the crushed ice.
Now if you don't have a decent Old Tom Gin, try something that is a Gin that's barrel aged, something that has a bit of weight to it. You may have to increase the sugar slightly too. I say this because typically Old Tom's tend to be on the sweeter side.
Building your Maraschino & Old Tom Mint Julep
Again, I CAN'T STRESS THIS ENOUGH – CRUSHED ICE IS SO IMPORTANT. If you're too lazy to make crushed ice or buy it, don't even bother with this cocktail. Difford's has a close example of how to make one of their Juleps (check it out here), but asks to shake it rather than build it inside the Julep vessel. The general structure is there though, and something you should go by. This is also making me realize I need to make a Julep video…
Other than that, I wanted to add a touch of citrus, and decided to go with a sweet Key Lime instead of lemon here. And that's it! Ready for the recipe?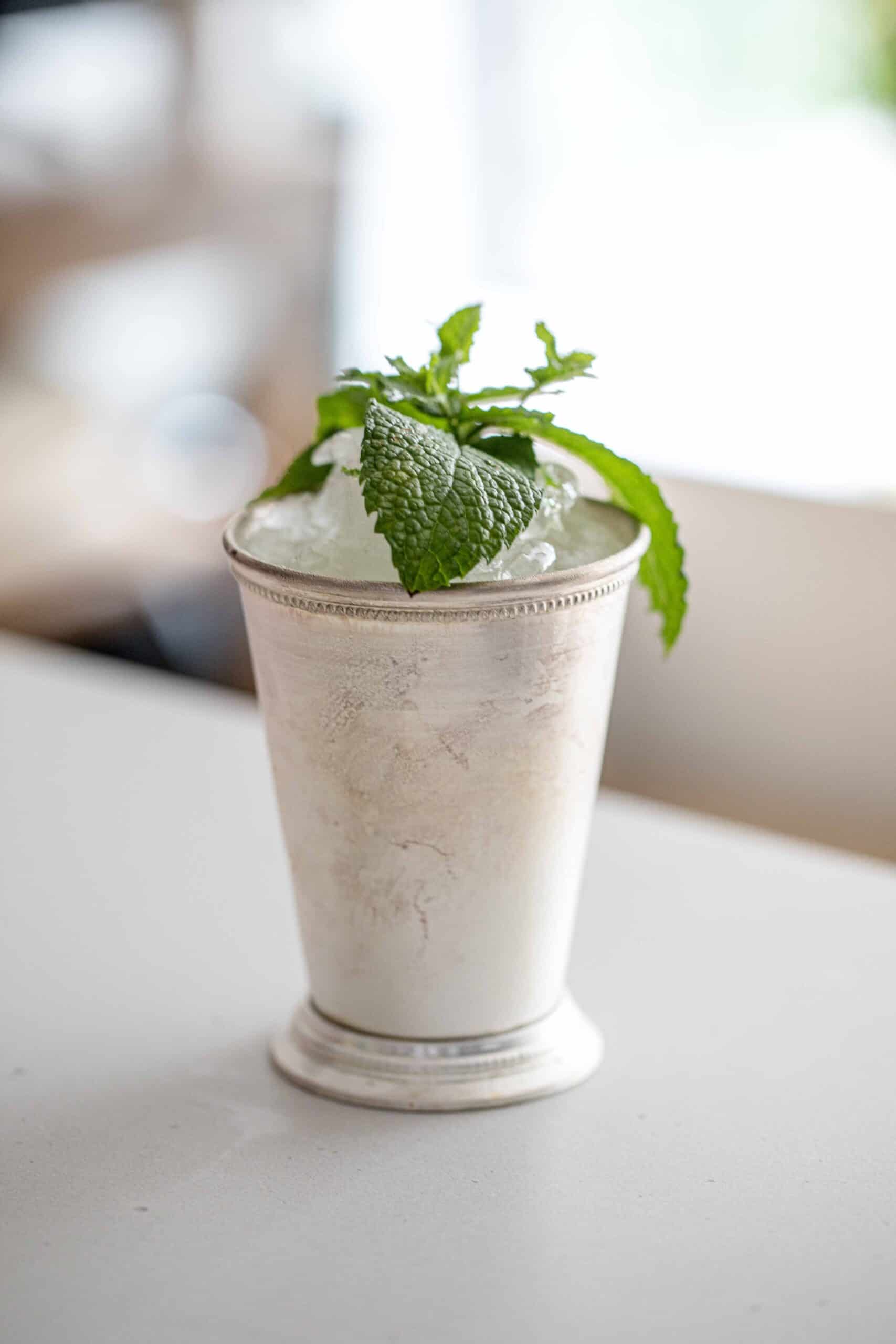 Maraschino & Old Tom Mint Julep
We build a very unique Julep in honour of #NoDrinksWasted using Maraschino Liqueur as the star ingredient!
– Difficulty: Intermediate
Ingredients
1.5

oz

Old Tom Gin

0.5

oz

Maraschino Liqueur

1

dash

Simple Syrup (rich)

2:1

3

sprigs

Mint

1 for Garnish

1/3

oz

Lime Juice
Instructions
In a Julep Tin, muddle gently mint leaves from 2 sprigs. Add the rest of the ingredients.

Fill your Julep Tin half way with crushed ice. Give this a churn (Stir or Swizzle). Continue to add Crushed Ice and churn, until you reach the top and can create a dollop of crushed ice on top.

Garnish with remaining Mint Sprig.
For more #NoDrinksWasted inspired cocktail, see the link here for other features!