We've got a double whammy for #IceCreamSundazeee with a special Boozy Dessert treat that is so simple to make with some Wray and Nephew Vanilla Ice Cream. Rum Ice Cream, Campari Strawberry Rhubarb Crisp? Yup, that's the dream and ultimate combination here that I can't wait to share.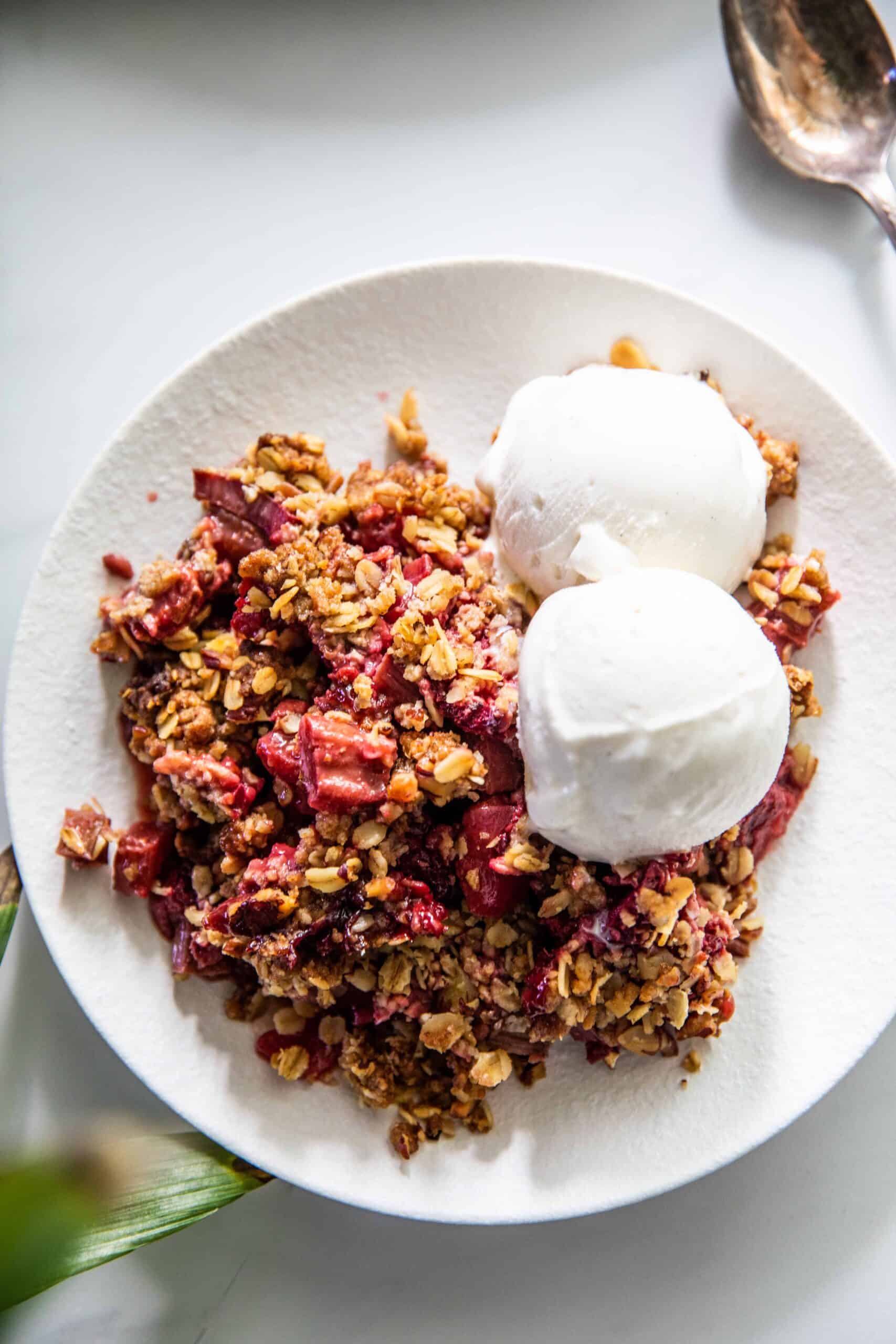 Building your Campari Strawberry Rhubarb Crisp
It all started here. When I was experimenting one evening with a Rhubarb Crisp, because I didn't want my fresh rhubarb to go to waste. I had already made a syrup (psst, you can find it here), so I wanted to make something else that was quick and easy. I relied on the very trusty recipes on my New York Cooking App, but knowing how well Strawberry and Campari come together, I thought, why not create a boozy creation here?! First recipe was pretty great, but needed some additional tweaking. I wanted to make sure Campari was well showcased, I needed to change up the sugars and ratios a bit, but this final result is wonderful!
The best part about this recipe, is that it's also INSANELY simple. I would happily make crisps over pies any day, because your girl currently doesn't have the time for home made crusts (because I'm extra and following the Gramercy Tavern method).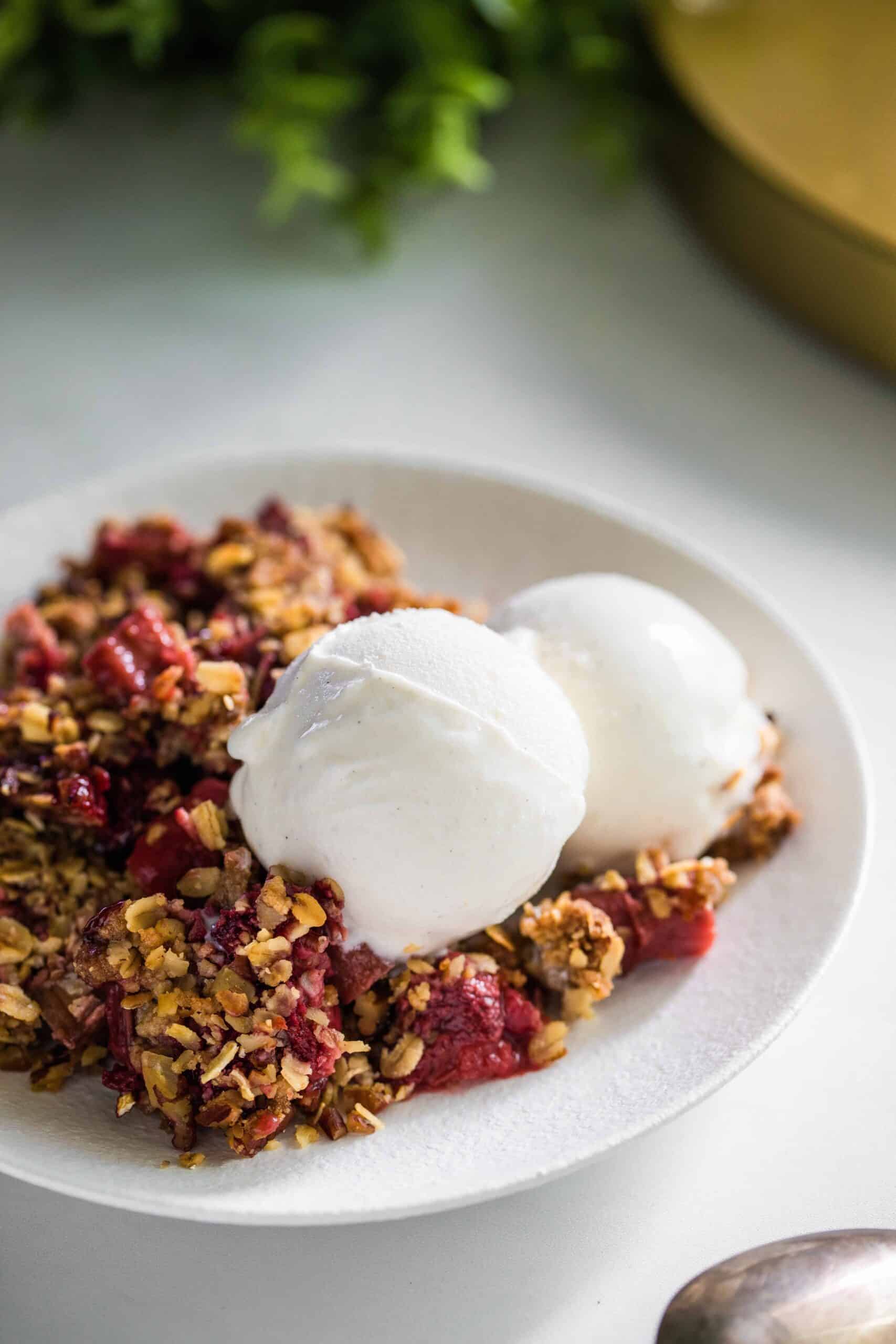 Strawberry Rhubarb Campari Crisp
Want to elevate your Crisp to adult level? Toss in some Campari and taste the magic yourself!
– Difficulty: Easy
Ingredients
Strawberry Rhubarb Filling
2.5

pounds

Half and Half of cut Strawberries and Rhubarb

Approximately 4-5 cups, cut in 1 inch cubes and quartered for Strawberries

1/4

cup

Granulated Sugar

1/4

cup

Campari

1

tsp

Orange Zest
Crumble Topping
3/4

cup

Brown Sugar

1/2

cup

All-Purpose Flour

1/2

tsp

Cinnamon Powder

1

pinch

Salt

1/2

cup

Rolled Oats

1/2

cup

Pecans

6

tbsp

Cold Unsalted Butter

Cut into small cubes
Instructions
Turn on your oven to 375 degrees F and grease your 8 x 8 pan (or worked by dividing into 4 individual sized pie trays – approximately 5 inches), with butter. Set aside.

In a bowl, combine all your Strawberry Rhubarb filling components and stir until incorporated.

Prepare your crumble top, by setting up your Food Processor and adding in your Flour, Brown Sugar, Butter, cinnamon and salt. Pulse for approximately 20-30 seconds, until they start to form small peas and clump together.

Add in your Oats and Pecans and pulse a few more times until incorporated.

Add your filling to your pan (or trays) and top with crumble. Place into the oven for approximately 40- 50 minutes until the top starts to brown and you can see the filling is bubbling up. Let it cool before serving.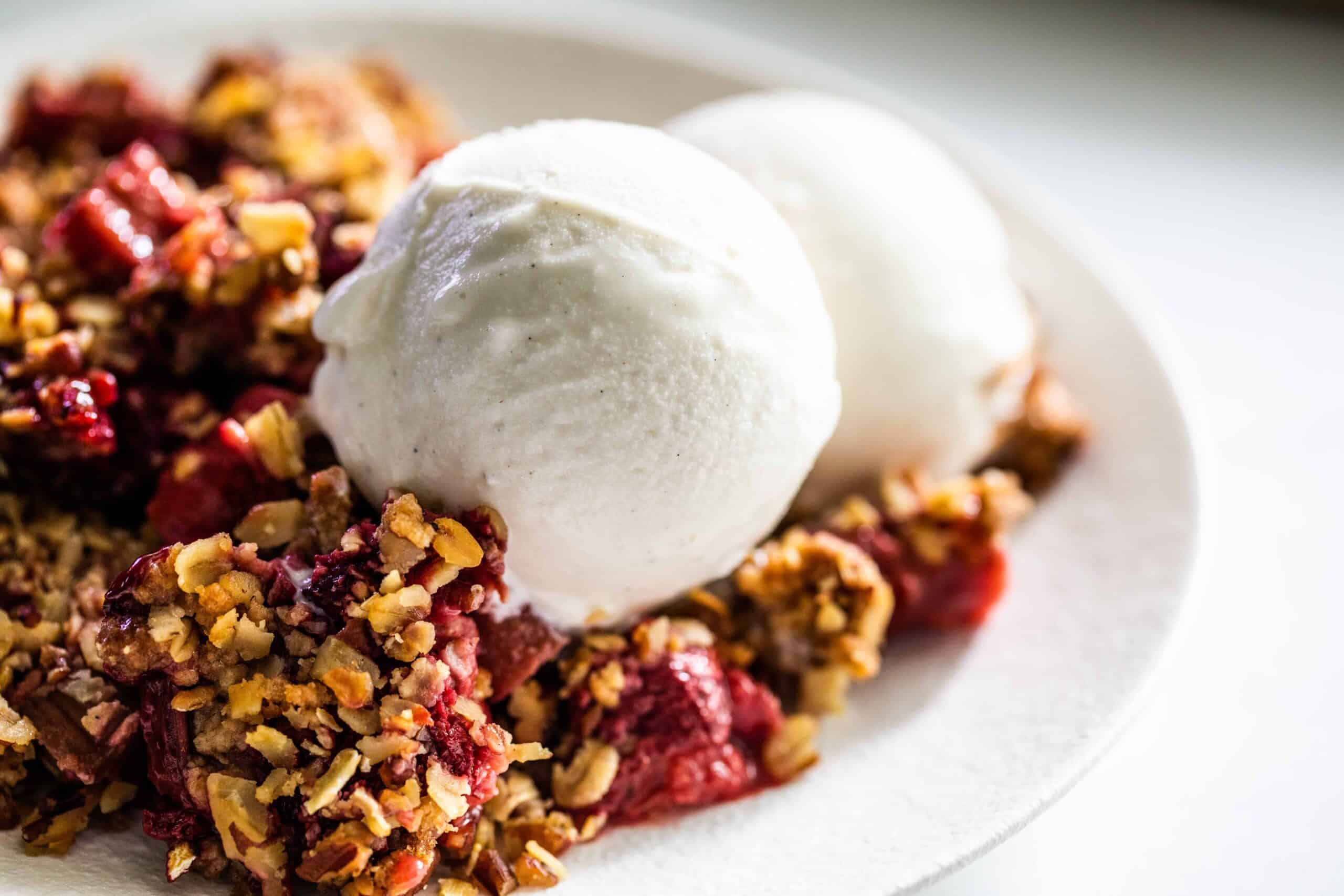 Wray and Nephew Vanilla Ice Cream
Next we have the ICE CREAM! Again, another simple creation, it just calls for a little planning and ensuring you have the right equipment on hand. This is probably the easiest of all my Ice Cream recipes, so if there's one to try, it is this one!
Again, time is an important element to this cocktail, because you're actually not too active at all. It may take all of what 20 minutes to actually create. Plus it's made with ingredients you likely have in the house. Now why did I use Wray and Nephew for this Vanilla Ice Cream? That's because Wray and Nephew already comes as an overproof rum. This helps because it packs a TON of flavour (and obviously alcohol), in less volume, which plays a role with Ice Cream making. Plus with Rum and vanilla together in this way, believe me, you'll become addicted to this Wray and Nephew Vanilla Ice Cream serve!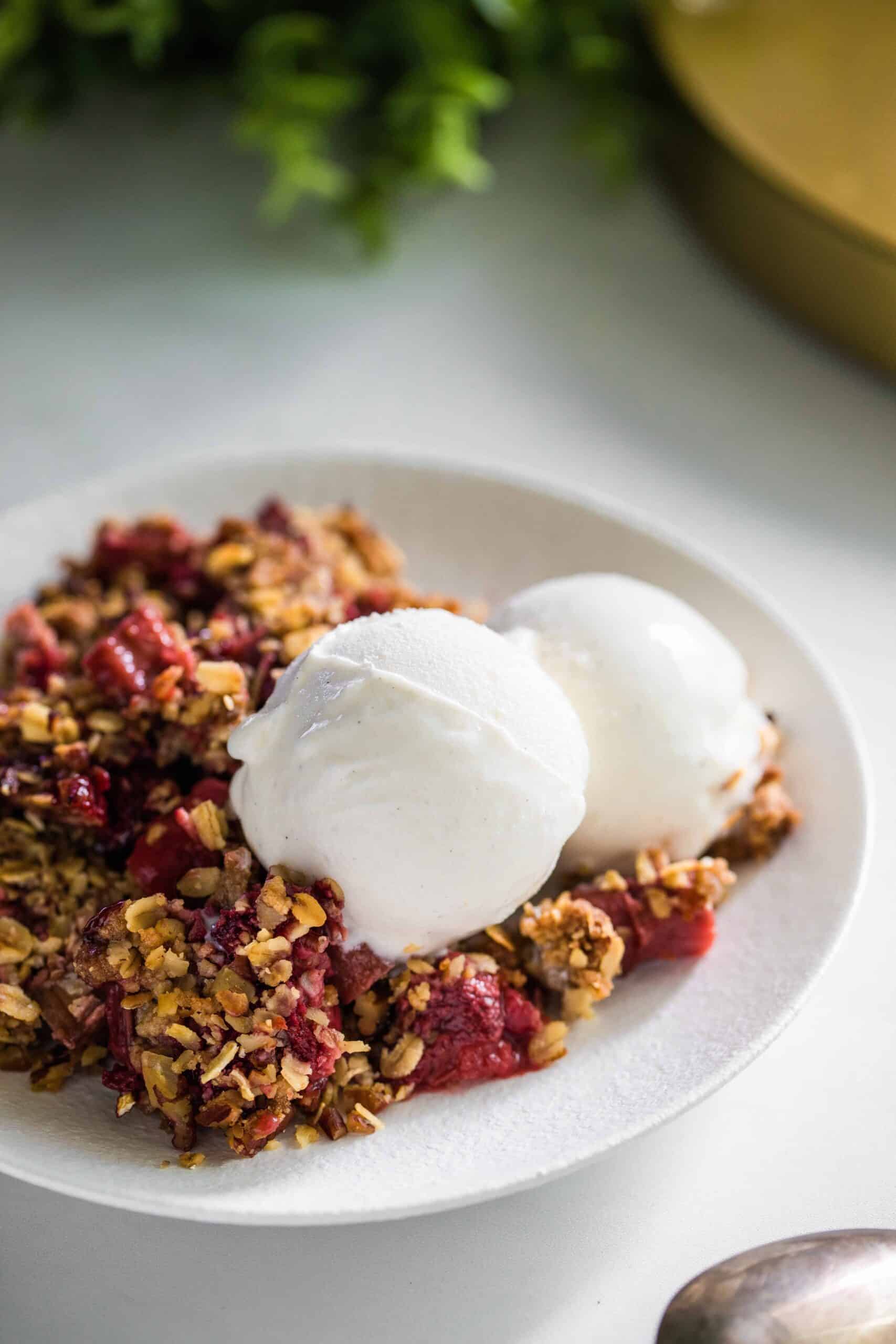 Wray and Nephew Vanilla Ice Cream
Overproof Rum and Vanilla come together as one in this incredible and SIMPLE homemade Vanilla Ice Cream.
Ingredients
1

cup

Milk (2%)

1

cup

Heavy Cream (35%)

1/2

cup

Granulated Sugar

2

tea bag

Chai

1

Vanilla Bean – inside scraped

You can use Licor 43 here as well.

1

pinch

Salt

1/4

cup

Wray and Nephew Overproof Rum
Instructions
Grab a saucepan and bring your milk, cream and salt just before boil (a light simmer only!). Turn off your stove or remove from stove.

Add your Sugar, Chai tea and Vanilla and stir until dissolved. Let this come to room temperature.

Add your Wray and Nephew Overproof Rum and store into the fridge for at least 4 hours or overnight.

Follow the instructions for your Ice Cream Maker. In my case, I simply poured the ice cream into the frozen attachment. Let it churn for 45 minutes before storing back into the freezer. It needed another few hrs to allow it to settle.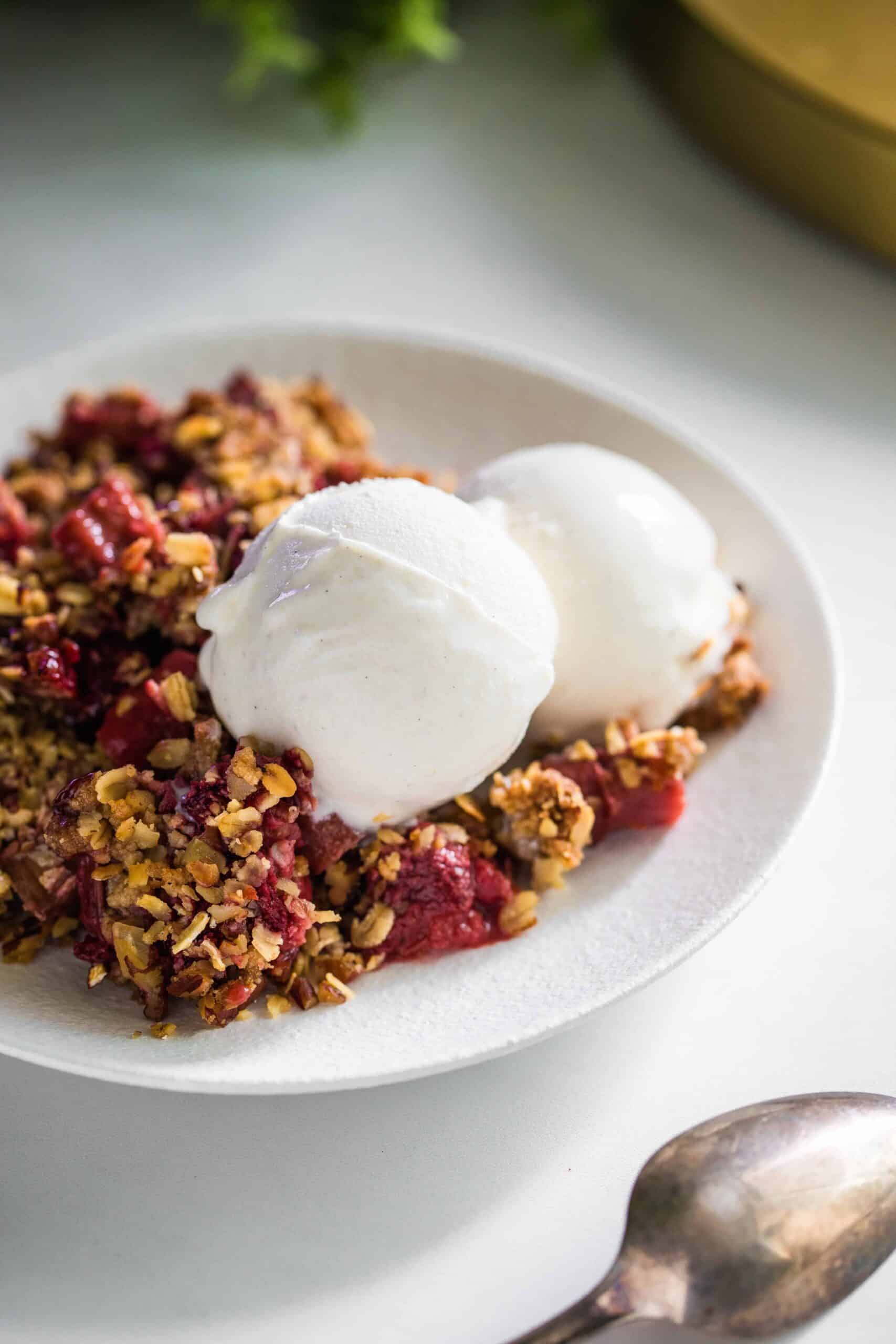 Want more boozy Ice Cream Creations?! Check out our dessert section for that and more!