In honour of #NoDrinksWasted, I am creating a recipe using an ingredient requested this week which was BEER! I'm actually a BIG fan of mixing Spirits and Beer together (with a recipe dropping next week that I know you'll love!). Because I've had such success with Sour Beers, I decided to combine some Mezcal, fresh Pineapple Juice with Bellwoods Brewery Jelly King Pineapple Tangerine. If you didn't love a Mezcal beertail before, you may just fall in love today.
What's #NoDrinksWasted?
After a fun year of #DrinkYourGram on my social platforms, I wanted to create cocktails with you in mind. Many of you likely have random bottles or ingredients around the house that you don't want to go to waste, so why not use them in a cocktail? I want to give a shout out to some of my favourite people on the IG platform and that is Inka of @onthesauceagain and Carlo of @ginmops. Inka asked for something with Mezcal, which wasn't a direction I was going to go, but it ended up working out perfectly with what I created. The main inspiration came from @ginmops who requested beer! Thanks for making me get creative with beer again!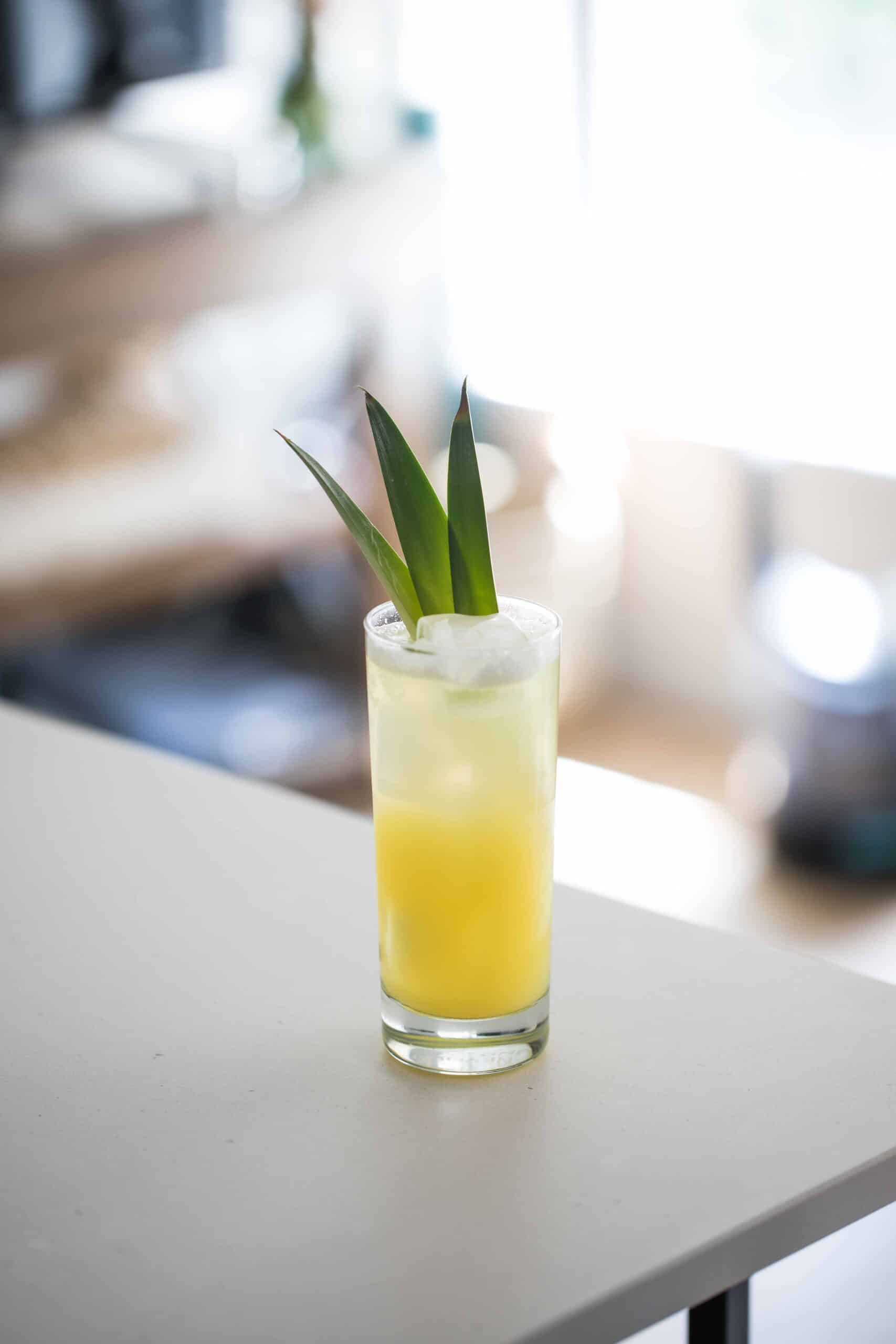 Choosing your Beer for your Mezcal Beertail
I've been on a trend mixing Sour Beer (it will make more sense next week) with cocktails. So I wanted to whip up something with a similar structure. Wanting to support local, I picked up Bellwoods Brewery Jelly King Pineapple Tangerine. Now the thing is, I know this may not be available for the rest of Canada or the world, so here's my suggestion:
Find a local brewery so you're supporting them first and foremost.
See if they have a citrus forward Sour Beer. This should be easy. Most Sour beers come flavoured, and citrus or tropical fruits tend to be the main flavour components.
Why Mezcal?
So the recent cocktail I made uses a Blanco Tequila. I simply wanted to switch things up, hence I decided to stick to the agave route and mix with Mezcal for this Mezcal Beertail. Now don't pigeon hole Mezcal to only be smoky. There's a ton of varieties that offer more vegetal notes that I love. This time around, I did go classic with Los Sietes Mezcal and loved it! Side note, I also love this brand because it's a Canadian company that was made with bartenders in mind, and it's actually fresh. Lately all the Mezcal I've been tasting has been much too sweet. If you'd like to go lighter with that smoke element, split the mezcal ratio in half with a Blanco Tequila.
Don't want to use Agave with this Beertail Cocktail? Gin could work, but you'd get something very different, Vodka offers that neutral base that's easy to work with, even Pisco I would recommend!
Agave Syrup
Agave Syrup is always great to have on hand and I love to use it with any Agave cocktail I create on here. But if you can't seem to find it, or can't run out to the store, substitute Honey or Simple Syrup for that matter. Note the ratios may adjust (aka you may have to use more or less), depending on what sweetener you choose.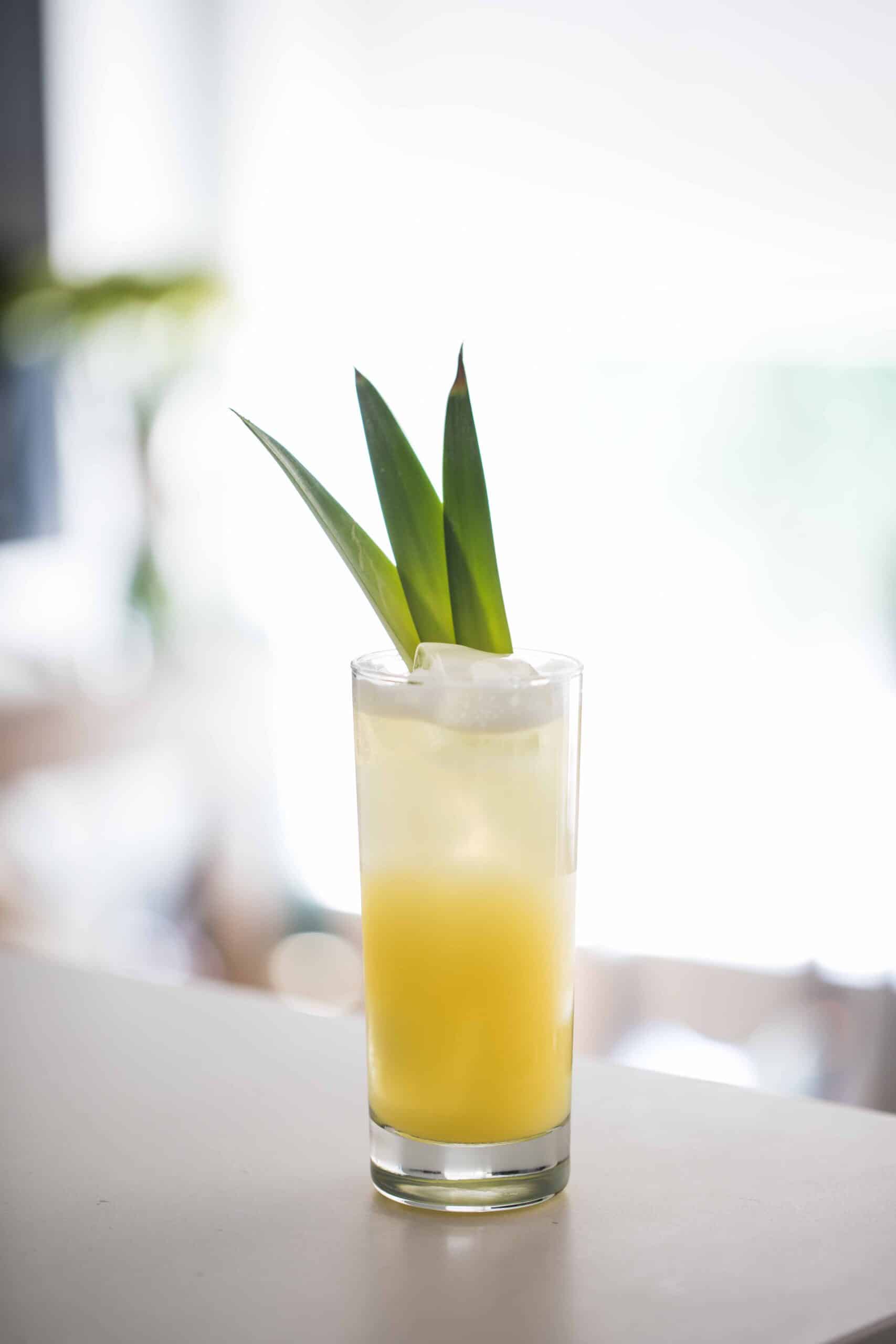 Mezcal Pineapple Sour Beertail
A refreshing Imbibe that uses Mezcal, Pineapple, Lime and BEER!
– Difficulty: Intermediate
Ingredients
1.5

oz

Los Sietes Mezcal

1

oz

Pineapple Juice

0.5

oz

Lime Juice

1

oz

Agave Syrup

1

oz

Bellwood's Jelly King Pineapple Tangerine Sour Beer

1

Mint Sprig

for Garnish
Instructions
In a shaker, add your ice and all the ingredients (except Garnish and beer) and give this a good shake.

Strain over fresh ice and top with your Sour Beer. Stir and garnish with Mint Sprig.
To find more Beertail recipes, follow the link attached.