For today's feature on Negroni Week, I decided to channel in on my inner 'BarChef'. Some of you may be asking, what the hell is BarChef? Well it's a Toronto-based Bar that offers a completely unique and sensory experience when it comes to cocktails. They break the preconceived boundaries when it comes to cocktails and how it can be served, creating the first of its kind in the city. So whenever I feel as if I'm breaking the norm, or dabbling into the molecular gastronomy world, I always think of Barchef. Mind you, this is a simple introduction into this creative world, but for my first time around, I'm pretty proud of this Negroni rendition!
If ever you want to get introduced to molecular gastronomy, I HIGHLY recommend picking up the Cocktail R-evolution Kit. This kit makes it extremely easy to step into this world, and they have a ton of guides and videos to help you along the way. Honestly, some of the items will shock you on how easy it is to create. I'm even going to include a video that shows you how to emulsify, in case you need the visual with my instructions.
I knew I wanted to do something special for this friday, so I finally got the 'courage' to give this a try. That's right. Even I get nervous stepping out of my comfort zone, but that is what Liquid Culture is all about, breaking those fears and trying something new!
This cocktail reminded me of an experience I had at The Aviary in Chicago, and my boyfriend got a drink in which it seemed like a simple egg white foam, but it was completely different. I loved that this cocktail deceived us, and created a completely different tasting experience, so I went with that notion in mind. I decided to create a Campari and Orange foam, to sit on top of the bed of the cocktail. This was the tricky part. How do I create a cocktail base that's balanced and compliments the Campari foam. I didn't want to add Campari to the base, because…then what is the point of the foam component?
I went back to the flavours I had wanted to incorporate. I wanted a richly spiced Negroni, with hints of cinnamon, orange and clove. So I decided to use my Winter Spiced Pomegranate Molasses Syrup. This syrup is GOLD. I truly, TRULY mean it! It has an insane amount of acid to completely balance the sugars, and I knew it would help tie in all the flavours and EXPERIENCE that this cocktail brings. With that said, I decided to use Tanqueray 10 Gin because I needed a Gin that has that perfect balance of juniper and brightness, while complimenting the spices. In addition,  I decided to use the Gonzales Byass La Copa Vermouth for its rich blend of orange, cloves and cinnamon notes.
And there you have it! I'll be going through my progression and process when it comes to making this cocktail in the instructions below! Enjoy!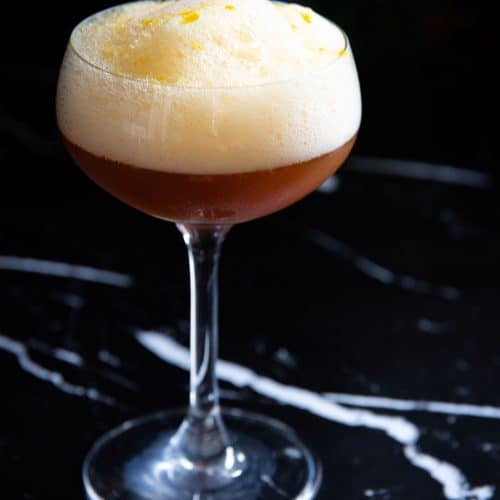 Molecular-groni
A simple introduction to molecular gastronomy with a Campari Orange Foam to create a completely unique Negroni.
Difficulty: Intermediate
Ingredients
Emulsified Campari and Orange Foam
1/3

cup

Water

1/8

cup

Campari

1/2

cup

Fresh Orange Juice

2

grams

Soy Lecithin
Completed Cocktail
1.5

oz

Tanqueray 10 Gin

1

oz

Gonzales Byass La Copa Vermouth

1/4

oz

Winter Spiced Pomegranate Molasses Syrup
Instructions
Emulsion (Make sure to create this first before the base)
In a container with a large flat surface area, add all the emulsion ingredients

Blend with a hand blender until enough peaks of foam occur (approximately 1 minute)
Completed Cocktail
Chill a coupe glass while creating the cocktail (place a few ice cubes and cold water, and discard once you're ready to use)

In a mixing glass, stir the Gin, Vermouth and Syrup until well chilled (at least one minute)

Strain into empty coupe glass and top with emulsified foam

Optional - Top with lightly grated Orange Zest and Cinnamon powder
Recipe Notes
For a visual on how emulsions work, take a look at this instructional video here. As an important side note, what I learned when it comes to creating the foam, the more water the better. I had experimented with more Campari in the liquid base ratio, but the foam was very minimal. I would stick to the ratio in my recipe, but if you want it more voluminous foam, add more water!