After a week filled with Negroni's, my body is needing a serious detox and when that happens, I head over and grab the Tequila bottle! If you're reading this, I'm sure you are thinking I'm confused or slightly deranged, but I've said it before and I'll say it again, Tequila is one of the purest spirits you can put into your body! So with that said, I decided to create a cocktail with False Ox's Celery Jalapeno Shrub to create this refreshing, cleansing beauty over here.
Real tequila, not the mixtos you drank in college, uses 100% of the Weber Blue Agave plant and with NO ADDED SUGARS. Let that statement sink in. NO SUGAR. If you haven't already, you'll get to the age where your body is ultra sensitive to sugars. It's the reason behind my breakouts, for terrible hangovers and pretty much anything wrong with my body, so I'm very careful to balance my diet. Mind you, it's not completely cut from my life because sugars play an important role in cocktails, but again, it's all about balance. So when False Ox brought out their shrub lineup, I knew I wanted to created something cleansing and refreshing with their Celery Jalapeno Shrub.
I always love pairing bright, fresh vegetables with Tequila. They compliment each other so well, and I knew the same could be said with this Shrub. So I quickly threw together some celery juice, with Dry Vermouth and Blanco Tequila to make this insanely refreshing cocktail that can be easily converted to a mocktail! Don't believe me? Well I guess you'll have to create this one yourself to find out.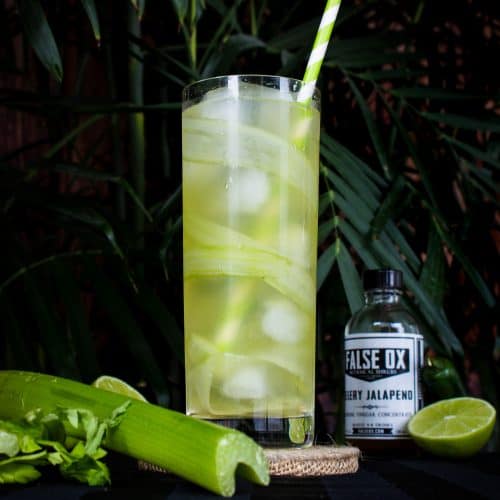 Tequila & Celery Shrub Cleanse
A refreshing cocktail that uses Blanco Tequila, Dry Vermouth, Celery Juice and False Ox's Celery Jalapeno Shrub!
Difficulty: Easy
Ingredients
1

oz

Blanco Tequila

1

oz

Dry Vermouth

1/3

oz

Lime Juice

1

oz

Celery Juice

1

oz

False Ox's Celery Jalapeno Shrub

½

oz

Simple Syrup

1

oz

Tonic Water

2

Dashes of Angostura Bitters

5

Ribbons of Fresh Celery

Optional for Garnish
Instructions
In a collins glass filled with ice, add all the ingredients, leaving the tonic water to the end

Mix with a straw or stir spoon and enjoy!

Recipe Notes
Reminder: All Simple Syrup recipes on Liquid Culture uses a 1 to 1 ratio of Water and Granulated Sugar.
For more info on False Ox's Celery Jalapeno Shrub and where it can be hold, follow here.
Don't have access to Celery Juice? Just use a juicer to create a fresh batch, or blend some celery stalk with a touch of water and strain. Don't want Tequila? Substitute with Vodka, or create a mocktail without the addition of Blanco Tequila and Dry Vermouth. 
Want more information on Shrubs and Tequila? I have a ton of educational features on these two products! Make sure to follow the links!