I'm continuously pushing a boozy dessert movement. This is one of my favourite categories on Liquid Culture and a lot of times, it's very simple to throw together. So for this Negroni Week, I decided to go with a concept I've been playing around with and that's a boozy sorbet float!
Now I have to admit, I couldn't get my hands on any gelato or sorbet flavour in Orange. I looked everywhere, and it was either sold out, or just not available. So I used a Mango Sorbet with this creation here (which was DELICIOUS by the way). I know, I know, here I am lying in the title, but I like to be transparent with my community. And the reality is, this is probably a very real issue for most of you out there, when you are looking around for an obscure item and it isn't around. So this was my way of tackling that issue and maybe it will help some of you when your browsing the market and not sure of what to replace the flavour with. Needless to say, I highly recommend picking up an orange flavour. It just ties better with the theme, flavours and concept.
With this float, it's extremely easy to throw together, especially when you have the gang over and want a quick dessert! Combine the orange gelato in a bowl or glass of your choice, pour Gin and Aperol over top and top with some bubbles! It's truly as simple as that.
Don't want it as sweet? Switch out the Aperol with Campari instead for a nice bitter contrast. Now on to the recipe!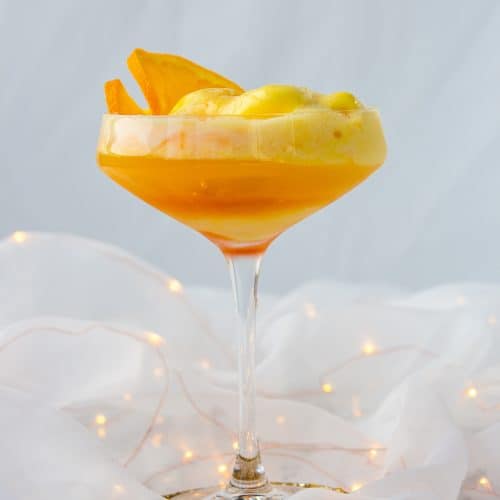 Negroni Orange Sorbet Float with Sparkling Wine
Combine your dessert and cocktail in one with this delicious and simple boozy cocktail float with Orange Sorbet, Gin, Aperol and Sparkling Wine!
Difficulty: Easy
Ingredients
2

scoops

Orange Sorbet

2/3

oz

Gin Mare

Keep to a lighter styled Gin (not as much Juniper)

2/3

oz

Aperol

1-2

oz

Sparkling Wine

Preferably Dry
Instructions
In a bowl or glass of choice, scoop two rounds of Orange Sorbet and pour Gin, Aperol, followed by Sparkling Wine on top
Recipe Notes
I didn't want to go with a dry-style gin for this recipe because I wanted to keep it light and harmonious. So I kept away from the extremely juniper-forward Gins. In this case, I used Gin Mare, but a Botanist or Hendricks Gin would work wonders here as well!