Are you salivating as much as I am right now when you read that title? First you have my love for Negroni's, then coconut…then PASSIONFRUIT?! I can honestly say this is in the top 10 of my favourite cocktail recipes on this site, and it came together in the most unlikely of ways.
The framework of a Negroni is quite simple, and it consists of equal portions Gin, Campari and Sweet Vermouth. Bartenders all over the world are continuously pushing the boundaries of this classic recipe, and today I definitely stepped out of my comfort zone. You won't believe it but the component that ties this all together, is the insanely delicious coconut-infused Lillet Blanc. I tried a few different infusions with coconut and somehow the Lillet Blanc just brought out the flavours of the coconut perfectly! Combined with fresh passionfruit and the incredibly rich Havana Club 7 yr Dark Rum, you have magic coming together as one.
If you're just joining the Negroni Week movement on Liquid Culture, we have a special way for followers to participate and contribute to a charity without having to leave the house. For the duration of Negroni Week, $10 will be donated for every 100 Likes on the Negroni features this week on the Liquid Culture Instagram Account. So tell your friends, tag them, like it, follow it, LOVE IT, and do whatever you can to contribute to a wonderful cause. Or simply hit up one of the many amazing bars in the city that are participating in this initiative! For more details make sure to check out the Negroni Week website to see the bars that are joining in on this movement!
Now let's get to the good stuff, and that's to the amazing recipe being offered to you today!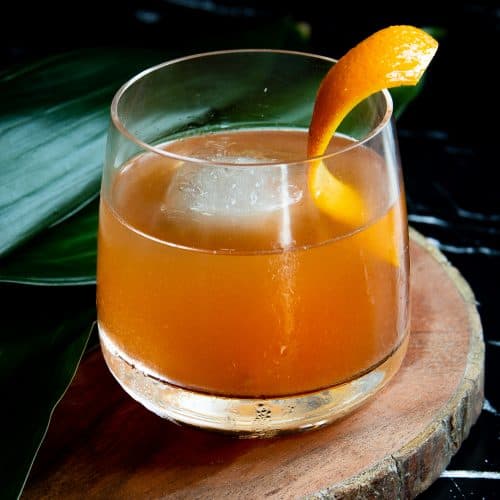 Tropical Rum, Coconut and Passionfruit Negroni
A rich layered Negroni with pops of bright fruit and molasses. If you've never had a rum Negroni before, this may quickly become a household favourite!
Difficulty: Intermediate
Ingredients
1

Passionfruit

Using Seeds and Juices here

1.5

oz

Havana Club 7 Yr Anejo Rum

1

oz

Coconut-infused Lillet Blanc

3/4

oz

Campari

1

Orange Zest

For Garnish
Instructions
In a mixing glass, remove the insides of a fresh Passionfruit and place inside with rum, lillet and campari.

Add ice and stir until well chilled

Double Strain to ensure none of the seeds end up in the cocktail, over 1 large ice cube and garnish with a zest of orange! or coconut or passionfruit! Whichever you prefer!
Recipe Notes
For details on the coconut-infused Lillet Blanc, make sure to follow the steps here!