This cocktail was featured on CTV's The Social for a special segment on how to incorporate your garden into your cocktail. Once Upon a Thyme uses Lavender and Thyme from your garden and mixes things up with Vodka, some Kiju Grape Apple Juice, Bitter Sling's Kensington Dry Aromatics and Tonic Water.
Whenever I'm developing the recipe ideas for the show, I always make sure I have all the base liquors covered. Although I don't tend to work with a lot of Vodka, I know it's an important base to have because the reality is, Canadians love Vodka. That and their whiskey, so I always try to give the people what they want!
This is a great cocktail to get people to slowly ease themselves into Gin, due to the spices and herbs that are used. If you didn't already know, Gin starts off as a Vodka in theory, and then juniper and other botanicals and herbs are added to the distillation process. The thing about cocktails is that your palate will always develop and change. I thought I would never love a Negroni, but that was short lived, nor did I think I would open up to Chartreuse and I have. So if you've ever banned a spirit or liquor from your life, I can almost guarantee that with the right recipe and/or bartender, your mind will change.
There's a lot of things happening here with this cocktail that I want to address. Let's start off with the Kiju Grape Apple Juice. I can be quite hesitant when it comes to using juices that are already pre-made. Yes, I know, I'm a bit of a hippie like that, and love my organic or fresh pressed juices. But the reality is, a lot of us don't have the time or maybe budget to invest in a juicer and fresh fruit all the time. My biggest thing is if the sugar is added. As a bartender this is HUGE, because then I can control how much sugar is needed in the cocktail, instead of trying to mask it with citrus or a carbonated component. So I definitely want to give a shout out to Kiju, because you're the real MVP for NO SUGAR ADDED!
---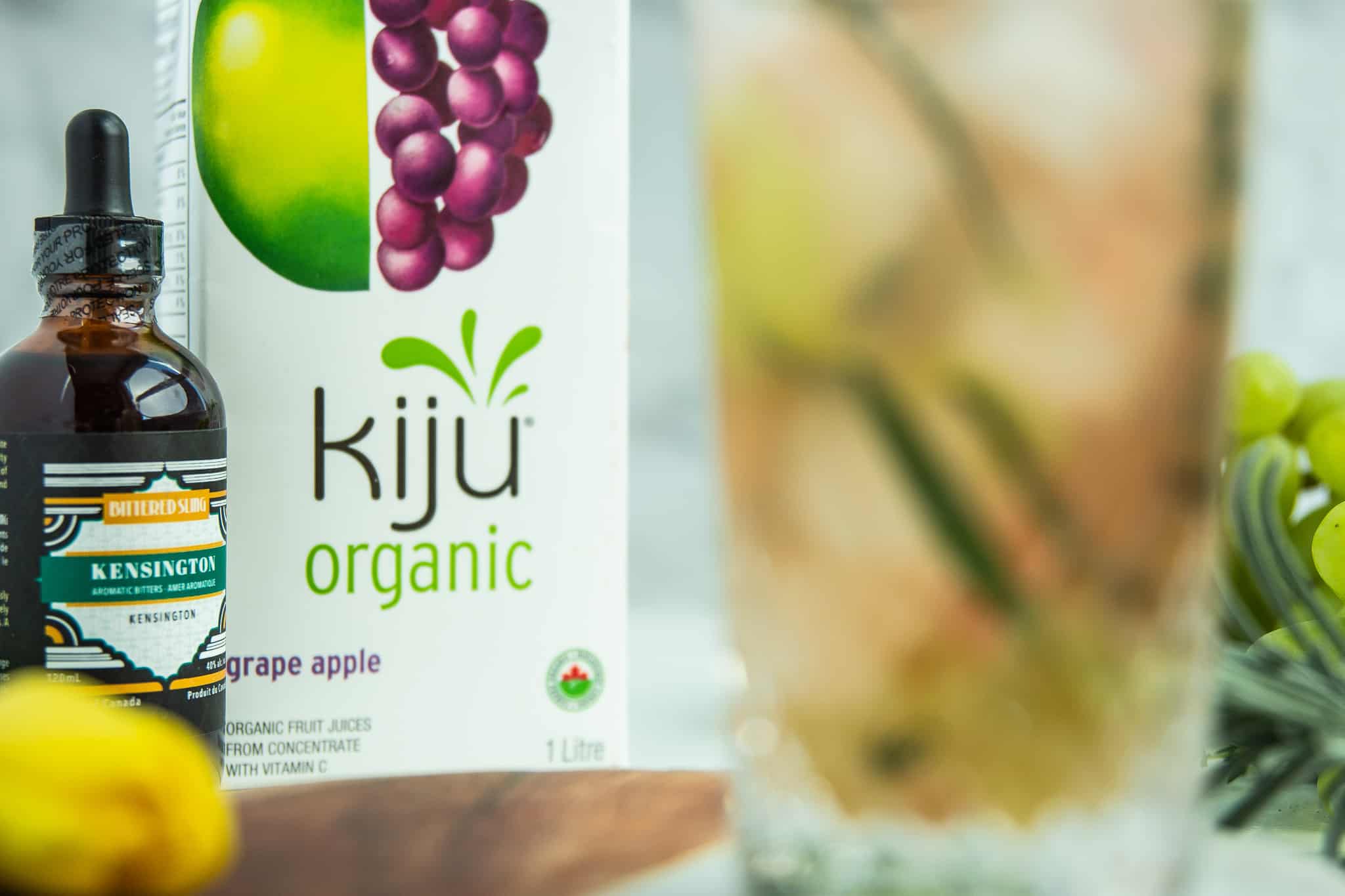 ---
Next let's talk about the Bitters! I'm a sucker for local products, and Bitter Sling's is definitely one of those local gems, pumping out some artisanal bitters for our market. No bar should be without Angostura Bitters, and the same could be said about Bitter Sling's Kensington Blend. It's their version of 'Angostura' that hits home for me. It's aromatic, herbaceous, full of citrus and spice that I absolutely love and best represents this wonderful city I call home. It even won a Gold Medal at the Beverage Tasting Institute International Review of Spirits Award in 2014. So…what are you waiting for?
Actually I know what you're waiting for, you're waiting for the cocktail recipe! Well I'll get to that shortly. I just want to briefly mention the herbs used for this cocktail. This cocktail is definitely an example of where if you put too much of Thyme and Lavender, it will completely overwhelm the cocktail, and nobody wants to drink soap. I had a real beef with bartenders a few years back because it felt like lavender was used EVERYWHERE. It's just like cilantro, where people love it or hate it (I'm team Cilantro!),  Lavender left a feeling of soap in my mouth that I despised.
So balance is KEY here, and I always say, start small and slowly add more. It's like salting your food, you can always add more salt, but reversing the process is almost impossible. I knew the fresh grapes would also mold these flavours together with its delicate and sweet nature. Also, if ever you're stuck trying to pair flavours, you need to consult the handy The Flavor Bible written by Karen Page and Andrew Dorenenburg. This is a game changer that every cook, chef, mixologist, bartender, manager, blogger, restauranteur, PRETTY MUCH EVERYONE needs on their shelf. It will act as a guide to what best pairs with what whenever you're stuck or need some inspiration!
I'm pretty thirsty right now, so how about that recipe?!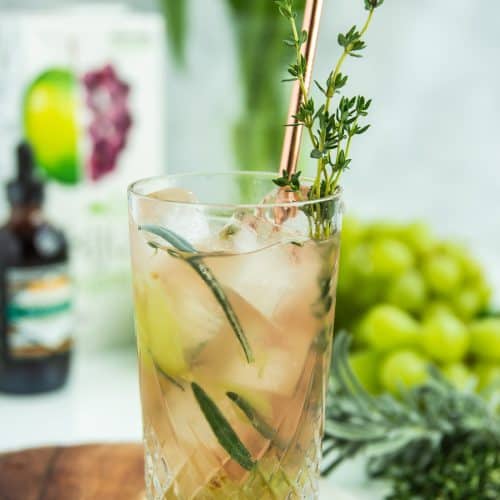 Once Upon a Thyme
A refreshing cocktail that mixes with Finlandia Vodka, Fresh Thyme and Lavender with Kiju Grape Apple Juice, Bitter Sling's Kensington Bitter Blend and Tonic! You'll love how this comes together!
- Difficulty: Easy
Ingredients
1.5

oz

Finlandia Vodka

1.5

oz

Kiju Grape Apple Juice

2

Sprigs Thyme

1 for garnish

1

Sprig Lavender

4

Green Grapes

2

Dashes of Bitter Sling's Kensington Dry Aromatics

1

oz

Tonic Water
Instructions
In a Collins Glass, muddle grapes and add 1 Thyme and Lavender Sprig (destemmed)

Add Ice and the rest of the ingredients, topping off with Tonic Water

Garnish with remaining sprig of Thyme