If you didn't think Rum and Tequila could work together, thing again. I bring together the cada día tequila reposado and shake up a delicious cocktail made with a premium Jamaican Rum, Fresh Lime, Pineapple and Mint. This tasty summer cocktail is not one to be missed. Check out the recipe below!
Why does Rum and Tequila Work?
I always encourage blending different spirits together in cocktails. You never know what you can discover. Think of the classic Fog Cutter Cocktail. It's a Tiki Classic that combines Gin, Rum, Pisco and Sherry. Now does that seem like a common combination? Not in the slightest. But is it an incredible cocktail? Oh yes it is!
Now the importance of this cocktail is picking up the premium cada día tequila reposado, but also the style of rum you choose, BECAUSE THEY ARE NOT THE SAME. Let me stress, not all rums are equal. Interchanging rums in recipes is very hard, unless they're coming from the same country, and even then, that's a stretch. So ensure you pick up a quality AGED Jamaican Rum. This lends to the tequila and its beautiful notes from the oak, making them both shine, with that slight funk from the Jamaican Rum that I love in a good Tiki cocktail. Definitely worth a sip!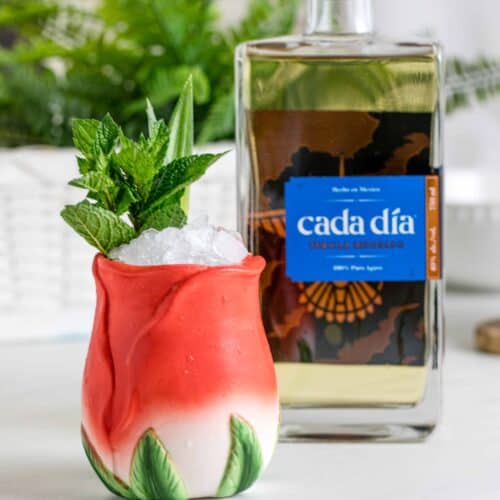 One Love
A Rum and Tequila Reposado Cocktail using cada día, combines Mint, Pineapple and Syrup!
– Difficulty: Intermediate
Ingredients
1.5

oz

cada día tequila reposado

1/3

oz

Jamaican Rum

1.5

oz

Pineapple Juice

1

oz

Lime Juice

0.75

oz

Demerara Syrup

3

Sprigs Mint
Instructions
In a shaker, add all your ingredients (leave 1 sprig of mint for garnish). Add a handful of ice and give this a short shake.

Strain over fresh ice and top with crushed ice.