This has definitely been a hard week for me, as I've been fighting a fever that just won't quit (sounds like me). So while I wrapped my head around what I would create for Peach Wednesday, I realized that my people are probably suffering the same regiment. My body always struggles in the transitional periods between season (#shoutoutSINUSPROBLEMS), but an abundance of fluids and vitamins will do just the trick. As usual, I hate coming up with names, so just ignore how basic 'Orange Spotlight' is and enjoy a delicious Papaya, Peach, Carrot and Orange cleanse to help revitalize your week!
It's been a while since I dropped a recipe in the Health Conscious section, because well, it's summer time and all that hard work you put into your body over the winter goes away after a few day-drinking brunches. I think it's a good thing that summer is semi-short, because now I can just let my bloated stomach do its thang.
The one thing I don't experiment enough with when it comes to juices and smoothies is the varying milks that can pair. I know a ton of people who mix with Kefir, Almond Milk, Soy, etc., but it's not something I tend to have around the house, BUT today I wish I did. For this recipe I used Coconut Water, which to be honest, tasted great! I loved it, but I can definitely see how Almond Milk would be such a wonderful pairing with this recipe. Almonds pair so well with peaches and I know it would compliment all the components of this juice very well. If you decide to swap out the coconut water with Almond Milk, I'd omit the honey from the recipe, and play around with the fresh lemon juice component.
Now I don't have a juicer, so I did this the old fashioned way which is by blending it. You could strain it once it's blended, but I like the added texture, plus I know it's good for me. If you're a no-pulp Orange juice kind of drinker, than strain through a fine mesh strainer. It's an added step, but completely worth it!
There's a ton of potential when it comes to using this in a cocktail. You know me, I love to pair juices with clear spirits since they are the "healthier" options when it comes to choosing a base liquor. I'd also think this would work wonders in a MULE! Think about it, Vodka, little bit of this juice, with fresh citrus and ginger beer?! Sign me up!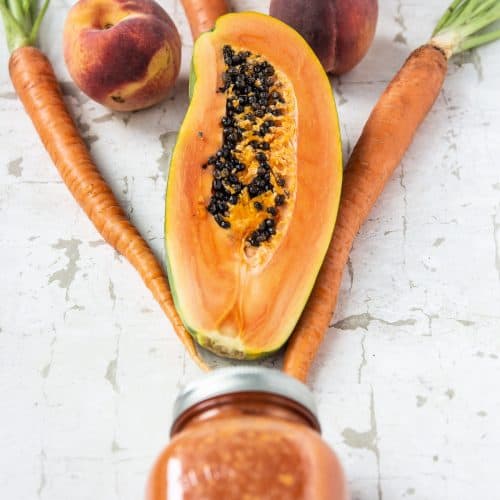 Orange Spotlight - Papaya, Peach and Carrot Juice
A health conscious juice blend that combines Papaya, Peaches, Orange Juice and Carrot for the ultimate kick of vitamins. Enjoyed on its own, or with a clear spirit.
Difficulty: Easy
Ingredients
1/2

whole

Papaya

Outer skin and seeds removed

2

Peaches

Pits removed and quartered

1

Orange

Juices pressed

1

Large Carrot

coarsely chopped

1

cup

Coconut Water

1/2

Lemon

Freshly squeezed

1

tsp

Honey
Instructions
In a blender combine all ingredients (use only juice from orange), and puree for approximately 1 minute

Optional - Strain through fine-mesh strainer. Let this cool slightly before consuming. Can last up to 1 week refrigerated.