After the success of my first Bramble, I've been itching to create another variation of this classic. With the holiday's around the corner, I thought I would celebrate 7 days of Jolly Imbibes, starting with a Peach and Candy Cane infusion for this Peach Wednesday feature. Even if you aren't a fan of Candy Cane, this cocktail is such a refreshing holiday approach that I'm sure you'll love. 
It's a bitter sweet end to my Peach Wednesday reign. I wasn't sure how long I was going to keep up with the Peach Wednesday creations, but to push it all the way to the end of the year makes me proud and also excited for what the new year will bring. I'm going to be doing something VERY different in the new year, which you'll learn about next week, but for now, enjoy this holiday peach imbibe!
I'm not going to lie, the Candy Cane component took a bit of trial and error. First I attempted making a syrup, but the double boiler technique was a huge fail, and made cleaning up a real hassle in the kitchen. For that I am tempted to blame the particular candy canes I used, but something tells me that most candy canes in the market will do the same.  In addition, I knew that by shaking the candy cane into a cocktail would be pointless because unless it's broken down, the flavour would be pretty much non-existent. So I concluded with the only other way to incorporate a flavour, which is by the simple infusion of Gin and Candy Cane.
I can't stress this enough, infusions are insanely easy to create, all you need is a mason jar and patience. In truth, most infusions need hours or days to infuse, whereas this only took 30 minutes for it to make a pronounced statement. So you have time on your side with this delicious creation! To access the recipe for this infusion, make sure to follow the link attached here!
Now if you are unfamiliar with a Bramble, the classic recipe mixes Gin, fresh Blackberries, citrus and cassis over crushed ice. Most of these components are in this adaption, with peaches being the fresh fruit incorporated. Crushed ice is such an important attribute with this cocktail, so make sure not to skimp out on this. Grab some crushed ice, or simply find a muddler or hammer to smash out some ice. This cocktail doesn't take much effort, or contain any complicated syrups, so whipping this up for the holidays, or for your wednesday night will be a breeze. Cheers to a Jolly Imbibe Weekend!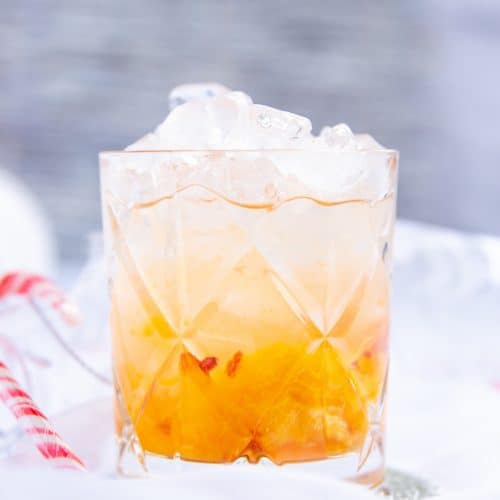 Peach and Candy Cane Bramble
A holiday riff on the classic Bramble with fresh Peaches and Candy Cane infused Gin!
Difficulty: Intermediate
Ingredients
1.5

oz

Candy Cane Infused Gin

1

Yellow Peach

very ripe and pit removed

2/3

oz

Simple Syrup

1/3

oz

Orange Juice

1/3

oz

Lemon Juice

2

sprigs

Peppermint
Instructions
In a shaker, muddle peach and 1 sprig of peppermint. Add the Gin, simple syrup, orange and lemon juice into the shaker and add a couple ice cubes and give this a short shake.

Dump all contents in the shaker into a double rocks glass. Top with crushed ice and stir (or swizzle) until the liquid reaches the top. Garnish with last sprig of Mint.
Recipe Notes
For a touch of chocolate in this creation, pick up some fresh chocolate peppermint! It will make an incredible impact.
For access to the Candy Cane Infusion, follow the link attached.