I can't help it. It's the holiday season, and I know we think of snow and cuddling up by the fire, but there's something about a tropical cocktail that gets me very excited. The islands have Christmas too you know! So in honour of them, and the rum-base of Barista's Coffee Liqueur, I've come up with this beauty right here.
You've seen me feature Barista before, from the Smoked Rumhattan, the S'more Passion Fruit Margarita, and the delicious holiday Ginger and Coffee Bundt Cake! It's such a versatile coffee liqueur that can pretty much pair with anything, which leads me to my creation for today. Whenever I'm stuck, or in need of some inspiration, I always look towards 'The Flavor Bible'. Written by Karen Page and Andrew Dornenburg, it's pretty much the encyclopedia of flavour pairings, and it's my go-to for EVERYTHING. A while back, I remember reading that Pineapple and Coffee go hand-in-hand. I didn't believe it at first, until I finally tested it out myself. Since that day forward, I've trusted this book, I've trusted this pairing, and I trusted my instinct to combine fresh pineapple juice with Barista's Coffee Liqueur.
---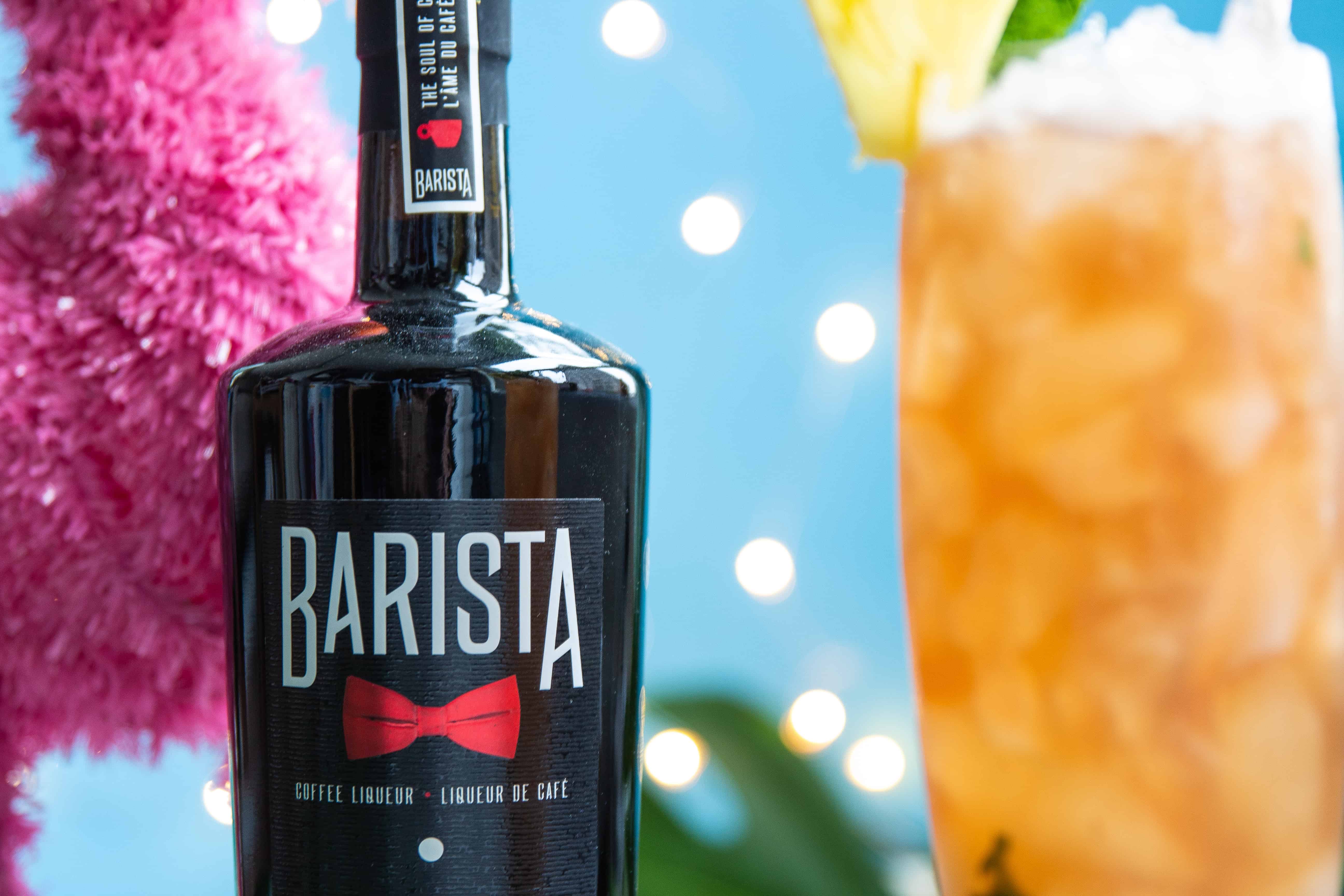 ---
I'm going to surprise you with another fun fact; Grenadine is a POMEGRANATE SYRUP. Few of us know this little detail and having worked in the industry for as long as I have, I'm ashamed to say I've only figured this out a few months ago! The reality is that most of us are only exposed to the bright red, neon coloured liquid that's found in our supermarkets. If I could stop you from buying anything, IT IS THAT! There's a reason why so many classic recipes feature grenadine and they weren't using the sugar-laden product we see today. Grenadine is simply a reduction of pomegranate juice, sugar and spices. Now doesn't that sound a lot more appetizing? I even created a Liquid Culture edition, which you can find in this link here!
I will admit, sometimes I just don't have the room or patience to make another syrup, so whenever grenadine is called, I'll use a small teaspoon of Pomegranate Molasses instead. I've trusted this method since the moment I read that the bar team at Death and Co. in New York use Pomegranate Molasses as their secret weapon. It's typically used for mediterranean cuisine, but now it's officially a staple in my home bar. Moral of the story? I've used Pomegranate Molasses in this cocktail, so that my community can create an easy and quick tiki cocktail for this holiday season. I'm sure you're very curious how this came together, so without further ado, I finally present this recipe!
---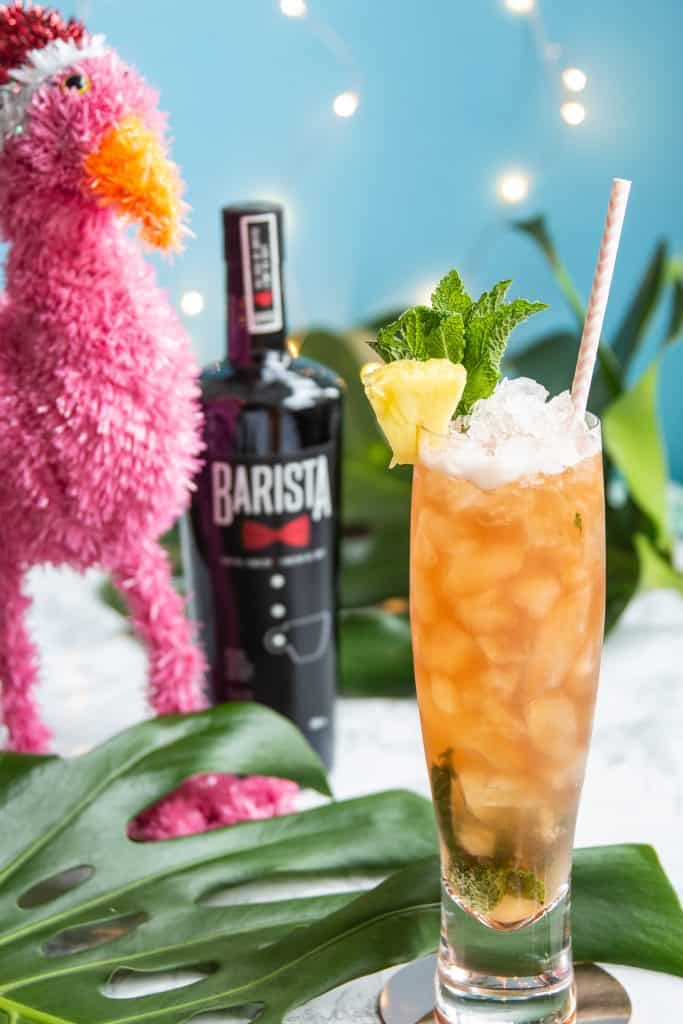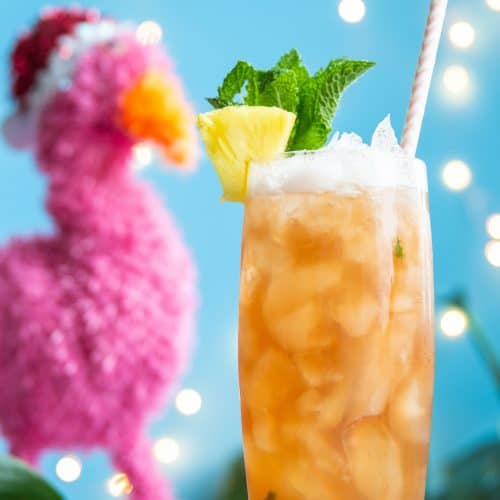 Coffee and Pineapple Tiki Christmas
A tiki-inspired cocktail that infuses Pineapple, Coffee and Ginger for the most surprising and deliciously treat. This Christmas Holiday cocktail was inspired by Barista's Coffee Liqueur.
Difficulty: Intermediate
Ingredients
2

oz

Six Saints Grenada Rum

1/2

oz

Barista Coffee Liqueur

1/4

tsp

Pomegranate Molasses

4

dashes

Angostura Bitters

2

dashes

Cinnamon Bitters

1.5

oz

Pineapple Juice

1/2

oz

Freshly Squeezed Lemon Juice

1

oz

Ginger Beer

1

sprig

Mint

Garnish

1

wedge

Pineapple

Garnish
Instructions
In a shaker, combine all ingredients (except Ginger Beer), add a small handful of ice and give this a short shake.

Dump all contents in the shaker into a pilsner or tiki glass and fill the glass 3/4 full of crushed ive. Swizzle (or stir) until the cocktail almost reaches the top, and add more crushed ice to the glass. Top it off with ginger beer.
Recipe Notes
When it comes to Ginger Beer, I only use Grace.