If this title doesn't get you all sorts of intrigued and/or excited, than I don't know what will. I've partnered up with the fantastic Barista Coffee Liqueur brand to create some delicious holiday imbibes for you, including this incredible margarita here. The original concept with this recipe was to create a dessert and cocktail in one. Well folks, I think we did just that and you'll be surprised at how easy it is to mix together! Say hello to your new best friend, the S'mores Passion Fruit and Coffee Margarita!
If you haven't heard of Barista yet, that's okay, because they are still fairly new to the Ontario market. So let me tell you a little bit about this brand. Barista came into the market in hopes to fill the void in quality coffee liqueurs, and you can bet that they have. Produced out of Quebec, Canada, they've created a liqueur that uses less than HALF of the sugars that's typically found in this market category. They use distilled Caribbean rum at its base with the infusion of Kona Coffee. The aroma and flavour itself is outstanding. I get a ton of toffee, maple, chocolate and the obvious Kona Coffee notes. It goes without saying that I'm officially hooked on this product and will have it as a constant on my bar.
---
---
It's not easy to have a dessert and cocktail mixed harmoniously together. The fine line between citrus and sweet is something that definitely takes some practice, but with a vision of a S'mores dessert cocktail in mind, I was determined to find that balane. I love these kind of challenges, because I completely break down the elements to create something brand new. I wasn't even sure how a margarita would play with this combination, but I made it work, and I couldn't be more proud!
So WHY passionfruit?! Well if it wasn't obvious enough, chocolate can pretty much pair with everything. There's a ton of chocolate notes coming from this liqueur, so this pairing seemed like a no brainer. Now most of the time, I let whatever is in the market guide me to my next drink. This time around I stumbled upon some passionfruit marshmallows and it hit me like a ton of bricks; this drink MUST include passionfruit! The rest, as they say, is history, and this turned into the most delicious passion fruit margarita I've ever made. Plus I knew passion fruit would pair beautifully with the Barista liqueur and tie all the flavours together.
---
---
If you weren't already sold, maybe my graham cracker and salt rim will. I simply combined 1 part pink Himalayan salt with 5 parts graham cracker crumbs, to make the most perfectly balanced rim. I used to always opt out of the salt rim for a margarita, but with time I've learned to appreciate what it brings to this cocktail, so I was very excited to infuse these flavours together. I'm sure you want to get to the cocktail recipe by this point, so lets get to it!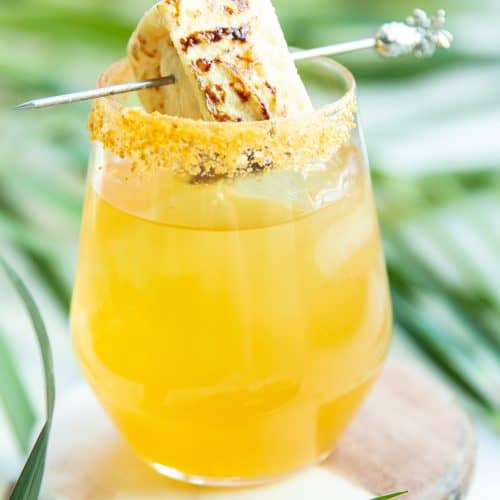 S'mores Passionfruit and Coffee Margarita
An incredible dessert and cocktail in a glass that combines Barista Rum Liqueur, Blanco Tequila, Passionfruit and rimmed with a graham cracker and salt crust!
Ingredients
1.25

oz

Blanco Tequila

Tromba Used Here

1/3

oz

Barista Liqueur

1.25

oz

Passionfruit Juice

Rubicon Brand

1/4

oz

Freshly Squeezed Lime Juice

1/4

oz

Simple Syrup

Graham Cracker and Salt*
Instructions
With the used Lime that has been freshly squeezed, rim half or the full glass with citrus and dunk the glass into the graham cracker and salt mix.

In a shaker, combine tequila, barista, passionfruit, fresh lime juice and simple syrup. Fill with ice and give this a short shake (approximately 8 seconds).

Grab one large ice cube and place inside your rimmed glass. Double strain cocktail over large ice cube and garnish with torched Passionfruit marshmallow!
Recipe Notes
*For the Graham Cracker and Salt rim, simple combine 5 parts graham cracker crumbs with 1 part pink himalayan salt. You don't need much, especially for a small group. So just put a small plate together and mix it with a fork.
Most recipes on Liquid Culture asks for a 1:1 ratio when it comes to Simple Syrup. So just simply pour 1 part of boiling water in 1 part granulated sugar. Stir to combine and let this sit until it reaches room temperature before use. Can store up to a week in the fridge!