Clearly when it comes to the holidays, sweets are indulged and it's those flavours that keep us drooling and nostalgic in December. But what if you're like me and don't care for sweets? I'll pick salt any day of the week, so when it comes to working with rich flavours such as chocolates, or candy canes, it can be very difficult to find that balance of sweet and savoury. Believe me when I tell you, when I've nailed that balance of sweet and savoury, you can bet I will get very excited, and that's just what happened here! It's a simple combination of Blanco Tequila, chocolate bitters, port and mint, stirred into one delicious Christmas imbibe. 
We all know my love for tequila. It's been like this since day 1, and I'm still shocked when people tell me that they hate tequila. Correction, it doesn't shock me, it INSPIRES ME to then teach those the wonderful world of Agave. The reality is, I don't know enough as I should, but that constant drive for education, and to then relay that to my community is what Liquid Culture's all about. I live and breathe this concept, so please, take a dive at one of my first educational segments talking about the Benefits of Agave. Now if you are short on time and need to have a delicious cocktail (about 10 minutes ago), I get it. Save the reading for the holiday break and get diving into this recipe!
Port also played a key role with this holiday imbibe, which I always question why I don't use it more often. I love using port to give a bit of depth and richness to a cocktail. With everything going on in this cocktail, and the ever slight acidity in its profile, I knew it would bring the flavours together. When it comes to port, I always pick up the Taylor Fladgate 10 year. It's one of the best values you can find in the Canadian market and it's a great example of the wine's expression. It's typically served with dessert, hence why I knew it would pair well in this cocktail, while adding a bright acidity to its profile. If you've never experimented with port before, then you must give this a stir! So without further distractions, I bring you a silky, chocolate imbibe to enjoy this holiday!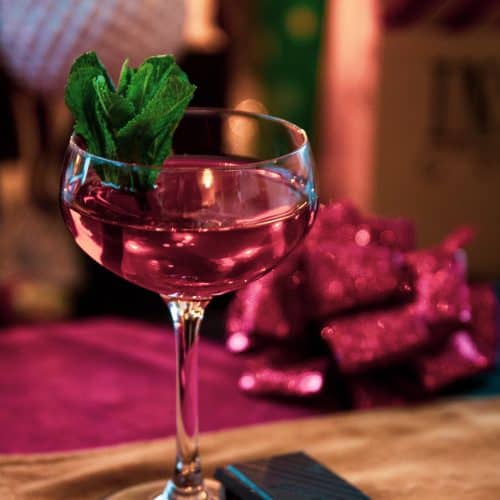 Tequila Christmas Chocolate Swirl
A delicious stirred cocktail that combines a Blanco Tequila, Taylor 10 Port, Chinato Cocchi, Chocolate Bitters and Mint.
Difficulty: Easy
Ingredients
2

oz

Blanco Tequila

1/2

oz

Chinato Cocchi

3/4

oz

Taylor 10 Fladgate Port

3

dashes

Apothecary Darkness Bitters (Chocolate & Cacao Bitters)

2

sprigs

Mint

1 for mixing, 1 for garnish
Instructions
In a Mixing Glass, gently press the mint leaves of 1 sprig to release its oil and toss into the mixing glass. 

Add the rest of the ingredients, fill the mixing glass 3/4 full of ice and stir until well chilled.

Strain into chilled coupe glass and garnish with last sprig of mint