When it comes to summer, there is nothing like a swizzle or julep to quench your thirst. With hump day finally here, I'm excited to present this insanely delicious bourbon, coconut swizzle with the obvious peach infusion. It's refreshing, bright and includes some of my favourite summer flavours!
If you're unfamiliar with swizzles, it's refers to the technique that is used to create a cocktail, which is traditionally done over crushed ice. This style of cocktail is popular amongst the islands, or tiki-joints because it's a beverage that is meant to be consumed quickly. It's a bit of a double edged sword, because you need the crushed ice for the proper dilution, but that also means it needs to be consumed quickly, rather than you would sip a manhattan. Being that it's summer and you know better, this isn't a problem for you!
I rarely bring out bourbon during the summer, but I wanted to experiment with a different base, and seeing as bourbon is your traditional base for a mint julep, I figured we would have a winner here. I'm so happy with how this turned out, and using the coconut cream (Coco Lopez in particular) was one of my favourite additions to this cocktail. Don't believe me, well you will just have to test it out yourself! Cheers to hump day!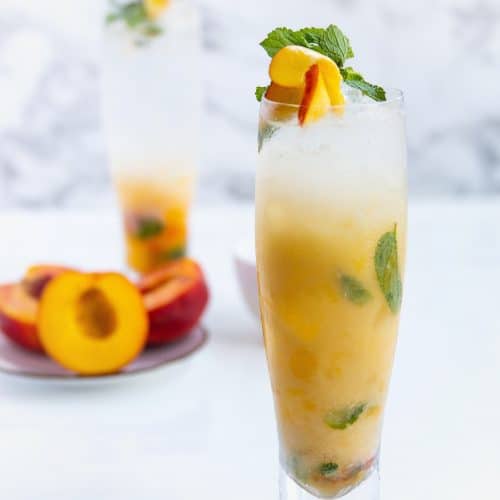 Ingredients
2

oz

Bourbon

1.5

tbsp

Cream of Coconut

Cream of Coconut Used

10

mint leaves

1/2

Peach

White Flesh

1/3

oz

Lemon Juice

Freshly Squeezed

1

oz

Club Soda
Instructions
Muddle mint and peach in a pilsner glass. Pour Bourbon, coconut and lemon and fill the glass 3/4 way with crushed ice.

Place your stir spoon (with flat edge) in the centre of the crushed ice and rub the stir spoon in a rapid motion (this is how you swizzle). Fill the glass with more crushed ice and top with soda. Garnish with a mint sprig, peach slices and metal straw.