If you've been following Liquid Culture for a while, you very well know my peach obsession. With that said, I had to drop a delicious Boozy Ice Cream for #IceCreamSundazeee that incorporates my favourite stone fruit!
Peaches have officially flooded the market, and I am loving every single moment of it. Last year wasn't the best of year when it came to peach production, but we've been so lucky this time around. So when I wanted to create a boozy ice cream with my favourite fruit, it got me thinking about one of my first cocktails EVER on Liquid Culture, and that's the Peaches and Cream! It was a riff of a Ramos Gin Fizz, mixing thyme, peaches, cream with the obvious gin. With that in mind, I built my boozy Ice Cream around this concept and decided to infuse some Earl Grey tea. Gin and Earl Grey go hand in hand, and it added another layer of complexity that tied in the creaminess of it all. Think a London Fog, that's flavoured with a touch of peach and Gin. Makes complete sense, RIGHT?
This turned out to be such an amazing, creamy dessert that I'm forever going to create. Plus, I whipped this up so that it could be a little less fattening than the previous Boozy Ice Creams I've created to date. If peaches or ice cream is your jam, you're definitely going to need this recipe in your life. Check out the details below!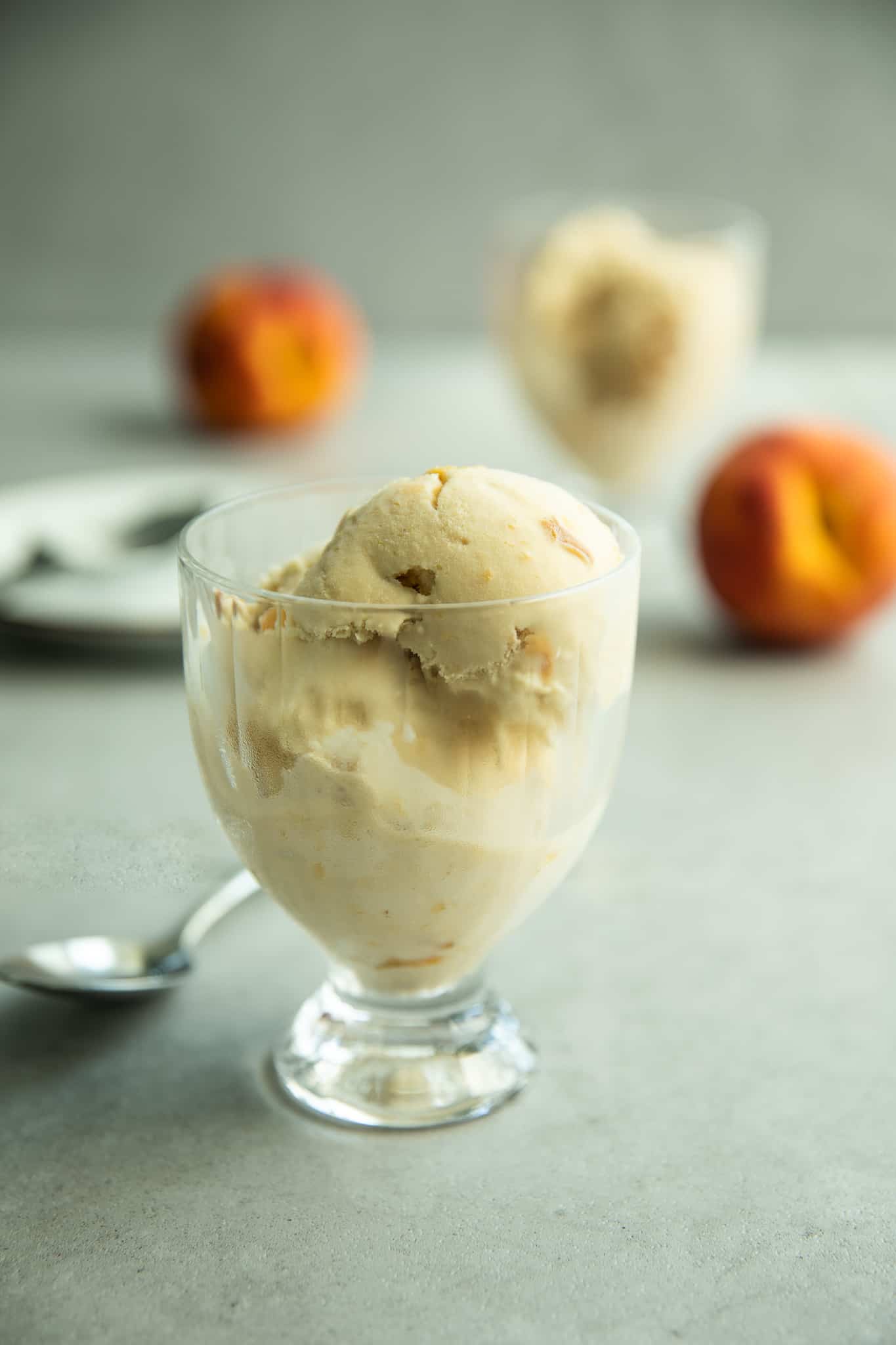 Peaches and Gin Earl Grey Ice Cream
An outstanding, creamy boozy Ice Cream that mixes Peaches, Gin and Earl Grey Tea!
– Difficulty: Intermediate
Ingredients
1.5

cups

Whole Milk

1.5

cup

Heavy Cream

5

Egg Yolks

2/3

cup

Granulated Sugar

1/4

tsp

Salt

2

Earl Grey Tea Bags

2

Peaches

Seed Removed

1.5

tbsp

Freshly Squeezed Lemon Juice

4

tbsp

London Dry Gin

1/4

cup

Peach Juice

Oasis Juice Used Here
Instructions
In a medium saucepan, over medium-high heat, heat cream, whole milk, HALF of the sugar and salt. Let this almost come to a boil and reduce down to low-med (you want a gentle simmer). Add your Earl Grey Tea Bags once it starts to simmer.

While that gets to a simmer, whisk together egg yolks in a bowl with the rest of the sugar, until lighter in colour. Add 1 cup of the hot mixture base into your bowl and whisk to combine. Add the contents of your bowl BACK into the saucepan.

Cook this mixture until it reaches 175 degrees Fahrenheit and then take it off the stove.

Strain through a fine mesh strainer into a fresh bowl and add peach juice. Cover and completely chill the liquid in the fridge (approximately 8 hours)

The next day, you'll want to quarter your peaches and pulse through a food process 4-5 times. You want a bit of juice from it, but still small chunks of peaches. Add this and your Gin to your ice cream base and give this a stir.

Position your ice cream maker, add the liquid and follow the directions of the manufacture. For me, I added the liquid, put the stand up mixer on 'STIR' and let this stir for approximately 20-30 minutes.

Dump the ice cream into a container. Cover the ice cream and place it back into the freezer for an additional 3 hours before serving.