You know I love to feature a cocktail or two on Liquid Culture, but the real test always comes with the baking. I've been wanting to create a boozy brownie for the longest time, and as much as I loved this recipe, I know I still have some more experimenting to do. Mind you, this is still one DELICIOUS tasting Stout Brownie, festive with a bit of candy cane peppermint on top. If you love the combination of Chocolate and Mint, look no further!
I find that there are two types of people in the kitchen, the ones that love to cook and be free with their cooking (aka never follow the recipe EXACTLY, aka me), and then there are the ones who love to bake and follow the rigid lines of a recipe, because baking soda can play tricks. It's funny, I used to be a baker, until I started working in the restaurant industry and let the food guide me. Now a days, baking is super intimidating to me, so I tend to also lean towards some of my favourite writers and books as a reference.
For one, I couldn't live without the Bobbette and Belle Book. They're legendary here in Toronto, but I will say, I find a ton of their recipes have too sweet, so I always cut down the sugar. When I'm searching online, there's a few bloggers I lean towards. Averie Cooks for desserts, Stems and Fork, and Baking Royale are just some of the many that inspire me. So when it comes to creating my own content, I try to mix a bit of both worlds, while still being approachable.
---
---
This is a fairly simple recipe to recreate, and you'll likely have all the products in your pantry now! When it comes to choosing a stout, Guinness is pretty much a given, but if you have one that you love that's local, give it a try! One beer that comes to mind is actually something I tasted by Dieu du Ciel's which was heavy in oatmeal and chocolate notes. If you don't know of this Quebec Brewery, you need to give it a taste, because it is some of the best brews coming out of Canada, yup I said it!
The chocolate glaze on top is unfortunately a recipe I don't plan to share since it's from Bobbette and Belle, and I don't feel comfortable writing it on this platform. I did do a few tweaks by adding a dash of Licor 43, but I would highly recommend experimenting with the glaze yourself. Even add a dash of stout, or create a reduction of the stout to create a glaze. All will leave you with a delicious result and make sure to dress up the top with candy canes!
Anyway, we aren't here to talk beer, we've got a brownie to make, so let's get on it!
---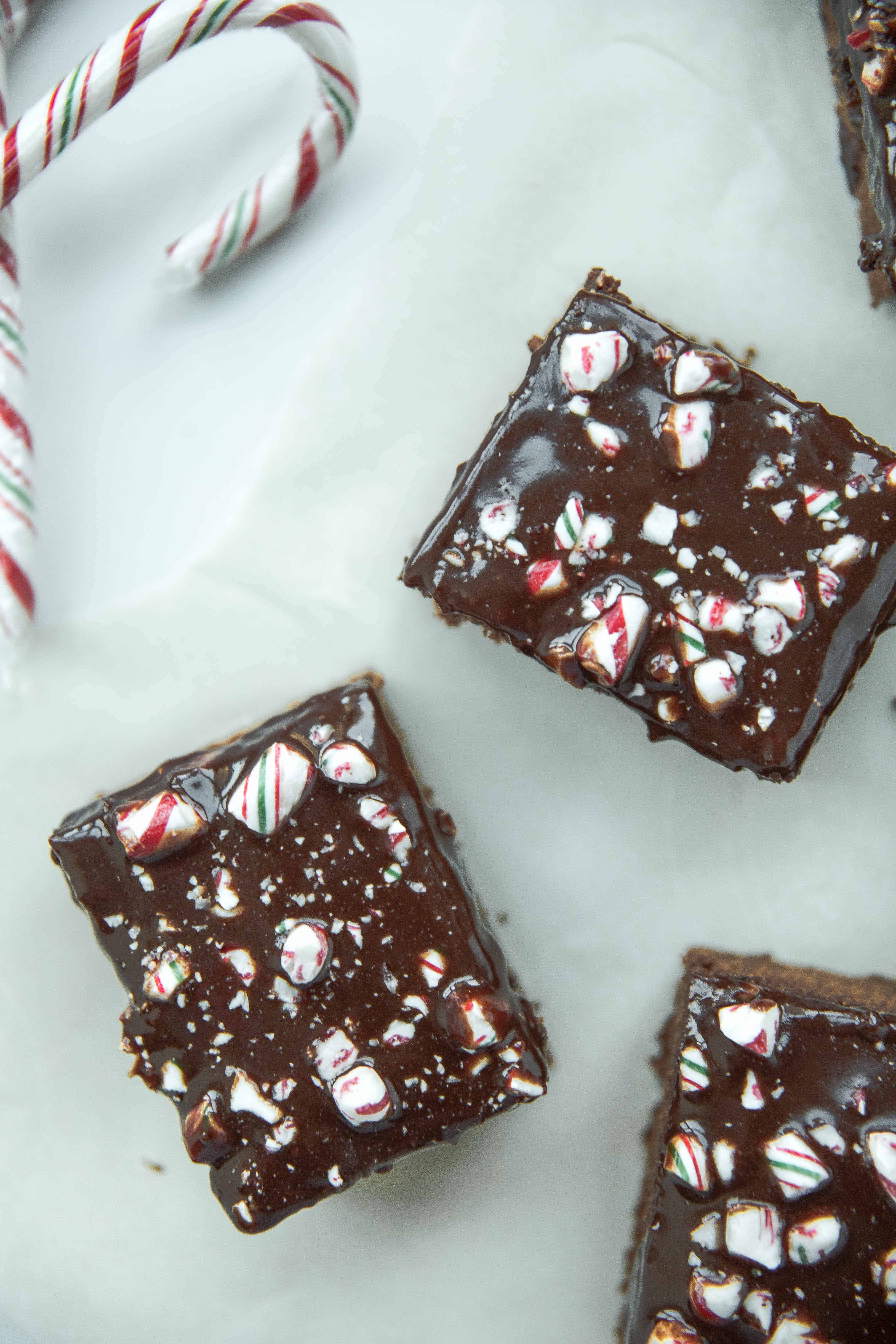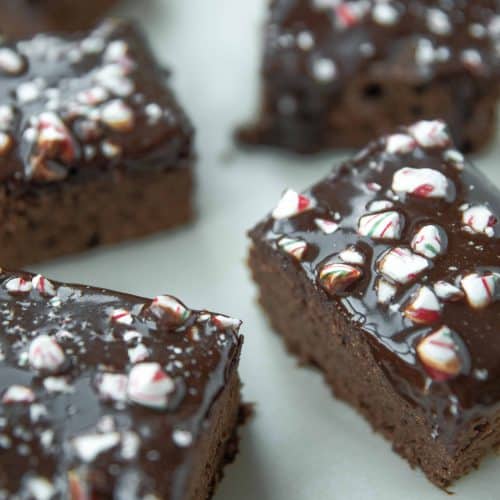 Peppermint Stout Brownie
Brownies made with love and Beer! Plus a dash of Licor 43 which comes in handy in all your baking!
– Difficulty: Intermediate
Ingredients
Brownie
3

large

Eggs

2/3

cup

Unsalted Butter

Room Temperature

1.5

cups

All Purpose Flour

1

cup

Cocoa Powder

1/4

tsp

Salt

1 1/4

cups

Brown Sugar

Packed

1

cup

Granulated Sugar

1

tsp

Licor 43

1/2

cup

Stout
Instructions
Preheat oven to 325 degrees F and grease a 10 inch square pan well with a parchment paper lined on the bottom

Using a stand up mixer with the paddle, add your butter, sugars and Licor 43, and at a medium speed let it become light and fluffy. This should take about 3 minutes.

In the meantime, bring together your flour, salt, cocoa powder in a small bowl and whisk until combined.

Add your eggs, 1 at a time into the stand up mixer. Make sure to stop and scrap the sides at least two times. Add your Stout Beer and mix until incorporated.

Lower your speed to low-medium on the stand up mixer, and slowly add your dry flour mixture. Mix until just incorporated! You don't want to over mix.

Pour into greased pan and put into the oven for approximately 40-45 minutes. Check if it's done by inserting a toothpick in the centre of the batter and that it comes out clean.

Place the pan on top of a wired rack and let it come to room temperature before removing it from the pan.
Recipe Notes
Licor 43 acted as a substitute for Vanilla Extract. If you want to make it Non-Alcoholic, simply use Pure Vanilla Extract instead, omit the Stout and use 1/3 cup of Coffee, Espresso, Water, or really any liquid you think would pair nicely.