It took me some time to get comfortable with the idea of vinegar-based infusions, but I am so happy I tried (and tried some more), and now I am only limited to my imagination. Discovering new and unique pairings is challenging, but so rewarding when you get a match.
I've found flavours that marry together in the most unlikely of circumstance, and the same goes for this recipe. This cocktail is incredible, different from my typical style, and the technique is the main factor in getting this right. If you have never been inside a bar, or completely shy in your skills, save this for when you are feeling comfortable. When that day comes, I promise you, you will love this cocktail.
You will need a week in advance for this, so PLAN AHEAD. It's easy, believe me, but time is a huge factor in the success of the shrub. All you need to do is combine pineapple and sage into a bath of Apple Cider Vinegar and keep it stored in a dark cool area for 1 week. That's it. Similar to any infusions that you conduct with alcohol, you are doing the same here. If you need more detail, you can follow the recipe to the infusion here.
So you've waited patiently for a week and now you can finally sip! This cocktail is a "julep-styled" drink, so crushed ice is a must. Now I know I'm picky with my ice, but believe me you don't need to grab a whole bag of crushed ice. Have someone you are frustrated at? Well now's your chance to bang it out. There are so many ways it can be done, it may get loud, but that's the fun of it.
Most importantly, you want to add all the ingredients first before adding the crushed ice, and voila, your cocktail is born. Let's get started.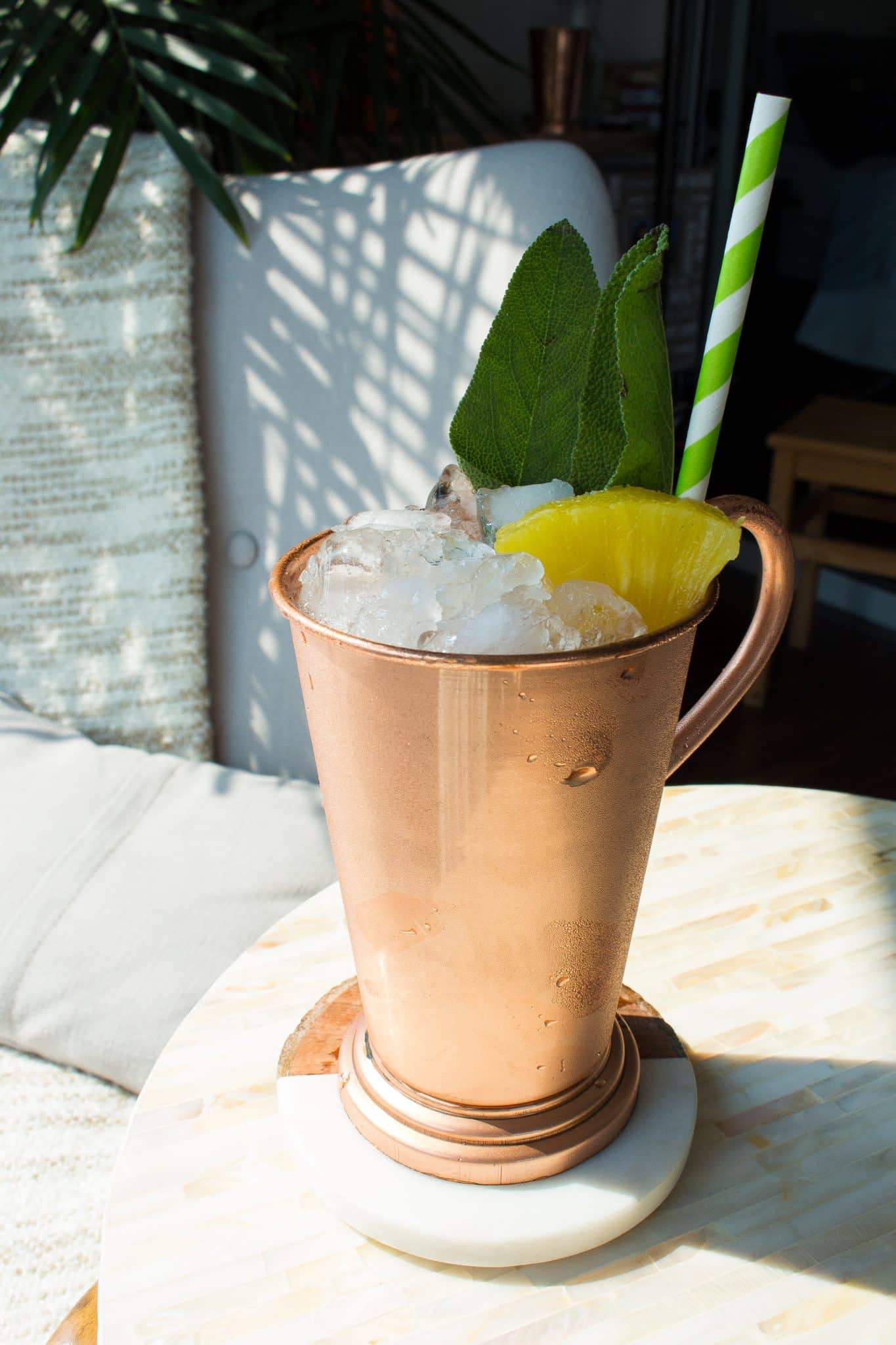 Pineapple Bourbon Shrub
An unlikely medley of flavours that work in perfect harmony
Difficulty: Expert
Ingredients
2

Brown Sugar Cubed

2

oz

Bourbon

5

dashes

Angostura Bitters

1

oz

Pineapple Shrub

1/3

oz

Pineapple Juice

fresh preferred

1/3

oz

lemon juice

4

leaves

Sage

1

sliced

Pineapple Ring
Instructions
Place the sugar cubes in a large copper tin mug and coat the cubes in angostura bitters and muddle

Place the bourbon, shrub, pineapple juice and sage into copper tin

Add crushed ice and use the swizzle technique to incorporate all the liquids into the glass

Add extra crushed ice to create a dome and garnish with pineapple wheel and 1 sage