For those that love a good Spirit Forward Cocktail and want to dive into the world of Pisco, stop searching, because your perfect cocktail is here! Especially if you love a little bit of Peach, Pecan bitters and outstanding vermouth. But the star here will always be that delicious Pisco, and for those of you that know me know, you know I am religious to the Pisco Caravedo brand since day one. Curious how to stir this up at home? Make sure to read below for details!
With Pisco Week launched here in Canada, I partnered up with the Peruvian tourism of Canada and View the Vibe to create a special Pisco cocktail. When coming up with this cocktail, I decided to look through my archives and I have to admit, I made WAY too many Pisco Sours. The thing is, this spirit category has so much more to offer than just this classic, and I decided to highlight the Pisco itself with a spirit forward beverage. Once I had that in mind, the rest was fairly easy to throw together.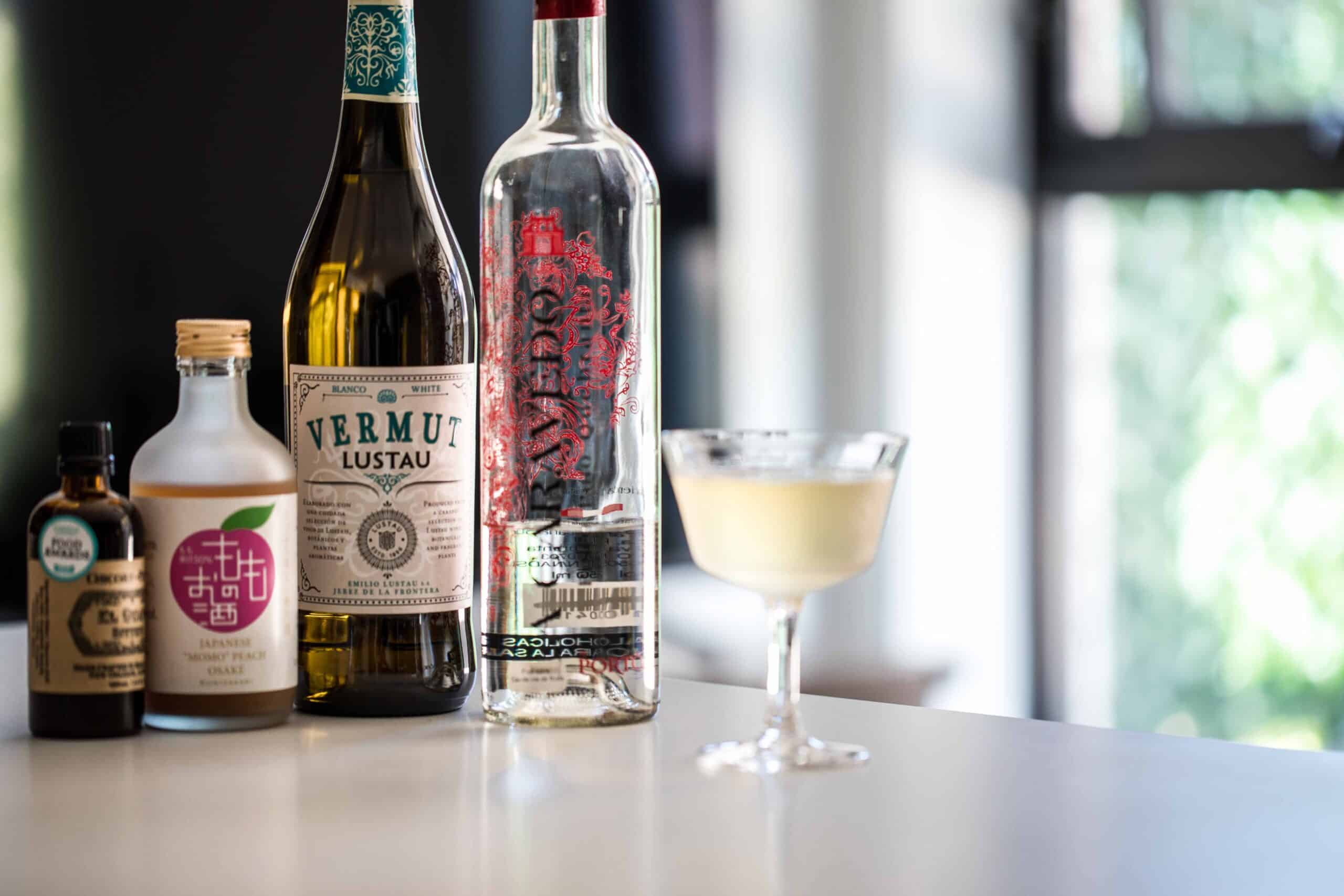 Peach Osake
In terms of structure, I knew the Pisco was going to be fairly delicate, almost floral that I had to stick with a Martini or white Manhattan style of cocktail. To pair that, I would need a fairly light aperitivo or liqueur of some kind. At first, I gravitated towards the RinQuinQuin, because we all know how much I love this Peach Aperitif. But then it hit me…
On my trip to Peru, I realized that the Japanese culture was heavily entrenched in its Food culture. I know that would surprise a lot of you. So I thought, WHY NOT COMBINE BOTH IN A DRINK. Having dug up the Peach Osake Liquor I had in my bar, I knew this would be the perfect compliment to the cocktail and the Peruvian heritage.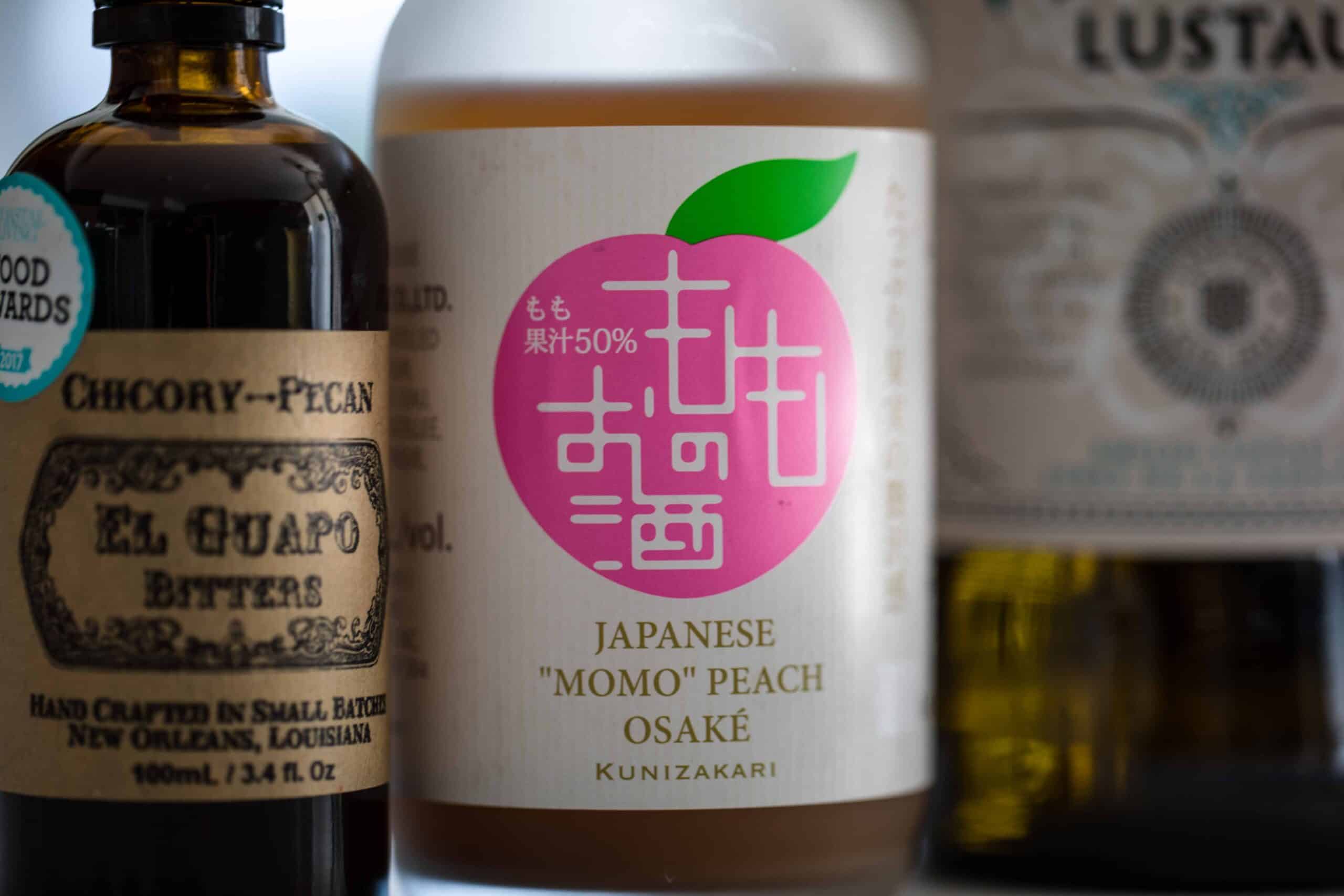 Choosing a White Vermouth
Why am I adding vermouth to this cocktail? Well, it's all about balance. With it's bitter, more herbaceous notes, I knew it would round out the flavours of the peach and Pisco all into one delicious sip. Now there's a ton of options I could have gone with, but lately, my eyes have been on the Lustau Blanco Vermouth. I find Spanish Vermouth's have a bit more body to them, and not quite as delicate as the French style. So that's why I picked up Lustau's Blanco Vermouth for this one.
With Pisco, there's only Caravedo
Okay, I'm sure there are plenty of great brands out there, but having a close connection to the masterminds behind Caravedo, and touring their facility, BELIEVE ME WHEN I TELL YOU, they're bringing some of the top and most premium Pisco's you can find in the market. Pisco Johnny is very well known in the industry and had the patience to teach me a bit about the different Pisco styles. I'll admit, I need to brush up on that knowledge, but the Pisco Puro Quebranta is a great place to start.
Don't have Pisco at home? Well friends, start looking. I wouldn't substitute this for anything else. Plus, with this category already struggling to get into the market, I want to spread that awareness of a great spirit you may not have in your bar. For those new to the concept, Pisco is distilled from Grapes, and with that definition it would fit under a brandy, but it's so much more. If I had to compare it to ANYTHING, think of it as the Vodka to Peru, but with a lot more to offer!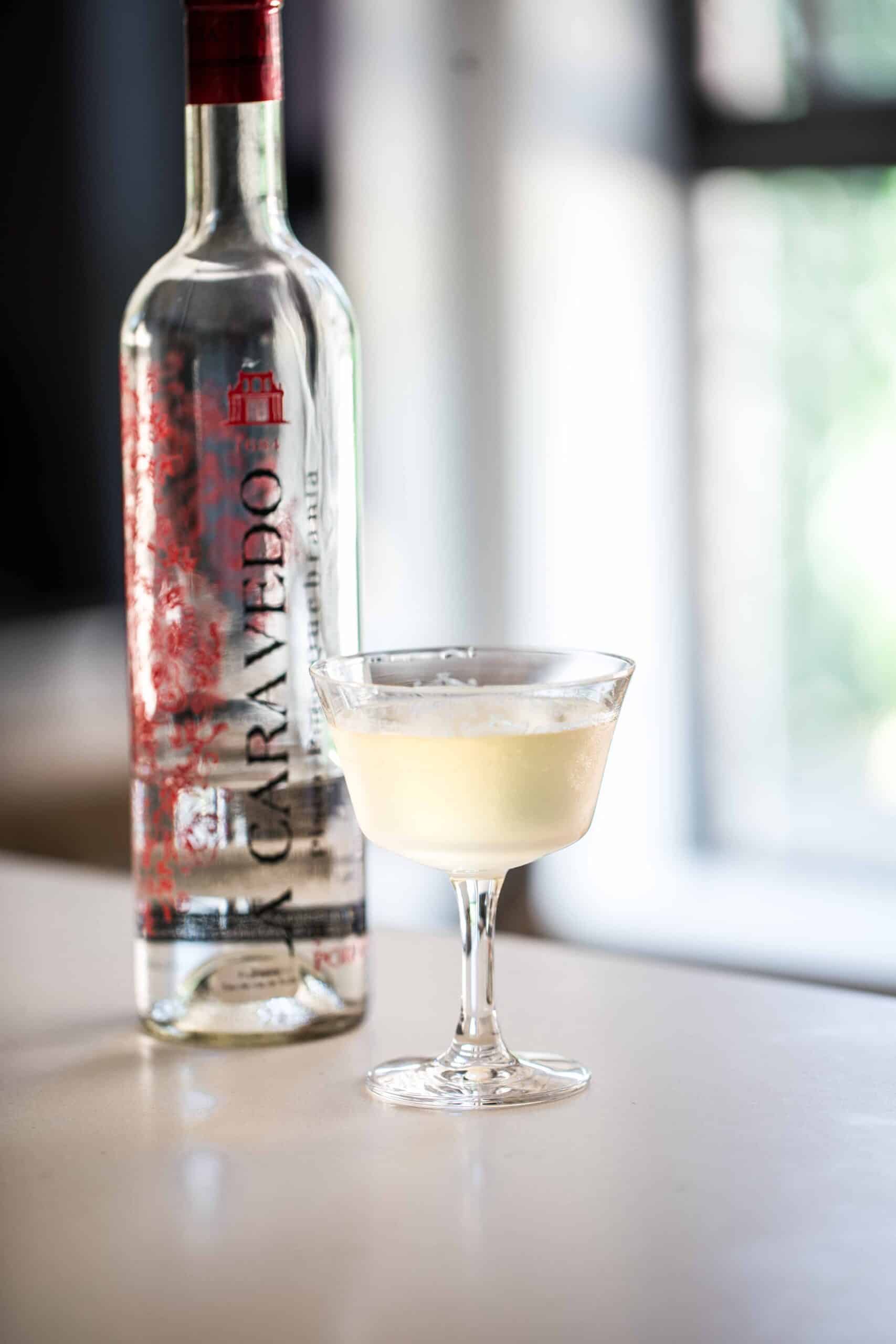 Choosing your Bitters
What makes this cocktail a "Fall" drink is the bitters. Knowing how well those warming spices of cinnamon, chicory and pecan would work with Peaches, is the reason I decided to use these bitters in this cocktail. The thing is though, you can be flexible! Think about some flavours that pair well with Peaches and find the bitters that match that flavour. For example, I could have added a dash of amaretto, or gone a different route and used Coconut, or Basil! In terms of Basil, I would just omit the bitters and just stir in some fresh basil leaves when creating the cocktail.
Now I'm sure you're getting as thirsty as I am, so let's get to that recipe!
Pisco Peach and Fall Martini
If you've been wanting to dive into the Pisco world, give this Spirit Forward cocktail a try, combining Pisco Caravedo, Peach Osake Liquor, Vermouth and Chicory Pecan Bitters.
– Difficulty: Intermediate
Ingredients
2

oz

La Caravedo Pisco

Pisco Puro Quebranta

2/3

oz

Blanco Vermouth

Lustau used here

1/3

oz

Peach Osake liquor

Nakano Sake Brewery

2

dashes

El Guapo Chicory Pecan Bitters
Instructions
Chill your coupe glass by filling with ice and water while creating your drink.

In a mixing glass, add all your ingredients and stir well (approximately 40 seconds)

Empty your coupe glass and strain your cocktail.